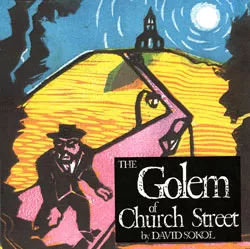 If the best way to combat speech you find offensive is with more speech, the same goes for art. Last fall, a South End Art Hop talk occasioned by the display of Bread and Puppet Theater founder Peter Schumann's mural "Independence Paintings" drew protests from people disturbed by the work's visual analogy between Jews in the Warsaw Ghetto and Palestinians under Israeli authority. (They also questioned whether the lecture, which was sponsored by the activist group Vermonters for a Just Peace in Palestine/Israel, should have been part of Art Hop.) One of those protestors created an indelible image: a flyer that depicted Bread and Puppet's iconic personae parading serenely beneath hanging corpses, with the legend "Puppets Lynch the Jews."
Nearly a year after the controversy, Shelburne print maker David Sokol, who made the flyer, has produced a more sustained response to the Schumann exhibit. He's combined text and images in The Golem of Church Street, a series of 26 woodcuts, monoprints and etchings accompanied by commentary, which are currently displayed at Burlington's Kasini House and collected in book form.
The book's subtitle is An Artist's Reflection on the New Anti-Semitism, and Sokol makes no secret of its message. "Even in Vermont anti-Semitism creeps like mold into the rants of the self-righteous," he writes in the introduction. One starkly effective woodcut depicts a flaming barn owned by Jewish Vermonters and torched by their neighbors in 1963. Though Sokol makes no direct references to the Art Hop controversy, a modified version of "Puppets Lynch the Jews" appears, along with pointed allusions to leftists who call for a "just peace" in the Middle East but blame all violence on Israel.
"I started the project early last winter," says Sokol, 61, a former therapist who has been making prints for several years. Initially, he says, the work was a "personal expression of frustrations" . . . "I would read something, get upset about it, and just go out to my studio and work on a plate. The pictures started to stack up." He had no plans for the prints until he showed them to friends at a dinner party: "Somebody said, 'This would be a great book.'" Gallery owner Ric Kasini Kadour an early and vocal critic of Schumann's Art Hop exhibit agreed.
According to legend, the golem was a monster created from clay by a 16th-century rabbi to defend the Jews from persistent persecution. Does modern-day Church Street need a visit from a golem? "I'm trying not to dig all that up again," Sokol says of the Art Hop controversy. Still, he explains, the event made him aware of a "shocking ignorance in the community about what anti-Semitism is."
When he first heard about Schumann's mural, Sokol says, "I contacted Art Hop, and I said, 'I'll do something really fast to present the other side.' They never got back to me. . . But I never said, 'You can't show this.'"
To Sokol, "Anti-Semitism is Holocaust denial, comparing Jews to Nazis, singling Israel out and treating it in a different way than any other country, blaming the Jewish religion for policies of Israel that you don't like. Certainly, criticizing Israel is not anti-Semitism," he adds.
Throughout his book, Sokol uses the provocative technique of pairing figures beloved by Vermonters or by the left with Islamic fundamentalist intolerance. Karl Marx, Jimmy Carter and even Gandhi are called out for their complicity in anti-Semitism. (The book comes with endnotes to back up Sokol's charges.) In one image, Osama bin Laden and his confederate Zawahiri appear holding ice cream cones in a pose reminiscent of the iconic photo on pints of Ben & Jerry's.
Sokol says he hopes people will see such images as they were intended as "a joke. I'm not comparing them. The point I was trying to make was that bin Laden and Zawahiri go at terrorism the way a kid goes at ice cream."
"My issue is not with the left," he continues. "I've supported the Progressive Party. I'm trying to make a distinction between the left and the fundamentalist left. My definition of fundamentalism is that you no longer see the needs of other people, because your ideology gets in the way."
One image, in which two hunched, tense figures stand back to back under autumnal foliage, evokes the effect of last fall's controversy on the community. "Friends, separated by politics," the text reads. "Invisible emotions, allegiances, responsibilities . . . walls."