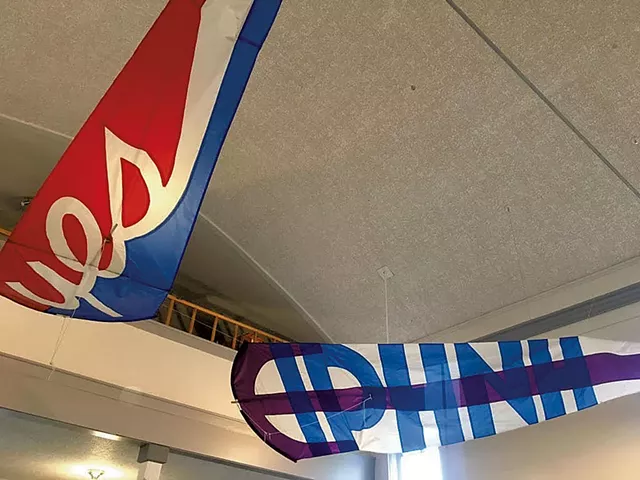 Courtesy Of Kate Pond
Kate Pond kites
While living in Paris in 1983, Burlington sculptor Kate Pond had a fortuitous encounter with the granddaughter of Henri Matisse, Jacqueline Matisse Monnier. Pond visited the country home of the latter's mother in Villiers-Sous-Grez, where together they flew kites that Monnier had created in the style of her famous grandfather's papercuts.
Once back home, Pond was inspired to make her own kites. The following spring, she flew five of them on the lawn of the Vermont Statehouse, joined by Vermont printmaker Sabra Field. After several other "fly days" that year, they put the kites in storage.
Now, Pond's kites will catch air once more. This weekend, she'll exhibit her functional works at North Hero's GreenTARA Space, along with black-and-white linocut prints by Killington artist Nori Pepe. The show, titled "Spirit of Place," opens on Saturday, May 5, with a reception and kite flying from 3 to 5 p.m.
Courtesy Of Kate Pond
Bill Parkhill and Kate Pond with kite
Fashioned from bamboo and ripstop nylon, Pond's kites are modeled after a traditional Thai serpent kite design. Each is emblazoned with a different word or phrase: "free," "fly me," "yes," "EIPHNH" (Cyrillic for "free"), and "défense d'afficher," which translates from French as "post no bills."
Pond completed her kites shortly after finishing one of her first commissions, the corten steel "Kiss II" sculpture at Burlington's Fletcher Free Library. "It was a nice contrast," she said of switching from metal welding to crafting flexible, airy works meant to take flight.
"You can't really control where they're going," Pond said of the kites. "It's like an art performance piece in collaboration with the wind. Flying kites, most of all, is just pure fun."