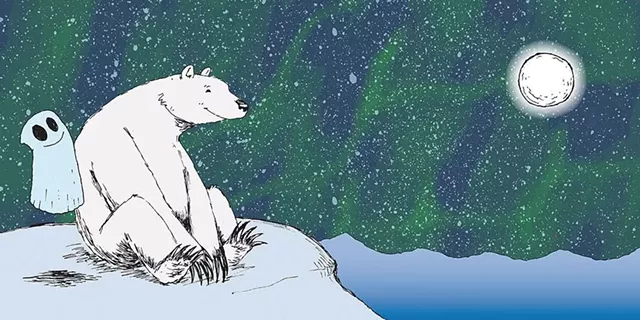 October is the season for ghouls, ghosts and monsters — but for Burlington artist Justin Atherton, the preoccupation with the strange and otherworldly is a year-round affair. The 6-foot-3-inch friendly giant, who works at Queen City Printers when he's not making art, has been drawing monsters and mischief makers since age 11. The latest iterations of his creepy creatures can be seen at Red Square on Burlington's Church Street until the end of the month.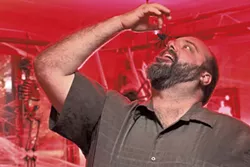 Matthew Thorsen
Justin Atherton
"A lot of kids start out drawing superheroes," Atherton tells Seven Days. "I was drawing people getting eaten." His monsters, Atherton says, were relatively typical: evil creatures out to get any offender who dared to cross their frame.
But even a cursory glance at his series currently hanging at Red Square, "The Moon Suggested Adventure," reveals a story that's more sweet than sinister. In 17 small framed prints, a Casper-esque ghost embarks on an adventure that finds him night-surfing with Margaret the kid-witch, stargazing with a polar bear, riding an elephant on a midnight safari and more.
"Ghosts have been popping up in my work for years," Atherton says, "but I think this particular ghost, drawn this particular way, has his own unique personality and purpose. He sort of exists in my head as an explorer, and while I'm working with him, he makes me think of the excitement that comes from meeting new people and experiencing new situations."
Like much of Atherton's recent work, the ghost series is colored digitally. It's a process he picked up more than a decade ago while working at Kinko's, where he had access to Adobe Photoshop and Illustrator. After leaving that job in 2006, Atherton says, he wanted to get back to the more hands-on aspects of making art, "carving wood blocks by hand, doing silk screens the old-fashioned way ... and doing actual paintings."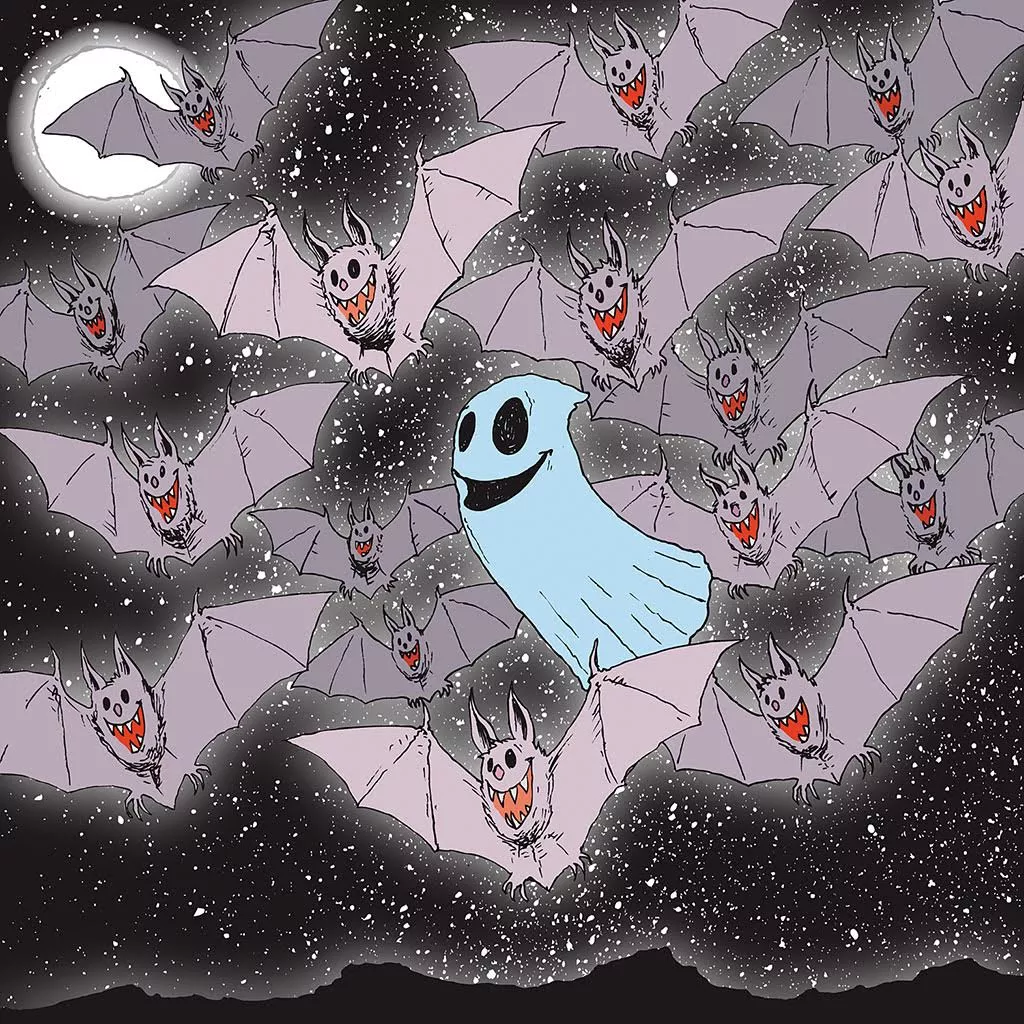 Eventually, though, he found himself "tired of being hampered with how long it would take [to do] a piece." For the past eight months, he's been "drawing things a lot quicker and scanning them in and throwing them into Illustrator and coloring [them] that way."
While his process may have changed, Atherton's subject matter has remained consistently off-kilter since his primary-school monster drawings. A brief survey of his past work reveals sexually explicit acrylic paintings, colorfully caped devils traipsing through dark forests, and menacing monsters of all shapes and sizes.
About five years ago, "I spent a lot of time thinking about what type of art I 'should' be doing," Atherton shares, "and what might appeal to a broader audience. I finally realized what a trap that is. People can tell if your heart isn't in it, and you're selling yourself short when you try to follow a path that isn't genuine to yourself." After coming to that realization, Atherton says, he returned to acrylic painting and block printing, and began to dabble in more adult themes.
Of course, there will always be viewers who object to artwork such as Atherton's block print of a man orally pleasuring his female partner — though such objections would disregard the sensitive humor and sheer joy of the image. But the one time Atherton was asked to remove a body of work from public walls, he recalls, it was of a nonsexual nature.
In 2007, Atherton showed his work at a restaurant recently opened by a friend, who found himself "faced with a really rough situation," Atherton says. "A customer started yelling at him because of my work ... really making a scene, getting in his face and demanding the work be taken down, making threats..."
What was so offensive? Atherton calls those mixed-media drawings "tame, by my standards": They included "some pretty sedate devils, and another one that showed a kid wearing a T-shirt that had a skull and crossbones on it." Feeling "short on options," Atherton's friend removed the work with profuse apologies to the artist. Today, Atherton sees the incident as "a reminder to me that art has real power to evoke very real, passionate responses — even if it's not exactly what you're going for."
Most viewers choose to praise Atherton's work, not vilify it. Christy Mitchell of the S.P.A.C.E. Gallery on Pine Street has frequently displayed his work; one of Atherton's prints appears in the gallery's current show, "The Art of Horror," which runs through October. "His work is always approachable to the public," Mitchell says. "He does the sweetest little characters, who are always a touch sad, and then some of the naughtiest kinky situations, but they, too, always have a sense of humor.
"Even if Justin goes dark with the content, there is always the realization that the work is raw, filled with emotion and pleasant to look at," Mitchell continues. "He can make a piece from ink, paint, wood block, linoleum, cast resin, screen print, you name it — and you always know when it is a Justin Atherton."