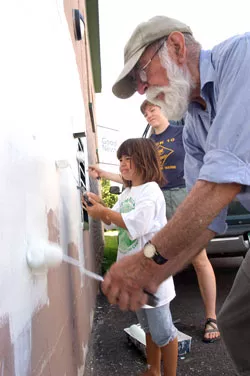 Matthew Thorsen
Frank Gonzales collaborates
Every week, a group of neighbors meets in downtown Burlington to erase the evidence of overnight tagging. These graffiti foes probably wouldn't be too pleased to hear of a new assemblage adorning building walls with artistic expressions in broad daylight — that is, until they learn this wall-art project is a mural with the goal of beautifying the city. It's also the latest brainchild of Burlington-based artist Frank Gonzales.
Eighty-five-year-old Gonzales, locally known for his work as artist-in-residence at the ECHO Lake and Aquarium Center and artist-educator at Fletcher Free Library, is no mural newbie. Though he specializes in constructing puppets and masks from recycled materials, he's organized mural productions in Vermont, California and Mexico over the years. His whale design at Edmunds Elementary School has been removed, but others, including a sprawling flora-and-fauna-themed mural painted in 1992 along a low city wall in Fairfax, Ca., still stand. Now Gonzales is looking to use the outdoor canvas as a way to bring the Queen City community together. The winning wall is the vast backside of Riverside Avenue's Bike Recycle Vermont.
A nonprofit organization formed in 2004 by Ron Manganiello, BRV spruces up secondhand 'cycles and passes them on to those in need of two-wheeled transport. "I respect very much what [BRV is] doing," says Gonzales. "This is what we need more of ... And I used to be a bicycle person."
"Frank Gonzales volunteered to do a mural, and we just jumped on it," says Manganiello, a close friend of the artist who recently collaborated on his Quad parade fixtures. He's not sure, but believes "this might be the biggest mural in Vermont." The BRV team is still mapping out ideas on the theme, which, Manganiello says, "will have to do with transportation and the mountains. It will be all about the outdoors." Having spent the weekend priming the wall space, he expects they'll be sketching the details this week in colored chalk. From there, Gonzales will act as "orchestrator," inviting the public to the bike shop to blend acrylic paints and add its own flair to the design.
"We need to bring people in together and get [them] involved in working with paint, color and creativity," says Gonzales. "We need to beat the drum like never before." He believes each individual's ideas can come together to form a united purpose and a well-founded sense of community. In a couple of months, when the completed scene spans the back of the building and parts of the roof, Gonzales predicts, "People are going to say, 'Oh, wow — why don't we do more of this?'"