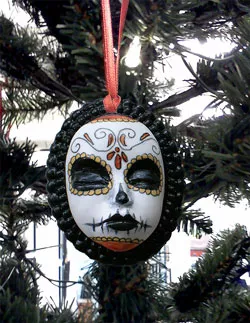 Ornament by Beth Robinson
Each fall the South End Art Hop fills the galleries, studios and businesses of Burlington's industrial neighborhood with thousands of people with one simple goal: to see local art. OK, and to party. The event's winter cousin, the three-day South End Holiday sHop, aims to appeal to visitors on a more urgent mission: attacking their holiday shopping lists. More than 30 artist studios, galleries and other venues are participating in this weekend's sHop.
In 2005, when jewelry maker Marie Davis started the first Holiday Hop with a handful of other Burlington artists, only seven venues participated. But the event quickly gained traction. "We have a wonderful, supportive community here, a lot of folks who want to buy locally, who see the value in that," Davis says. "I feel really fortunate."
When the South End Arts + Business Association (SEABA) took the reins of the sHop three years ago, participating artists were relieved to shift their focus from organizing the growing event to finishing up the work they hoped to sell. "It's been great for us," says Davis. "We can focus on what we're doing."
And what they're doing is creating one-of-a-kind artworks.
In the Howard Space, Davis crafts her intricate polymer-clay jewelry in Studio D-3, which she shares with artists Elizabeth Mercer, Carol Norton and Kate Butt. Expect this studio to be filled with glass mosaics, knit works, oil paintings and more.
Downstairs, at Justin Rose Piano Tuning, Burlington artist and accordionist Zelde Grimm is selling handmade fascinators and eerie-looking dolls made completely from reclaimed fabric, as well as her witty pen-and-ink drawings of animals with other animals living in their stomachs. On her website, Poppets and Lace, Grimm claims to have "walked across entire cities, hitchhiked countless miles, run away with the circus, turned into a puppet, run away from the circus and explored far and wide around the States."
More traditional art lovers might prefer designer Kevin Ruelle's faux-vintage Vermont travel posters. At Ruelle Fine Art, he offers giclée prints on watercolor paper with the lush, iconic imagery of a snow-covered Mount Mansfield, bicycles climbing the Green Mountains at sunset, and even a triumphant Morgan horse galloping over a grassy hillside.
At Zoë Ink in the Soda Plant, the printing is personalized. Designer Zoë Papas cranks out delicate letterpress creations on her hulking Chandler & Price Platen press. Surely someone on your list would appreciate hand-pressed stationery or silk-screened tea towels and pillows.
You can catch a glass-blowing demonstration at AO Glass and take home an ornament; warm up at Lake Champlain Chocolates with a cup of hot chocolate; help decorate trees with ornaments from different eras at Barge Canal Market; place a silent bid on artwork at the Art Therapy Association of Vermont's second annual silent auction in the Maltex Building Saturday afternoon; and meander through the SEABA Center's first-ever artist market, filled with stone carvings by Chris Cleary, hats by Swan & Stone Millinery, license-plate art by Aaron Stein and many other unusual artworks.
The Holiday sHop isn't as big as September's arts extravaganza — yet — but there's still plenty to see, do and buy throughout the South End. If you get tired, climb aboard the free ArtsRiot shuttle, running Friday from 6 to 8 p.m. and Saturday from 1 to 5 p.m.
Happy sHopping!
Holiday sHop, Friday through Sunday, December 14 to 16, at various locations in the South End of Burlington. For the full schedule, visit seaba.com/holiday-hop.