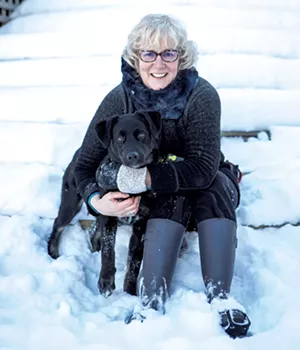 Luke Awtry
Emily Piccirillo and Izzy
Emily Piccirillo keeps a six-inch stack of index cards, soft and fraying at the edges, bound with a length of red ribbon. Each card is marked with a name and a few notes and dates. Each represents a person Piccirillo knew who died during the 18 years she served the AIDS community as an art therapist around New York City.
She still has a lot of the art, too. Stacks and stacks of drawings, paintings and collages fill large portfolio bags in Piccirillo's Burlington home. There's a rag doll someone made for her, and long strings of beads in no apparent pattern, which she keeps in boxes.
On an afternoon in December, Piccirillo took everything out slowly to show a reporter. The process took more than an hour.
As she looked at each work, she seemed to be looking through it, back in time to its creator. She remembered all of the artists, murmuring comments about them as she went. Some were troublemaking, some brilliant, some simply lost. A few of them were in love with her.
"He was such a hoot," Piccirillo said about one man. "He thought I was his wife," she said about another. Nearly all of the stories end sadly.
Many of the drawings are populated with eyes, which Piccirillo said often signify the fear of being watched or "othered." Some depict natural disasters, such as storms or scribbled tornados, symbols for the destructive power of disease. Some simply reflect physical and cognitive decline, the work of minds too addled to understand the boundaries of a piece of paper and hands no longer able to write letters.
"Often when the residents died, there was nobody there to take their artwork," Piccirillo said. When patients gave their art to Piccirillo for safekeeping, she said, "they felt like they were leaving their mark on the world. It became a really important legacy to them."
To be an HIV/AIDS patient in the 1990s was to be surrounded by death. Piccirillo worked with men, women and children who were not only dealing with the disease's effects on their own bodies but witnessing the suffering of their friends and loved ones. She is deeply familiar with grief — her own and that of others — and she believes making art is a way for people to express feelings that they don't fully understand or can't articulate.
With some patients, Piccirillo provided prompts, such as a classic art therapy assignment: Draw a house, a tree and a person. One such drawing from a young girl showed a tangled, dark scribble inside the outline of a house. Piccirillo called it "very concerning."
With adult patients in the AIDS units, she often took a less structured approach, holding studio hours and providing materials. As people created whatever they wanted, she parsed out ways to help them.
"Art therapy is magic," Piccirillo said. "It's this archetypal language that we all share ... It's a fluency that you develop like any other language."
Now Piccirillo, 60, wants to use her knowledge of loss and grieving to help people handle a different type of death: that of a beloved pet. In February, she plans to release a product called RemembeRing, which consists of a cardboard picture frame with a token to bury or cremate with the dead animal.
The idea stemmed from her work with children who lost parents during the AIDS crisis. Piccirillo spent a lot of time preparing them for, and accompanying them to, funerals. She wanted something tactile that she and the child could work on during the funeral, to let them participate in an age-appropriate way.
"I recognized something was missing. There wasn't the right tool," Piccirillo said. "I had nothing that I could do with them to help them be part of the memorialization."
She came up with the simple idea of a circle with the middle section cut out. The child would write a message on the middle section and put it in the coffin with their loved one, then keep the matching outside ring as a frame for a treasured photo. Both sections of the RemembeRing are printed with art by Piccirillo, though people can add to it or decorate it as they see fit.
A lifelong artist with a bachelor of fine arts degree from Brown University, Piccirillo came to art therapy from a job in Manhattan in print production. She was making a lot of money "making kitty litter liners," as she put it.
"I wanted to do more to touch people's lives," she said. She pursued graduate studies in art therapy at New York University and spent two years learning to integrate psychological techniques with her art background.
In 1990, Piccirillo began working at Saint Clare's Hospital, considered by some to have been the first in New York to care for HIV and AIDS patients. (Saint Clare's eventually became St. Vincent's Midtown Hospital and closed in 2007.) Later, Piccirillo would help found Broadway House for Continuing Care, a living facility for patients in Newark, N.J.
"New York was ground zero for HIV," Piccirillo said. For three years, she had a caseload of 75 patients and saw an average of 15 deaths per month. Some patients came into the hospital and died within a day.
"These people made me a better person," she said. "I got good at crying."
From New York, Piccirillo and her husband moved to Washington, D.C., where she transitioned her career from therapy to grant writing in 2005, giving herself more time to focus on her own art. In 2016, the couple moved to Burlington, concerned about the United States' shifting politics and in search of a friendly community in which to handle the changing climate. (Canada was their original idea.)
Piccirillo's ability to weather and witness the pain of sick, dying or grieving individuals is one of her strengths, according to her friend Stephanie Handel. Handel is a grief and trauma therapist at the Wendt Center for Loss and Healing in Washington, D.C. Like Piccirillo, she works with children, often using play and tangible objects to help her patients process.
Handel offers an insider's perspective on the solace that Piccirillo's RemembeRing could offer. "In general, when a death happens, it can feel so much bigger than any of us, whether we have the opportunity to say goodbye or not," she said in a phone interview. "When we invite people into the process of creating something, it allows them to see their grief. It allows them to memorialize ... It's an externalization of our pain, our relief, our despair, our loss."
Why focus on pets? For one thing, Piccirillo has had many of them. She grew up in Connecticut with dogs and cats, raised ducklings, and once rescued an injured starling and nursed it back to health.
Today she and her husband have a puppy, Izzy, who curled up at this reporter's feet during a visit to Piccirillo's home.
Animals have been "vital" to Piccirillo's life, she said. And she knew she was far from alone. Often in therapy sessions, she found that patients who had lost a family member would also talk, and cry, about the loss of an animal.
"They often would weave in very poignant stories of early losses of a pet that were very unresolved," Piccirillo said. "I realized there was something missing there, too."
Piccirillo plans to sell the RemembeRing online starting next month. She believes the only way to handle grief is to process and work through it, but she also thinks that creative tools, such as the RemembeRing, can give people an easier place to start.
She aims, Piccirillo said, to remind people that grief is ultimately born of love.
"One of the ways that I learned to draw strength in the situation was to remember that your heart can always open wider," she said. "The heart isn't a particular shape ... It has infinite capacity."