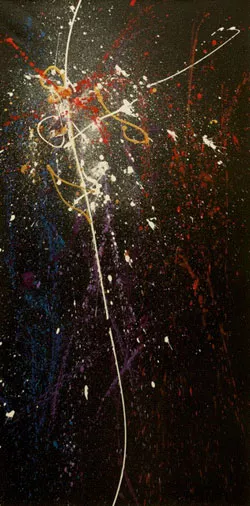 This time of year, stories of holiday spirit and generosity abound. So it's totally a bummer to hear about the opposite: theft. John Gonter, an artist and senior account manager at Burlington's Propeller Media Works, doesn't expect he'll ever see again the two paintings someone stole from the Outer Space Café a few weeks ago. The eatery had been displaying the works since May, Gonter explains; co-restaurateur Chantal Beliveau appreciated them because "[they] loo[k] like outer space." Indeed, Gonter's paintings, at least in this collection, are characterized by his abstracted vision of a sort of exploding cosmos. One of the missing paintings is a 2-by-4-foot work entitled, interestingly, "Anger Management"; the other is a 12-inch study for a larger painting called "Event Horizon" (which wasn't taken).
Gonter suspects the thieves grabbed these particular works because they were near the back door, allowing for a quick exit. But the long hallway of the Flynndog gallery, which culminates at the Outer Space amid several other businesses, is often unlocked. Building co-owner Bren Alvarez prefers trust as an M.O. "I think people feel like it's a community gallery," she suggests. In the Flynndog's 10-year history, only three small pieces with little market value have disappeared during the course of an exhibit. One of those, Alvarez speculates, might have been taken more for its "beautiful gilt frame" than for the work itself.
Gonter's work doesn't have a high price tag, either; the combined assigned value of both paintings is about $500. "I assume someone took the paintings because they liked them," Gonter says. "They're certainly not going on the black market."
Of course, if anyone gets one of these paintings for Christmas, the artist — and the police — would like to hear about it.