Bernadette Hood
"Foster Covered Bridge"
Burglars broke into a Montpelier church and stole thousands of dollars in art late last month, officials said.
Seven mostly abstract works from local artists were swiped from an exhibition in a chapel at the Bethany United Church of Christ, according to Linda Hogan, president of the Art Resource Association, which sponsored the show.
"Obviously the artists are very, very upset," Hogan said. "I'm very upset. It's just a violation. You never expect people to rob a church."
The arts organization and Montpelier police have released images of the distinctive works in an effort to generate tips on their whereabouts and to prevent them from being sold, Hogan said. Their total value was estimated at more than $4,000.
The thefts occurred during two incidents between August 22 and 28.
The first was reported August 24 after Roxbury artist
Linda Maney visited the exhibition and noticed her piece was missing, said Amy Pitton, the pastor.
The work, "Cabin Fever Expressed," is an acrylic painting that was for sale for $200.

"I'm really disappointed that this happened," Pitton said.

Upon learning of the theft, Pitton said she raced over to the gallery and discovered that a second work —
a mixed-media print by Montpelier artist Heidimarie Holmes-Heiss listed for $320 — was also missing.

Kate Meuller
"Shiva Dance"
The exhibition was not monitored, and Pitton said the thief likely just saw the chance to walk out with paintings.


"
We assumed it was a crime of opportunity at that point," Pitton said.

The church has been displaying the art in the chapel since late July as part of a program called the Bethany Center for Spirituality Through the Arts. The area has been open to the public from 9 a.m. to noon most days.
Pitton immediately called police. The church began planning for the installation of a security system, Pitton said.
Three days later, on Sunday, August 28, a custodian opening up the church arrived to find that someone had broken in through a back door and stolen five other pieces, Pitton said.
They also broke windows to an office and tried to pry open a door to the sanctuary, Pitton said.
"If I were to speculate, the person was in the building earlier and saw there were paintings that had price tags of $200 to $2,000 and probably thought,
Easy money
," Pitton said.
She called that "na
ï
ve," given how difficult it can be to sell unique artworks that have been reported stolen.
Hogan thinks the thieves targeted higher value paintings the second time, including one — an untitled mixed medium by Liz LeServiget — valued at $2,000.
The thieves left behind the tags describing the art the first time, but took them on the second heist, she said. This suggests they wanted documentation of their value, she said.
Montpelier police asked anyone with any information to call them at (802) 223-3445. No one in the department was available to speak to the media on Monday.
Officers are trying to examine security cameras in the area, Hogan said. They also have contacted auction houses and antique stores to see whether they've been approached about selling the works, she said.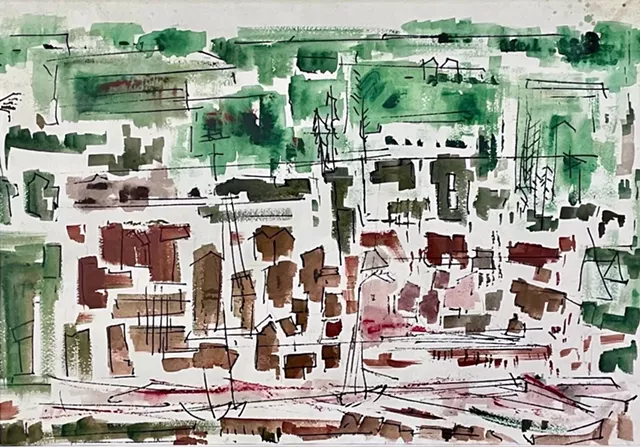 Bud Cary
"Finding Clarity in a Day"
The Art Resource Association is a small central Vermont arts organization that has been around since the 1970s. It has about 70 dues-paying members and provides shows, classes and scholarships. In its hundreds of shows, there have only been one or two thefts, Hogan said.
Pitton said she planned to repay the artists for their losses through insurance. But it's more than just the money, said artist
Missy Storrow.


One of the stolen works was created by her father, abstract expressionist Bud Cary, who died in 2001. The work, a watercolor and ink titled "
Finding Clarity in a Day," was valued at $700.

"
I put up his work to honor him, and when someone comes and takes that away, that is truly a violation," Storrow said.

See related PDF