"Way Station 1 (Study Chamber)" by Vito Acconci
Summer is the time for being outdoors, relaxing and letting your body and mind be playful. To give you a nudge in that direction, we present a walking tour that highlights one of our favorite outdoor art destinations — it's the first in a series for summer 2016. So haul out your sensible shoes and a water bottle and get going. First stop: the immaculate campus of Middlebury College.
It is not a stretch to say that the caliber of the school's public art collection today is due in part to an act of vandalism more than three decades ago. In 1983, the college hosted American artist Vito Acconci as a visiting professor of studio art. He was invited to install his work "Way Station I (Study Chamber)" on campus. When completed, the sculpture became the center of tremendous controversy among the college community. The night before commencement ceremonies in May 1985, the work was set ablaze. The culprits were never apprehended.
Richard Saunders, director of the Middlebury College Museum of Art, had joined the institution that year. During a recent campus visit, he told Seven Days that, against the advice of many at the college, he felt strongly that the Acconci work be resurrected. If it were to disappear forever, he asked, "What [would] that say about the construct of education at Middlebury?"
And so, thanks to Saunders' dedication and perseverance, in 1994 the Committee on Art in Public Places was established, with Saunders as chair. The collection now boasts more than 20 substantial works. They were acquired through a combination of gifts and CAPP's One Percent for Art policy, which designates an arts budget of "one percent of the cost of any renovation or new construction project at the college with a budget of $1 million or more."
"The whole goal is to have lots of different ideas represented," said Saunders, and "to create a visually aware environment." He added, "It's unusual for a school of our size to have as important a collection as we have."
Luckily, you need not pay tuition, or an admission fee, to enjoy the fruits of this labor. So, let's get walking.


1. Mahaney Center for the Arts: "Way Station 1 (Study Chamber)," Vito Acconci; "Around and About," Clement Meadmore; "LOVE," Robert Indiana; and more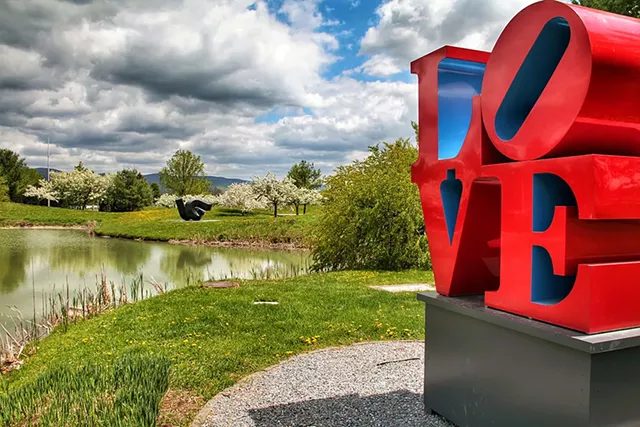 In the Mahaney Center lobby, you can pick up a copy of the sleek, ring-bound "Art in Public Places" guide — and, if you like, an iced coffee to fuel your engine. This tour is curated (read: streamlined), so if you crave more knowledge about any of the artworks, you can find a plethora of information in this guide. Additionally, the Mahaney Center website features museum-style audio guides for most of the public works, as recorded by John Hunisak, emeritus professor of history of art and architecture.
It's only fitting to start the tour with Vito Acconci's "Way Station I (Study Chamber)," which sits atop a mound just southeast of the Mahaney Center. The original 1983 work was Acconci's first-ever permanent public artwork. After its vandalism and subsequent removal, it was finally reconstructed in collaboration with Acconci in 2013.
Once described by Hunisak as looking like "a toolshed to withstand the apocalypse," the work really is a shelter of sorts — and you can go inside. Saunders asserted that it reflected the politics of the 1980s. The flags of the United States, Soviet Union, People's Republic of China, Cuba and the Palestine Liberation Organization are overlaid on the structure's inner door. Noting its location in Vermont's "sylvan landscape," Saunders said, "The idea is to create reflection." Movable metal panels form the structure's slanted wall; playing cards on the outside suggest an element of chance, while letters on the inside spell "GOD," "MAN" and "DOG."
Just yards away on the southern edge of the pond is Australian American sculptor Clement Meadmore's 1971 "Around and About." Its sharp square edges and matte black paint are imposing — perhaps even threatening — but the shape's twist and curves give it an almost whimsical sense of motion.
Close by is Robert Indiana's "LOVE" (1973), a three-dimensional version of the iconic work associated with the pop-art movement that has proliferated throughout contemporary visual vernacular. It's boldly graphic, bright red and relatable — what's not to love?
Also nearby:
"Two-Way Mirror Curved Hedge Zig-Zag Labyrinth," Dan Graham, 1996
"I dreamed I could fly at 3,876,225," Jonathan Borofsky, 1984-1982 (inside museum)
"Plato's Cave," Buky Schwartz, 1990
2. "Chaos Xaxis," Jedd Novatt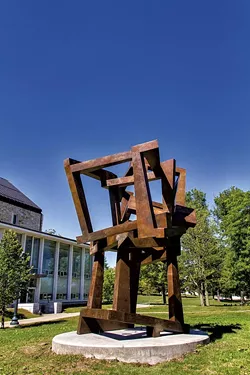 "Chaos Xaxis" by Jedd Novatt
Novatt's massive sculpture is Middlebury's latest public art acquisition and was shipped to Vermont from Spain. It was officially installed on September 11, 2015. Mahaney Center director Liza Sacheli told Seven Days that an onlooker thought Novatt's precarious geometric work "looked like two buildings embracing each other."
The 14-foot-high bronze work consists of three entangled, cube-like forms, askew but maintaining balance. "There's just enough order there," art history professor Pieter Broucke said, "that you can recognize the chaotic aspects."
"Chaos Xaxis" (pronounced axis) is part of Novatt's ongoing "Chaos" series, iterations of which are installed across the globe.
3. Prints by Giovanni Battista Piranesi
A print by Giovanni Battista Prianesi
Roman history buffs in particular should make sure to see these two works by the Venetian printmaker, which flank a hallway inside the Axinn Center at the Starr Library. "View of the Principal Elevation of the Column of Trajan," 1774, and "View of the Principal Elevation of the Column of Marcus Aurelius," circa 1776, are both the oldest and the earliest acquisitions (1900) in Middlebury's public art collection.





4. "7000 Eichen (7000 Oaks)," Joseph Beuys
"7000 Eichen (7000 Oaks)" by Joesph Beuys
This land work installed by the Middlebury College Museum of Art in 1998 is a tribute to German artist Joseph Beuys, who died in 1989. The towering oak tree and its thigh-high basalt marker sit unobtrusively at the south side of Starr Hall. Invoking his concept of "social sculpture," the work can be seen as a continuation of efforts initiated by Beuys in 1982 to collaboratively plant 7,000 oak trees in the German city of Kassel, each with a basalt marking stone next to it.
5. "Frisbee Dog," Patrick Villiers Farrow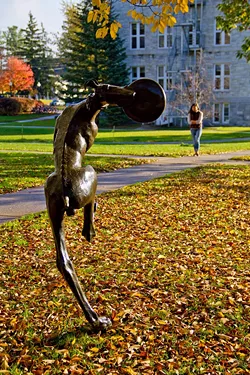 The 1989 bronze is reportedly a campus favorite, not least because of lore that claims five Middlebury alumni threw the first Frisbee — a discarded Frisbie Pie Company tin. Other accounts suggest it was Yale students. We doubt it matters to the dog, a slightly larger-than-life lithe breed captured mid-jump, Frisbee in mouth.






6. Franklin Environmental Center: "Solid State Change," Deborah Fisher; "Wintergräser" (winter grass)," Herman de Vries; and more
"Solid State Change" by Deborah Fisher
The Franklin Environmental Center at Hillcrest features a cluster of artworks that are particularly notable for their apropos fusion of art and environmentalism.
One way to make inorganic material organic is to shape it like it is. This was American artist Deborah Fisher's method. Her 2007 permanent installation, "Solid State Change," transforms discarded rubber tires and electrical insulation into pleasantly stratified, fungus-like "growths" emerging from the building's foundation.
Inside Franklin is a work that Broucke described as "incredibly poetic and very, very direct." Dutch artist Herman de Vries' "Wintergräser" (winter grass)," from 2013, features 32 square glass panels arranged in a four-by-eight grid. Each panel contains grasses that de Vries collected at his home in Eschenau, Bavaria, and then pressed in random arrangements. The work's lighting is motion-activated, so bonus points for energy efficiency.
Another bonus: Vermont artist Jay Mead currently has a circular wall sculpture of orange-painted trees installed next to "Solid State Change." And don't miss Alexander Russo's "exhaust drawing," in the building's eastside entryway.
7. "Bench and Table," Scott Burton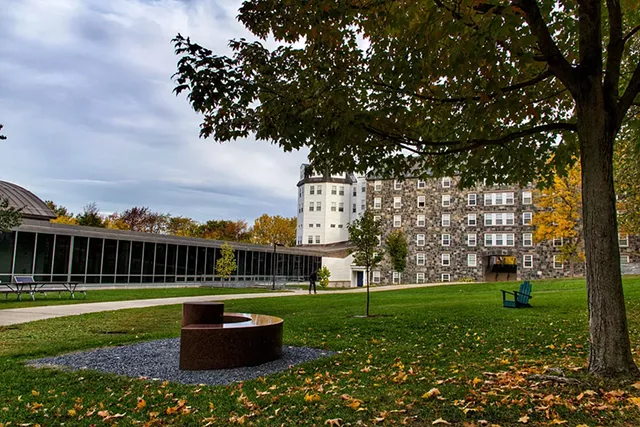 "Bench and Table," by Scott Burton
A functional work by the American artist created in 1988-89, this piece offers a place to stop, rest your legs and take a look around. Visitors may be surprised to learn that the maker of this red granite hybrid furniture-sculpture began as a fundamentally antiestablishment artist; only later would galleries tout his minimalist works. Incidentally, Burton was a contemporary of, and worked in conjunction with, Vito Acconci.
8. "Smog," Tony Smith
According to Saunders, "Smog" is CAPP's "most ambitious" acquisition to date, both in scale and price tag. It is also Smith's "largest and most complex work," according to Middlebury's guide. Smith died in 1980, but the work was fabricated and installed based on documents he left behind. It is both sprawling and rigidly contained, with a geometric precision reminiscent of crystal formation and molecular structure.
The minimalist sculpture's painted aluminum forms rise more than six feet tall, and together cover an area of approximately 80 by 60 feet. The work was installed in 2000, in conjunction with the opening of Middlebury's Death Star-esque McCardell Bicentennial Hall. Head to the top of Bi Hall for a great bird's-eye view.
9. "Youbie Obie," J. Pindyck Miller
"Youbie Obie" by J. Pindyck Miller
This monumental steel sculpture is named for the letter shapes that form it: a U and several fragmented Os. At 15-plus feet high and wide, the open, formalist sculpture serves as a sort of gateway to the northern section of campus. The work's biggest payoff comes from watching its shape change while walking the circumference: Depending on where you are standing, its simple metal shapes appear to be a narrow tower or a broad, passable gateway — or something in between. Artful landscaping ensures that no wayward walkers or cyclists can injure themselves on the suspended metal.
10. "Hieroglyphics for the Ear," Kate Owen
"Hieroglyphics for the Ear," by Kate Owen
To find this farthest-flung installation (1997), you must pass around the Atwater Dining Hall, which is a public artwork in itself, with its grassy green roof and barnacle-like skylights. Walk through the rows of caged landscaping stones and into the woods. As your eyes and ears adjust to being in a forest enclave, you'll come upon five signposts with golden lettering. Each bears an onomatopoetic word — including "hum," "squeak" and "crackle" — questioning the relationship of sight, sound and permanence.
11. "Mural of Cosmic Geometry," Sabra Field; "King Kong," Jules Olitski; "Two Open Rectangles, Excentric, Variation VI," George Rickey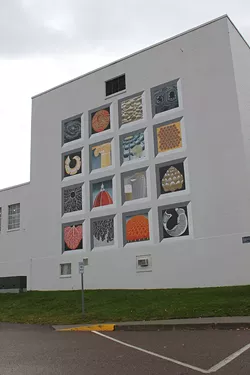 "Mural of Cosmic Geometry," by Sabra Field
On the east-facing wall of the Wright Memorial Theatre is the impossible-to-miss "Mural of Cosmic Geometry" by renowned Vermont printmaker and Middlebury alumna Sabra Field. The four-by-four grid, installed in 2010, features 16 print motifs with Field's signature clean lines and attention to composition, here applied to depict "spiraling, tiling, branching and scaling."
"King Kong," a 1973 sculpture by Jules Olitski, is situated in front of the Johnson Memorial Building, as is George Rickey's entrancing 1976 kinetic sculpture "Two Open Rectangles, Excentric, Variation VI." This latter work is addictive; you might end up watching it for hours, waiting in vain for the two suspended rectangles to collide.
12. Davis Family Library: "Garden of the Seasons," Michael Singer; "Selections From Truisms: A Sense of Timing..." Jenny Holzer; and more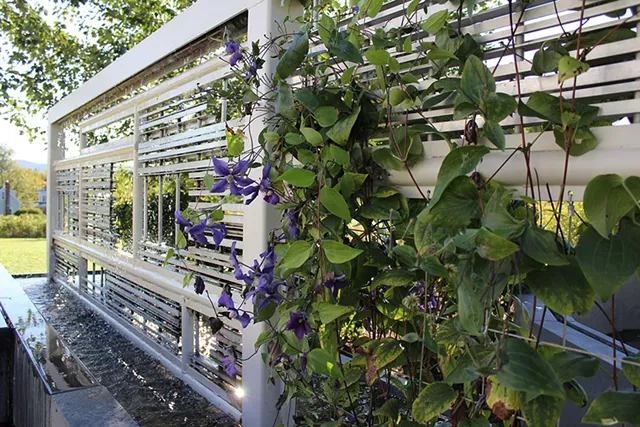 "Garden of Seasons," by Michael Singer
Home stretch! Depending on your energy level and/or attention span, you may like to make a beeline for "Garden of the Seasons," a peaceful sculptural environment by American artist Michael Singer. As its name suggests, the garden has something to offer all year long, but during the summertime, you can expect the sight and sound of trickling water and plenty of plant life.
However, if you're so inclined — or if you're intent on seeing as much of Midd's collection as possible — head into the library's main entrance. Once inside, take the stairs on your right to the second floor. Carved into an inconspicuous marble bench are "Selections From Truisms: A Sense of Timing..." — slogans by renowned American text artist Jenny Holzer.
Look up and to your right, and you'll see Matt Mullican's mural "L'Art d'Écrire (The Art of Writing)," a 2004-05 work that takes many of its cues from 18th-century French scholars Denis Diderot and Jean-Baptiste le Rond d'Alembert. Mullican's oil-on-acrylic panels span 24 feet tall and 75 feet across and depict black symbols against a yellow background. Some are easy to identify and others more obscure: They include a globe, petroglyphs, alphabets of multiple languages and patterns of circles.
If you walk past the stacks to the library's eastern atrium, you'll find the relatively diminutive (less than four feet) tabletop "Ornamental Rock," a Chinese collector's item that is particularly poignant for its orientation: The deliciously sculptural geologic form faces the library's huge windows and seems to be taking in the entire Green Mountain landscape before it.