"Crossing the Line" by Jessica Houston
The connection between artists and the land has resonated with viewers for centuries. In Vermont, exhibitions that push well beyond conventional landscapes have been on the rise in recent years. Burlington City Arts' annual exhibit "Of Land & Local" has expanded to other venues. Last year, Shelburne Museum ("Eyes on the Land") and the Hall Art Foundation ("Landscapes After Ruskin: Redefining the Sublime") brought a nuanced attention to the land and landscapes.
Cold Hollow (Enosburg Falls) and Lemon Fair (Shoreham) sculpture parks put viewers on the land along with the art, joining long-standing outdoor sculpture exhibitions such as Woodstock's SculptureFest. These exhibits celebrate art while also often addressing the thornier issues of conservation, preservation and ownership of resources.
Now, the Great Hall in Springfield presents "Wildlands: A Celebration of Public Lands, National Parks and Wilderness," an exhibition of nearly 30 works that relate to wild and wide-open spaces. The show triggers reflection on the importance and fragility of what are often considered "forever" places.
Several of the 10 artists on exhibit have been artists-in-residence at parks in the U.S. and beyond, and thus have a special perspective on these unique places. But the work of all the artists here discloses a personal connection with nature. For some it began in childhood; for others, it's become a lifelong pursuit in which they use their work to voice concern about protecting treasured lands.
Photos Courtesy Of The Great Hall
"Sunrise, Winter Hillside " by James Urbaska
Art has a long symbiotic relationship with conservation efforts. Nineteenth-century artists, particularly the Hudson River School painters, showed Americans the grandeur of the country's mountains, rivers and valleys in locations most had never seen. Near the turn of the 20th century, artist Frederick S. Dellenbaugh painted Zion Canyon in Utah. His paintings and words raised awareness of Zion's majesty and may have helped inspire later petitions for its establishment as a national park.
"Cathedral Peaks" by Joan Hoffmann
South Royalton artist Joan Hoffmann's oil paintings portray Yosemite's famous landmark in "Cathedral Rocks" (48 by 60 inches) and "Zion" (20 by 30 inches), which capture the canyon's splendor. She has painted in 50 national parks, including Vermont's Marsh-Billings-Rockefeller National Historical Park. In time, Hoffmann's work could also serve to encourage protection of America's parklands.
Opposite these paintings hang two 14-by-41-inch photographic prints on metal by Springfield artist Rich Cofrancesco. "Sequoia" and "Bridal Veil Falls" present towering views of a giant sequoia tree and waterfalls, respectively, in California's Yosemite Valley. Cofrancesco shoots from a low perspective, showing the view a typical visitor to those sights would have. The scale of these giants is difficult to capture in any medium, but this photographer's success is evident in a comment about "Sequoia" from a visitor to the Great Hall: "I was moved so much that it brought me to tears."
Newfane artist James Urbaska creates subtle oil-on-linen landscapes that are not about grandeur. They could be of Vermont or Montana (where he grew up), or anywhere with snow-covered mountains. His beautiful paintings, just this side of blurry, evoke a feeling of elation, like dreams from which you don't want to wake. Most of Urbaska's paintings here have a low horizon line, opening the top two-thirds of the canvas for the sky, as in "Sunrise, Winter Hillside" (32-by-48-inch oil on linen). That space soars in the imagination.
Oliver Schemm of Grafton created "The Tupa Collage," a 36-by-60-inch sculptural homage to an area on the Rocky Mountain Front, where his family has a cabin. Tupa is Finnish for a one-room cottage. The Front is a wildlands ecotone that straddles Montana's high plains, the Bob Marshall Wilderness Area and Glacier National Park. According to Schemm's artist statement, the region "has been under assault for more than 50 years from test drilling for oil and gas," even though conservationists have determined it to be some of the most important remaining American wilderness.
Schemm addresses the nature-versus-human struggle by incorporating into his work objects found in the Rocky Mountain Front — some wild, some man-made. They include a picture of the cabin, a small animal skull, old coins, the long arm of a gas pump wrapped in dollar bills, bits of rope, a Great Falls High School activity ticket from 1950-51, and a cattle horn. Visitors who look closely will find more.
Schemm's work directly corresponds to the exhibition's title. He's one of the few artists in the show who directly address wilderness, though many speak to the encroachment of "civilization."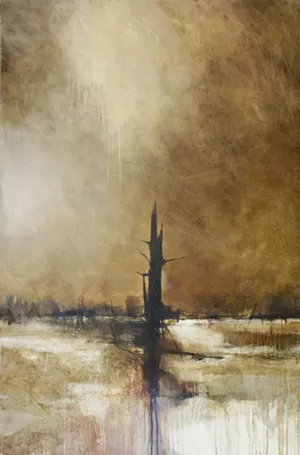 "Beaver Pond in Winter" by Charlie Hunter
Montréal artist Jessica Houston has pursued a personal discovery of wilderness. She sailed to the Arctic on the Russian research ship Akademik Ioffe, taking color photographs along the way. Houston adds color filters through an unusual technique: placing differently colored felt in front of her lens. The colors — red, blue or yellow — dominate the photographs yet seem natural to the landscape, perhaps because she chose colors that exist in each scene she captures. The felt sometimes obscures part of the image, inviting the viewer to imagine what's hidden.
In Houston's "Living Memory," the sky is a vast window of golden yellow. It's otherworldly, like a moonscape, but the foreground reveals life — grass, earth, lichen, water. Her choice of felt as a filter is unusual, if not baffling, but the result is mesmerizing and spectacular.
Like Houston, Bellows Falls painter Charlie Hunter approaches abstraction through his use of color. In the 72-by-48-inch oil "Beaver Pond in Winter," he re-creates a scene of a beaver pond in Putney. According to his artist statement, Hunter made field sketches and a small painting on-site there. He writes that the painting is also based on a "fondly remembered pond of my childhood in Weathersfield, where me and my dog Moxie would often crash through the ice in March attempting to gather pussy willows."
Hunter's works characteristically employ a limited color palette and feature decaying infrastructure; this painting is unusual in depicting only nature.
"Day 38 Las Medulas" by Susan Abbott
Susan Abbott contributes two 34-inch-square oil paintings of her 500-mile journey on El Camino de Santiago, an ancient pilgrimage trail ending in northern Spain. The Marshfield painter's use of bright color brings us along on her journey, which she took in the spring of 2016. While the works do not reflect true wilderness, Abbott enables us to imagine ourselves on this path, too, following the millions of travelers who have gone before. Painted from the point of view of a walker, the images make it easy to appreciate the quiet solace of nature. It would be hard to find a better example of what wilderness provides: an opportunity simply to be alive and part of the world.
In a variety of styles, the artists in "Wildlands" reflect on how open spaces affect us and on what that means as economic and political pressures come to bear on them. Collectively, it is a beautiful and moving display.