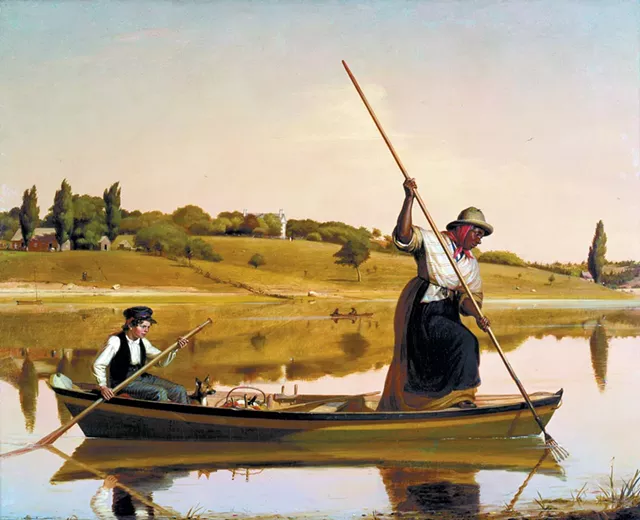 Courtesy Of Shelburne Museum
"Eel Spearing at Setauket" (1845) by William Sidney Mount
In an eloquent article for the summer issue of Antiques & Fine Art magazine, Shelburne Museum head curator Kory Rogers makes this pronouncement: "Suspense-filled depictions of close calls, tight spots, and struggles to the death enjoyed great popularity in American art during the second half of the nineteenth century." His essay is about the museum's current exhibition, which he cocurated: "Wild Spaces, Open Seasons: Hunting and Fishing in American Art." Given the importance of these two activities — and the great outdoors itself — to the American ethos, it's surprising to learn that this is the first major exhibition to focus on the visual culture of these themes.
Courtesy Of Shelburne Museum
"The Death Struggle" (1840-45) by Charles Deas
Rogers' statement also hints at one reason the show — featuring artworks from the early 19th century through post-World War II — might resonate with contemporary viewers: We still like to experience peril ... vicariously. Hollywood action movies and video games illustrate this penchant abundantly. An impassioned painting of a harrowing scene — say, Arthur Fitzwilliam Tait's 1856 "A Tight Fix—Bear Hunting, Early Winter" — can produce pretty much the same effect.
Though we like to think of the 20th century (and 21st so far) as periods of great change, 19th-century America experienced its own upheavals. Not the least of them was increasing urbanization and industrialization, shifts that began to separate humans from the natural world — or, more pointedly, men from the hypermasculine pursuits of killing creatures for sport, sustenance or survival.
And so the artworks in "Wild Spaces" speak to another human tendency: to wax nostalgic about the past. For us now, that might mean "before the internet and smartphones." A century or more ago, it meant romanticizing preindustrial societies and, as Rogers puts it, "rugged and risky excursions in the wild."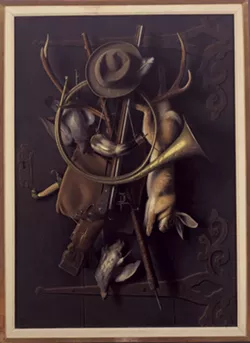 Courtesy Of Shelburne Museum
"After the Hunt" (1884) by William Michael Harnett
"Wild Spaces" includes 73 paintings and sculptures gathered from lenders around the country. Rogers' collaborators in the endeavor were curators at the Joslyn Art Museum in Omaha, Neb.; the Amon Carter Museum of American Art in Fort Worth, Texas; and the Dixon Gallery and Gardens in Memphis, Tenn. The Shelburne Museum's Pizzagalli Center for Art and Education is the third stop for the exhibition tour, and the works fill both levels of the gallery space.
What's important to know is that viewers who don't relate to hunting or fishing can find much to appreciate beyond those subjects. The exhibition's narrative is broader than it might seem. Among its subtexts are gender, class and, to a lesser degree, race; humans' relationship to the environment; and attitudes of conquest, entitlement and dominion that are precursors to challenges we face today.
Then there is the sheer extravagance of talent on display. Rogers and his cocurators have amassed a stunning collection, including substantial pieces by masters such as Winslow Homer, John Singer Sargent, N.C. Wyeth, George Bellows and Marsden Hartley. As Rogers notes, many of these works will likely never come our way again. Given its century-plus time span, the exhibition represents a number of art-historical styles, from exquisitely rendered realism to impressionism to spare yet still-representational modernism. This is to say nothing of shifts in sporting fashions over the ages.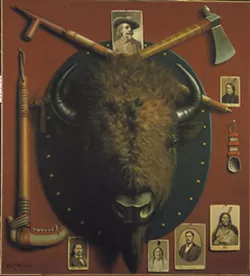 Courtesy Of Shelburne Museum
"The Buffalo Head, Relics of the Past" (c. 1910) by Astley D.M. Cooper
Trompe l'oeil found its place in this context, too — being, in fact, well suited to the spoils of the hunt. A particularly meta example of the technique is Astley D.M. Cooper's "The Buffalo Head, Relics of the Past," c. 1910. The taxidermied head of a buffalo, mounted on an oval of dark wood, commands the center of the 40-by-36-inch oil painting. Surrounding it are facsimiles of photographs of "Buffalo Bill" Cody and several Native Americans, as well as a tomahawk, peace pipe and other accoutrements of native culture.
Cody himself once owned the painting. Even when it was created, the lifestyle of the Wild West was on the wane, so the piece serves as an homage to, as the exhibition catalog notes, "a bygone era in American history, when vast herds of buffalo roamed the plains, homesteaders and American Indians battled, and larger-than-life characters ... made names for themselves through daring exploits."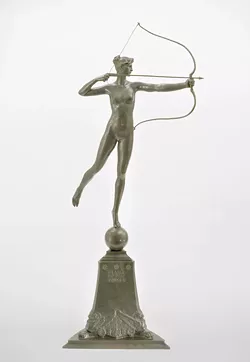 Courtesy Of Shelburne Museum
"Diana of the Tower" (c. 1899) by Augustus Saint-Gaudens
Though the exhibition's theme omits women almost by definition, the curators did make an effort to include token feminine elements. These include a graceful 1899 bronze sculpture of Diana by Augustus Saint-Gaudens, which once stood atop Madison Square Garden; and a remarkable classical oil portrait by George de Forest Brush titled "A Celtic Huntress" (1890). In the latter, a sturdily built, red-haired lass is clad rather provocatively in a green leather sleeveless dress. In her left hand she holds a long arrow; her right hand caresses a soulful canine companion. It's a smallish work, just 20 by 17 inches, but powerful. Nearly 130 years later, we would have to call this woman bad-ass.
The huntress is a far cry from the laboring African American woman depicted in a boat with a young boy in William Sidney Mount's "Eel Spearing at Setauket" (1845). Neither character looks very happy, which invites imagined narratives.
But other elements of this painting capture the eye and make it surprisingly compelling: the formal composition, the glowing light, and odd distortions of scale and reflection in the water. It's a complex yet placid scene, particularly in comparison with heart-thumping images like Charles Deas' "The Death Struggle" (1840-45). Here, things don't look promising for a white man and an Indian pitching off a cliff on their wild-eyed horses.
The artworks in "Wild Spaces" are thematically grouped into six sections: Livelihoods, Leisurely Pursuits, Myth and Metaphor, Communing With Nature, Perils, and Trophies. Rogers was largely responsible for the last two categories because, as he puts it, "I have a penchant for death and mayhem." Individually and collectively, the exhibition's components illustrate enduring truths about humans working, recreating, living and dying in the natural world.