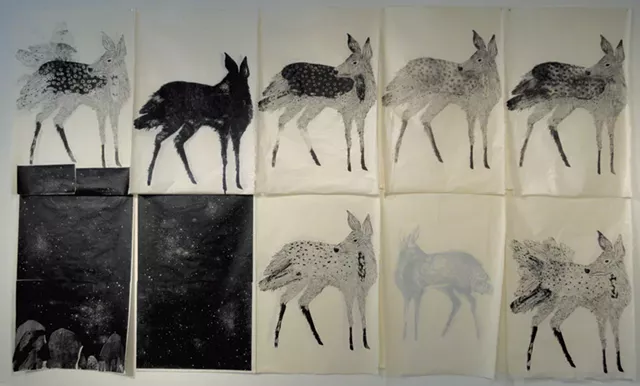 Photo: Amy Lilly
"Visitor" by Valerie Hammond
Valerie Hammond and Kiki Smith both teach printmaking at New York and Columbia universities, have houses upstate about 10 miles apart, and have been friends for 20 years. The two artists have participated in duo shows a number of times, including in Atlanta, Ga., and Lacoste, France. Now their work has come to the Helen Day Art Center in Stowe.
"Familiars: Valerie Hammond and Kiki Smith" acknowledges in its title not only the women's friendship but also the resonances between their bodies of work. These include elements of nature — moths and butterflies, flora and fauna — and an abiding interest in complex printmaking techniques, from hand-indigo-dying Gampi Torinoko paper in Japan (Hammond) to creating a 3D aluminum cast of a drawing of a branch (Smith).
That said, the two artists' work is very different, making curator Rachel Moore's decision to separate them logical. Hammond's work is on the left as one enters, Smith's on the right. Smith is largely self-taught; Hammond earned an MFA from the University of California, Berkeley. Both are internationally known artists, but Smith more so, as the daughter of large-scale sculptor Tony Smith and the subject of a 2006 retrospective at the Whitney Museum of American Art.
Hammond's work begins the viewing path laid out in a numbered gallery guide. A dual sense of subtle threat and sly humor becomes immediately evident. "She I" and "She II" are relief prints in black ink on Gampi paper of realistic-looking animal pelts in fine detail with human eyes collaged onto them. The effect is disturbing but also playful, as if the hiding and watching were a costume game. The numbers give a wink: "She II" has two pelts, or perhaps two sides of the same pelt spread out, where "She I" has one.
The artist did the same with "Flutter I" and "Flutter II," which feature, respectively, one and two collaged, 3D, laser-cut butterflies. But in "Flutter I," the winged creature replaces the face and head of an etched owl.
Speaking by phone from her upstate New York home, Hammond said she often listens to audiobooks while working, and Siddhartha Mukherjee's The Gene: An Intimate History put her in mind of chimeras. The artist was raised Irish Catholic and retains an interest in visual signs of the spiritual world — another similarity between her and Smith.
"Visitor" contains the most striking chimera. The eponymous figure resembles a deer with a half-furred, half-feathered hide and a turkey's rump for a tail. The black woodblock-and-relief-print image is repeated, with variations, on eight of 10 sheets of Gampi paper attached to the wall at their top corners and arranged in two rows. Some are layered on an additional printed sheet; Hammond said she intended to evoke shadows.
A single "visitor" appears in "Birds Child," an eight-sheet arrangement of Gampi Torinoko paper that Hammond hand-dyed indigo. (Torinoko means "bird's child" or, more often, "hen's egg.") She learned the laborious process during a five-week artist residency at a factory in Japan that has passed down the centuries-old craft for generations. The deep indigo composition speckled with stencil-resist white evokes a spirit creature on a starlit journey.
"Skins" ends Hammond's side of the show with a composite of many of the patterns in her other works — owl feathers, a starry night sky — sewn into elongated gloves from which dangle skeins of thread. There is at once something feminine and a touch of the macabre about the work; these are skins, after all. Likening them to sloughed-off snake skins, the artist said, "I've always loved the idea of regeneration, of taking on other identities, almost like camouflage."
Courtesy of Helen Day Art Center
"Earth" by Kiki Smith
While Smith's concerns are different, she has undergone her own artistic regeneration. Known in the 1980s and early '90s for emotionally raw depictions of the body in all its unseemly mortality, Smith later shifted toward representations drawn from the natural world. This prolifically experimental artist's works at Helen Day range from a colorful etching of a firmament of five-point stars collaged with mirrored Mylar ones ("Coincidence") to an assembly of bronze snails ("Wives and Mistresses") to a realistic aquatint-and-hand-colored etching of a turkey ("In a Bower").
The show is not entirely devoid of human bodies. "Untitled (woman with leaves)," on an 82-by-47-inch (framed) sheet of Gampi Torinoko paper, stands out not just for its size but for its frank, frontal depiction of a young nude woman in outline, her more detailed face expressing incipient concern. Branches extend from her hands, though she doesn't appear to hold them.
Smith used photographs of her own hands for three photopolymer prints, a method that uses a printing plate made from light-sensitive plastic. The results "have a certain candy quality that I like," she said by phone from her upstate New York home. In "Sky," "Sea" and "Earth" — positioned resonantly beside Hammond's "Skins" — her hands hold unidentifiable objects against abstractly patterned backgrounds. (Photopolymer gravure is not intended to capture detail.) "Sky" has a crosshatching of fine gold glitter.
Color is significantly more muted in "Touch," a series of six etchings with aquatint and drypoint. Each depicts an arrangement of flowers that, in their finely drawn detail and isolation on the white paper, echo 19th-century nature guides. The burst of bee-laden dandelions in the etching titled "Healers," by contrast, is based on a photograph.
Smith noted in the interview that snails, the subject of "Wives and Mistresses," are "the opposite of us": Their hard shells enclose and protect the soft body. Much could be read into this. When asked if the pendulum of her work's emotional tone has swung the other way since her explorations of the body, she dissented.
"I'm sure in relation to Valerie's work it looks cool, but it has emotional value to me," she said of her work. "I'm satisfied [with a work] when I have a feeling about it — but what that feeling is is relatively abstract and elusive for me, too."
Even familiars are driven by the unfamiliar.