In previous years, the Chaffee Art Center's annual juried exhibition "Under 30" consisted of 30 artists not yet 30 and was held in the Rutland establishment's historic mansion, whose many rooms accommodated a large, salon-style show. This year, ongoing renovations at the Chaffee main site required both a move to its alternate downtown space and a different approach.
"Box 3, Series 1" by Steven J. Mestyan ll
The Chaffee Downtown gallery is a smaller, rectangular space with large windows looking onto the street. While it lacks the expansive elegance of the Art Center, the room fills quickly with people at opening-night receptions and feels convivial.
This year, the Chaffee's exhibition committee invited artists under the age of 30 to apply, but ultimately accepted just six of these and asked them to submit up to six works each. The resulting show affords a deeper look at these young artists, all Vermonters in their twenties, than the larger sampling has done in the past.
Nicole Carpenter's 27-by-34-inch "Engagement" is a red-hued photograph of a nude female torso. The woman's hands cover her breasts, while another pair of hands wraps around her waist. The pose is tender, yet its color shifts the context to a sexual one. Carpenter's paintings also focus on hands in an almost mystical way: disembodied, coming from darkness.
Six assemblages by Steven J. Mestyan II consist of rough wooden boxes — ranging in size from 15 by 19 inches to 19 by 34 inches and mounted on pedestals — that hold photographs and found objects. In his artist statement, Mestyan writes that he "draws inspiration from what is discarded, forgotten and unnoticed." He thinks of his work "as sort of a window that allows the viewer to see how I internalize the world around [me], good or bad." Mestyan creates narratives with found trash, including rebar, knob-and-tube circuitry, a black plastic pipe that serves as a vase, broken-off glass bottle tops, bone and the soles of decaying shoes.
Mestyan's sepia-tone photographs of nude female figures and abandoned structures are prominent in his assemblages and evoke a sense of foreboding. This work may provide "windows," but, closed on all but one side, the boxes also convey the sense of an open casket where memories are laid to rest.
Kristen Partesi uses line and symbol in her paintings to create colorful, bold images. Her highly stylized symbols, which look like both script and graffiti, appear to be words but are indecipherable. "The Essence," a three-panel painting — two panels are 12 by 24 inches each; the third, 16 by 20 inches — uses long, curving lines that resemble organic forms, like plants sprouting in spring. In other works, including "The Core" (16 by 20 inches), Partesi adorns her broad script with crushed flowers. In her artist statement, she discusses this series in terms of rebirth. "The incorporation of dried flower petals — something once so beautiful ... that has died, is now finding a purpose once more," Partesi writes.
Sarah Karczmarczyk works primarily in charcoal and pastel. Her 48-by-36-inch, mixed-media sculpture "Seeing Tree," exhibited on a pedestal in the gallery's center, holds surprises on closer inspection: From its dark trunk and multiple branches, many wide-eyed faces peer out. It's full of life, even though the heads are disembodied, as if they were visitors from another world. Karczmarczyk's charcoal and pastel drawings, hung nearby, have a similarly playful, even childlike quality.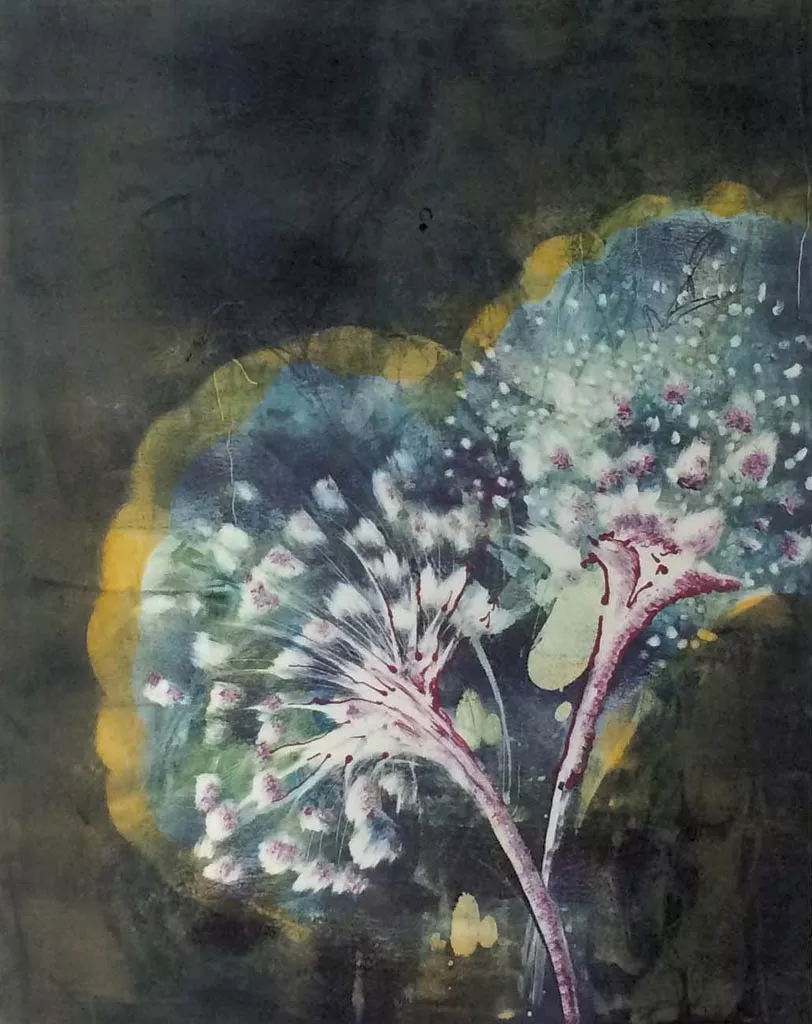 "Abstraction" by Kristine Chartrand
On the opposite wall, Kristine Chartrand's six prints, matted and presented in simple black frames, show a consistency and polish that distinguish them in this exhibition. Her color monoprints are particularly attractive interpretations of the natural world. While Chartrand's explorations are abstract, she allows elements of the original flowers, seeds and natural surroundings to remain recognizable. The resulting images are both lyrical and approachable.
Nate Mosseau's photographs are informed by travel, anthropology and art. His artist statement describes journeys to more than 25 countries over the past three years, yet his images do not constitute a travelogue. Rather, they capture what a traveler sees but a tourist often misses. Mosseau's photos are quiet, sometimes sober reflections of life, culture and humanity. While their locations aren't always revealed, the artist's affinity for seeking knowledge about the world's people is apparent.
A show featuring young artists is by definition an exhibition of their early work. Yet, as the pieces in "Under 30" reveal, early work can also be highly inventive. Each year, as the Chaffee's staff seeks out and curates selections by younger artists, they also aim to present energetic ideas and fresh takes on artistic convention.