"Words Can Be Unruly" by Dorsey Hogg
Described as an exhibit for art lovers and bibliophiles, "UNBOUND Vol. VII" at ArtisTree Community Arts Center & Gallery in South Pomfret also finds an audience beyond those groups. Artists Barbara Bartlett and Adrian Tans, who is also the gallery director, helped launch the annual juried exhibit seven years ago in conjunction with Woodstock's Bookstock literary festival. They credit its broad-based appeal to the exhibition's common denominator: the theme of the book.
Unlike artworks, books are common objects in the home. Readers sometimes engage so intimately with a book that they are loath to close it. In this exhibit, "books" are the art, and there is something inherently comfortable about that connection.
"UNBOUND" encompasses all the possible things we may think a book is — or is not. Is it just a story? An entry to another world? A voyage? What a book can do by transporting us to another place, this show does visually. The artists use the book as a jumping-off point or as an opportunity to explore new ideas.
This year's juror, Bill Hanscom of Manchester, Mass., selected 42 of the 86 artworks submitted by artists from New England and New York. Hanscom is an artist, writer and assistant professor at Montserrat College of Art. He coordinates the school's Book Arts BFA program and is a special-collections conservation technician for the Weissman Preservation Center at Harvard University. In short, he could hardly be better qualified to assess the entries for "UNBOUND."
"Roman Letters" by Charlet Davenport
The works on view range from the diminutive to the sprawling; from ones that resemble a book to ones that employ the written word in less familiar formats. This is an ambitious exhibition, and it achieves what it sets out to do in 42 different ways. The book is embraced, exploited, discovered, uncovered, altered and given a comeuppance. Most of the 33 artists worked with paper in some way, but others interpreted the book in ceramic (Charlet Davenport), video (Kyra Garrigue), Plexiglas (Nathanael L. Kooperkamp) and mud from the Dead Sea (Judith Taylor).
As the sole juror, Hanscom had two tasks: First, to choose the strongest work from this year's submissions, eliminating about half; and second — the harder task — to choose three prize winners and three honorable mentions. Viewers may or may not agree with his choices but will recognize the difficulty of determining "bests." Every year, the bar seems to rise. The pieces in this year's exhibition appeal to our intellect, our aesthetic judgment and our sense of play.
Several artists have multiple pieces on view. Charlotte artist Marcia Vogler has two: "Time Travels" and "Transverse Universe." Both are exceptional, beautifully constructed with great skill and outstanding materials. "Time Travels," awarded second prize, is made from a shredded book. The thin shreds are just wide enough to hint at a story. They've been assembled into a serpentine form using a strip of fine red paper that enlivens the black-and-white work while also evoking a slithering snake.
Dorsey Hogg also has two works on exhibit. "Conversations" looks like spools of colored thread but actually consists of sections of rolled-up pages from a dictionary, tightly coiled and painted in exuberant colors. Nearby, Hogg's "Words Can Be Unruly" is an old dictionary that has been plundered for its pages. Refolded into small, connected squares, the paper seems to erupt from inside the (now empty) book's original cover, overflowing its sides like lava.
"Time Travels" by Marcy Vogler
Many works in this exhibit may be handled using gloves provided by the gallery. This tactile element adds a playful touch, and it's fascinating to try to discover how the works were created and what might have inspired them.
Brookfield artist Nina Gaby won first prize for "Notes From Memory's Unreliable Files." Using porcelain, paper, bark, ephemera and original text, she created a small universe of private thoughts rolled in the aforementioned materials. Delicate and precise, the piece evokes a tea ceremony.
Taylor, who took home top honors last year, consistently creates unique work and challenges herself. She earned third place for "The Song at the Sea," painted directly on a gallery wall using mud from the Dead Sea. Taylor brought her material back from a trip to that salt lake, which borders Israel, Jordan and Palestine.
Taylor's work is often a vessel for secrets. The mud pattern, now dried, references both the celebration of the Israelites' safe passage from slavery (as told in Exodus 15:1-19) and, as she writes in an artist's statement, "the oppressive policies of the Israeli government and the continuing occupation of Palestine."
Three pieces in "UNBOUND" that earned honorable mention should not be overlooked. Natalie N. Newhart of Beverly, Mass., contributed "Guinevere," a deck of palm-size, handmade colored papers held together by two metal brads. The papers are ordered by color gradations from yellow to blue, like a love letter from the sun to the sky.
Montpelier artist Matthew Monk created a diptych from old book covers collaged with other material. Behind a glassed-in frame, "Taped" gives the impression of having been preserved from a personal archaeological dig.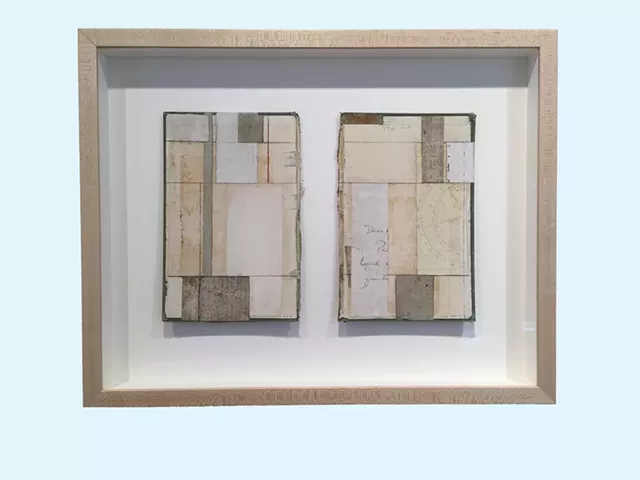 "Tell Me What You See," by New York City artist Maggie Haslam, consists of a portfolio of unbound pages. On each page, she painted an opaque abstract form in watercolor and asked different people to respond. As part of the portfolio, Haslam included each person's written response (evocative, sentimental, poetic, offbeat or sincere) beside the corresponding image.
Visitors inevitably "ooh" and "ahh" when walking through the gallery during this show. In addition to a view of some very fine artwork, "UNBOUND" presents a rare opportunity to judge a book by its cover — even if it doesn't have one.