courtesy of bigTown Gallery
"The Green Beyond the Punji Pit" by Laurie Sverdlove
The title of the three-artist show "Toward Form" at Rochester's BigTown Gallery makes a critical statement: that art making is an ongoing process. The object of the artist's labor may be elusive, highly personal and only decipherable in hindsight, if ever. With these thoughts in mind, curator and gallery owner Anni Mackay has carefully presented works by a trio of mid- to late-career Vermont artists: Marcy Hermansader, Rick Skogsberg and Laurie Sverdlove.
Mackay sees these artists as sharing a certain exploratory freedom, she said during a gallery visit. They also share a question: As we become older artists, what are we reaching for? Despite the weight of that inquiry, Mackay said, "They get on with their work."
One of Skogsberg's works, a painted shoe, gestures to such tensions with the unknown. The statement "We were approaching the secret not only of this universe but any other conceivable congregation of matter" appears hidden on the inner side of the ankle strap of a size 7.5 Wild Diva brand of heels. It can only be read in full by unhooking the strap — an intimate action that helps convert the shoe from a woman's accessory into an explicit bearer of mysterious messages.
courtesy of bigTown Gallery
Boots by Rick Skogsberg
Rochester-based Skogsberg has taken his paints to each of the 40-odd pairs of shoes displayed here, and these represent only a fraction of the more than 300 pairs he has painted to date. His colorful, graffiti-like mark making recalls that middle school micro-rebellious act of applying pens to hands, denim and shoes. Skogsberg shares iconography with that demographic as well, including lips, Xs, arrows, circles, hearts and skulls. But he takes the act of customization to new levels of obsession, completely filling the "canvases" of many of his shoes.
Mackay revealed that Skogsberg is something of a news junkie and reads the New York Times every day. Perhaps that's why some of the phrases "hidden" in his shoes read like cheeky newspaper headlines: "Raise your glasses to the doctor" or "RIP Love." One pair of women's shoes displays on each heel a silhouette of the Babadook, the German expressionism-inspired villain of the 2014 horror film by the same name.
Not all Skogsberg's works evoke this horror vacui — fear of empty space — though he shares this inclination with other artists in the self-taught lineage. Some of his men's shoes are simply eye-catchingly color-blocked, while others feature abstract, street-art-inspired graphics. Mackay intends to take a selection of the shoes to the Satellite Art Show during this December's Miami Art Week.
While Skogsberg's playful, zany intersections of art and fashion are occasionally inflected by dark themes, Hermansader's "Back Through Black" series begins with darkness and sobriety. The Putney artist started constructing the primarily abstract works in 2005, when she found herself reflecting on the destruction and violence of the U.S. wars in Iraq and Afghanistan.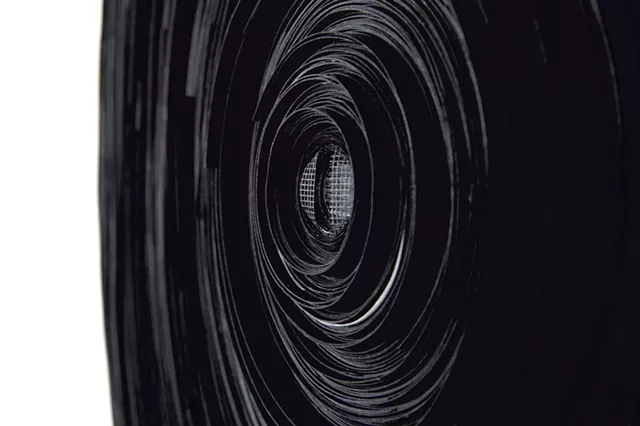 courtesy of bigTown Gallery
Detail of "Anteroom" by Marcy Hermansader
Some pieces, such as "Anteroom," "Between Breath" and "Banjul," appear to reference a figurative abyss of despair and ambiguity. Each of the circular, wall-hung works of tightly coiled black paper has a grooved surface, like a record. They are frightening in their simplicity, defying the viewer to find meaning in one of humans' simplest symbols of uncertainty: the black hole. In "Anteroom," two tiny pieces of wire screen frame the spiral's center, making it look like a minuscule opening. The effect is disorienting: Is the tiny hole meant to be a waiting room? If so, who is doing the waiting, and for what?
Other Hermansader works deftly incorporate a range of materials and textures into a unified collage. Color sometimes interrupts the black. In "We heard...," layers of wire mesh, black paper and black fabric with red stitches frame a shadowy black-and-white drawing. The disparate materials look as if they exploded from the circularly framed image.
Though technically abstract, the collages of the "Back Through Black" series are shot through with strong visual references to the cosmos and biology. In "If listening...," a dusty reddish oval careens through amoeboid forms like a comet, an action repeated in "In Deep." "Witness" appears like the eye of an unknowable creature that is either beginning to stir or has seen too much. Through her use of shape and textures, Hermansader makes black seem to come alive, take on an almost cozy existence — "as if black has a personality you are only just discovering," Mackay wrote in gallery publicity.
While Skogsberg and Hermansader work to construct figurative worlds with their own languages, Randolph artist Sverdlove produces the closest approximations to literal landscapes. She arrived in Vermont in 2008 from the Bay Area, where, among other positions, she was executive director of the San Francisco Botanical Garden. An attraction to plant life is readily apparent in Sverdlove's paintings, which frequently feature wild, larger-than-life West Coast desert flora.
courtesy of bigTown Gallery
"In Deep" by Marcy Hermansader
"Zwartkop" is perhaps her least surrealistic painting on view. The massive flowering succulent appears in the foreground, with a tilled field and dusky mountains in the expanse behind it. A luminescent, squiggling red line interrupts the scene's realism, making it look like a map to an unknown destination. In "It's All Alive," that line is repurposed as barbed wire draped across yellow orchard ladders that hover impossibly over a field.
Like Hermansader and Skogsberg, Sverdlove has a commitment to mark making. Echoing Skogsberg's symbols, in her "The Green Beyond the Punji Pit," a flock of small white arrows shoot up from a mountainous horizon. Sverdlove's surreal scenes are remarkable for their collage sensibility, despite being entirely painted.
In selecting works by three artists who work in such distinct modes, Mackay effectively challenges viewers to consider the repetitive acts — mental and physical — that tie the works together. The consistency and rigor of each individual body of work serve as evidence of the artists' continual efforts to achieve their own form of unique cohesion. These factors merge for a show that is not only sophisticated, but enjoyable.