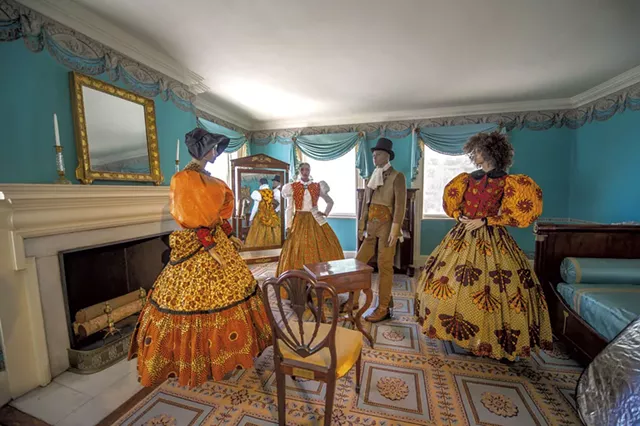 Courtesy Of Lamar Photography
"We Wore More Than Shackles: A Day in the Life of Seneca Village," by Sara Bunn
Four commanding figures welcome visitors to Rokeby Museum's rotating exhibition space in Ferrisburgh. With full skirts and dramatically ballooning sleeves, their 19th-century period silhouettes are exactly what one might expect to see at the historical heritage site. Except that this clothing is sewn from vibrant Ankara-print cotton, a European-produced textile most commonly associated with African countries. One woman clutches a flyer warning African Americans in the north of the dangers of slave catchers.
The four costumes, displayed on African American mannequins, are the vision of New York fashion designer Sara Bunn, whose work is titled "We Wore More Than Shackles: A Day in the Life of Seneca Village." Bunn is one of eight artists featured in Rokeby's "The Fabric of Emancipation." The newly opened exhibition showcases a powerful selection of contemporary textile-based works that consider the African diasporic experience in the U.S., historically and today.
Curated by Harlem Needle Arts founder and executive director Michelle Bishop, the show was initially conceived for a 2016 exhibition at the Morris-Jumel Mansion, Manhattan's oldest residence. Its goal, Bishop said during a recent curator's tour, is "to keep our history alive, to give it credit, to dispel myths."
Many people, Bishop suggested, might imagine textile-based artists as "old women who are retired [and] who have nothing else to do, [but that is] not the case."
Bunn, for instance, attended New York's Fashion Institute of Technology while raising her two children and working a full-time corporate job. Of the designer's historically reimagined characters, Bishop said, "[Bunn is] creating this balance of worlds. They're on a pedestal — she wants you to look up at them."
A broad swath of techniques and historical moments is represented in the exhibit, whose artists Bishop calls "griots using thread as their base medium."
L'Merchie Frazier, an artist, poet and director of education and interpretation for the Museum of African American History in Boston and Nantucket, Mass., sews together gauzy layers of iridescent nylons to recreate archival photographs as life-size holograms. Her "Seen and Unseen Worlds: In Search of My Mother's Garden" reinvents a photograph of five African American children in their Sunday best as an intricately wrought fabric assemblage: part photograph, part illustration, part quilt.
"All of us know cloth," Frazier said during an exhibition tour. "It might be a more comfortable medium [for difficult conversations]; we're cradled in cloth from birth to death."
Bishop echoed this sentiment: "I think there's a depth to [textile arts] that speaks to your soul in a very different way."
Like Frazier, several other artists use quilting techniques in constructing their works. With "Freedom," New York-based, nationally recognized self-taught quilter Michael A. Cummings references the American Civil Rights movement. Here, a young black man bears a guitar and wears an American flag T-shirt, surrounded by quotes from Dr. Martin Luther King Jr., Mavis Staples and Bob Dylan, among others.
Fiber art and cartography collide in "Changing Neighborhood," a quilt by Harlem artist Ife Felix. From top to bottom, this patchwork uses color and form to represent a progression from diverse, mixed neighborhoods to hard lines and a stark block of white — a fully gentrified area.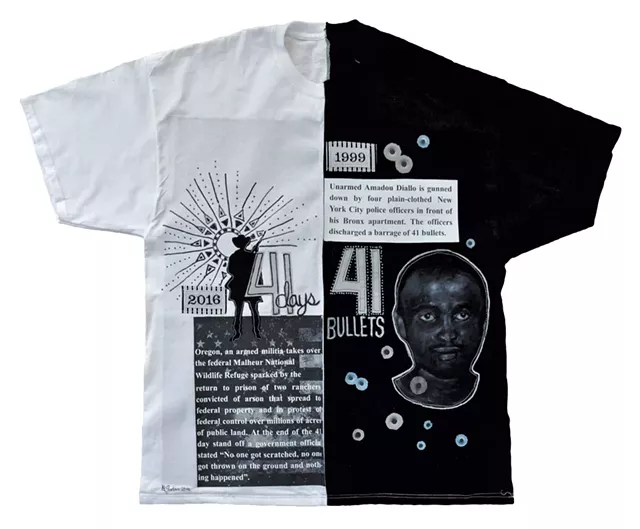 Courtesy Of Harlem Needle Arts
"Conversations in Cotton: The Fabric of Our Lives," by Laura R. Gadson
Like Bunn, Indianapolis-based LaShawnda Crowe Storm blends symbols of African tradition and ancestry with American history. Her "Be/Coming," created in collaboration with poet and Yoruba priestess Maria Eliza Hamilton Abegunde, pays tribute to African masquerade traditions that honor female power. A mannequin clad in an elaborate masquerade costume stands in an altar-like arrangement; amid the patches on her quilted skirt are excerpts from the American Pledge of Allegiance.
Perhaps one of the most politically straightforward and confrontational works on view is New York artist Laura R. Gadson's "Conversations in Cotton: The Fabric of Our Lives." This series of three T-shirts constitutes an interlinked timeline, using appliqué and text to contrast the historical treatment of black and white men. In one stark and crushing example of discrimination, Gadson compares the 1999 murder of Amadou Diallo by police with the 2015 arrest of mass shooter Dylann Roof, who was transported into custody wearing a bulletproof vest.
Heather Marie Scholl continues in this vein of critiquing the construction of whiteness; the only white artist in the show, she uses delicate white-on-white linens to highlight white women's complicity in American violence. "A (White) Woman's Work" features an embroidered scene of women gardening, hanging laundry and doing other domestic labor beneath trees where a black man is being lynched.
"[Scholl] speaks to something that is extremely profound: the history of women who have sat by men who have done damage to American culture," commented Bishop.
Far more celebratory in tone is 70-year-old artist Dindga McCannon's "On Ageism: I Embrace the Young Woman I Used to Be; But I Love the Old Lady (Wink! Wink!) I Have Become." This floor-to-ceiling assemblage uses appliqué, collage, embroidery and craft-store notions in a declaration of self-love as an elder African American woman — a "silver panther," as she calls herself in the work.
McCannon was a founding member of "Where We At, Black Women Artists" (1971), generally considered the first show of African American women artists. Her work appears in the major traveling exhibition "We Wanted a Revolution: Black Radical Women, 1965-85," now on view at the Institute of Contemporary Art, Boston.
"Are we really emancipated?" asked Bishop during the tour. She drew many parallels between the period of legal American slavery and the present-day violence against black and brown bodies in the U.S.
With this small but potent exhibition, Bishop and artists succeed in using a traditionally underestimated medium to do pressing and immediate work — as Bishop put it, "to think critically and radically about the humanity of people of color ... and to create vocabulary, action and space for the viewer to evaluate their role in America."