Fran Bull presents the night life of humanity in her new work "STATIONS, a cycle of 14 sculptural paintings." These are monumental, dimensional, figurative works. On them, figures emerge from the picture plane and reach for each other — and the viewer. Collectively the paintings do not present a linear narrative, but each tells a story. And each describes something that happens in bed.
The Brandon-based artist's use of the word "stations" is loaded with import. Stations are places to stop and anticipate, to arrive and to depart; places where things may happen and strangers watch strangers. But Bull's tableaux are private activities. Each of her stations is the size of a queen bed, its figures human size and swathed in bedclothes. They read, laugh, sleep and dream. Lovers approach each other. The stories are intimate, but a viewer can't help but look.
In her artist statement, Bull, who is also a poet, writes:
Night is intimate,
Night is full of secrets.
Bed is sacrosanct.
Bed is a place for betrayals and for the sealing of
covenants.
Bed is the holiest altar, the most profane rack.
Bed is a stage set for a play improvised by fools.
My people, the ones you see here,
arrived unbidden
I don't know from where.
They formed under my hands.
They asked for eyes and hair and teeth.
Bull apparently gave her "people" what they asked for, then draped linens over them and provided some of them with infants who join them in bed, or an ancestor hovering at a shoulder. In STATION 4, titled "but then a journey begins in my head," a sleeping figure dreams of his childhood, and Bull paints his hobbyhorse dream.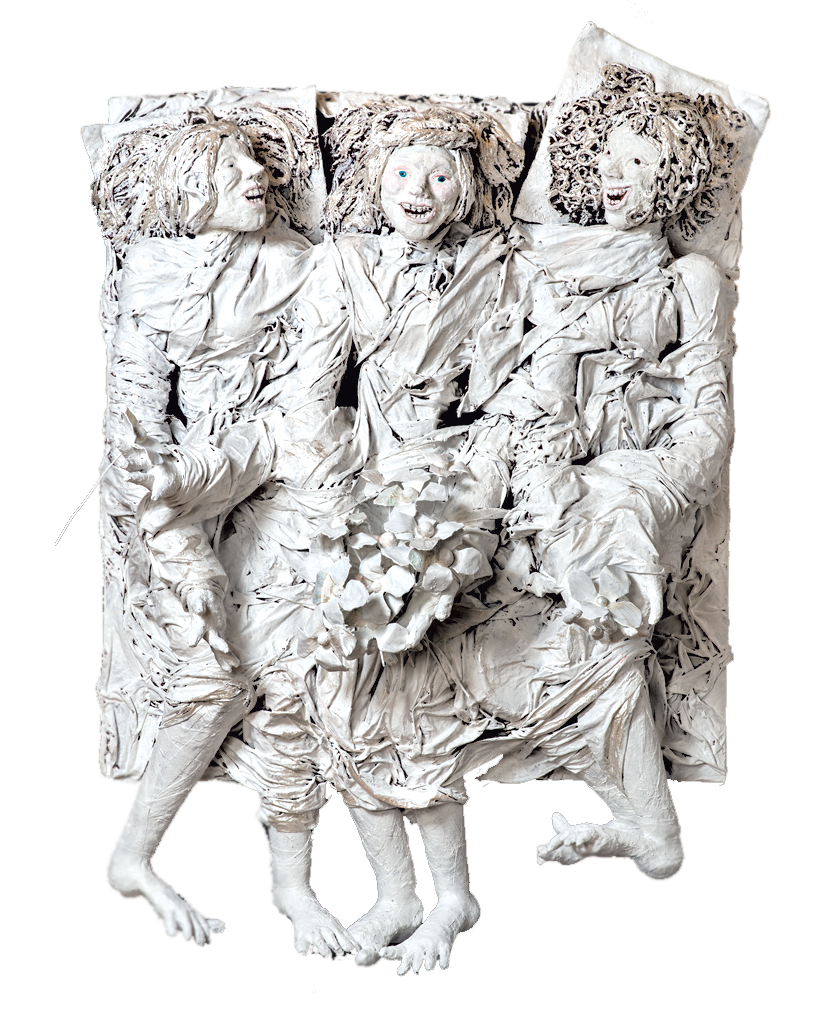 Each station is titled with a line of poetry, that sets a context for the viewer. Bull wrote many of the poems associated in this way with the exhibit. In addition, she drew inspiration from other poets — James Agee, Rumi, Shakespeare, Derek Walcott, Pablo Neruda — and sometimes incorporated their words in her titles. For example, STATION 7, "what is your substance and whereof are you made," uses Shakespeare's words to describe an exhausted gargoyle who has abandoned his post holding up a roof and landed in a bed, wings unfurled, surrounded by a feast of fruit and vegetables.
Over two years, Bull created the individuals in the stations. In an interview, she talks about the surprise and edginess of creating dimensional work that emerges from a fl at surface. She refers to the delight of opening a pop-up book and the unsettling experience of seeing an image jumping the predictable barrier of the picture plane. Bull posits that, since childhood, she has created images that scare her a little, and in "STATIONS," she exploits that margin between wonder and fear.
It's not just the dimensional quality that is unsettling here; it's the figures themselves. They are peculiar; their eyes bulge, their fingers reach, their toes are long. Some show their teeth. Still, they seem friendly enough: They laugh, talk and carry on. Some appear to be singing. Draped in cloth, covered with plaster and paint, Bull's figures bid the viewer to come closer but also to keep some distance; they're sociable, but like strangers from another time.
Asked about her artistic influences, Bull acknowledges a fascination with ancient sculpture and Renaissance painting, particularly the representation of drapery and clothing. "The Renaissance masters certainly had a bead on the fashions of the gods and saints, which they had to have borrowed from the Romans and Greeks," she says. "I love the Vesuvius castings, too — horrific and beautiful at the same time. Egyptian mummies carry a powerful charge in a similar way."
A Greek bust at the Metropolitan Museum of Art inspired the hairdo on one of Bull's figures. The sculptural vocabulary she uses reveals the influences of antiquity and the Renaissance, even in its rough and contemporary execution.
The stations carry a powerful charge, each presenting a fantastical event captured in time: a childbirth, a gargoyle's adventure, a choir of songsters that includes a lion, a woman in bed with a fl ute, and a reading man. Bull's white-wrapped figures are rather like castings from Mount Vesuvius' eruption. Like dreams, they are eerie and nonsensical. They have volcanic energy but are frozen in still frames.
The scope of "STATIONS" has brought about an unprecedented collaboration in Rutland. Three galleries are involved in showing Bull's sculptural paintings: They're on view at the Castleton Downtown Gallery and the Chaffee Downtown, and Don Ross' photographs of the works can be seen at the Christine Price Gallery of Castleton College until mid-October. His view of the project is striking — Bull's cycle seen in detail through another artist's lens.
Rutland's Paramount Theatre is involved, as well. While the galleries each held opening receptions last Friday, Bull will give an artist talk at the theater on Wednesday, October 15, discussing the development of "STATIONS" and her previous work.
The original print version of this article was headlined "Bedtime Stories"