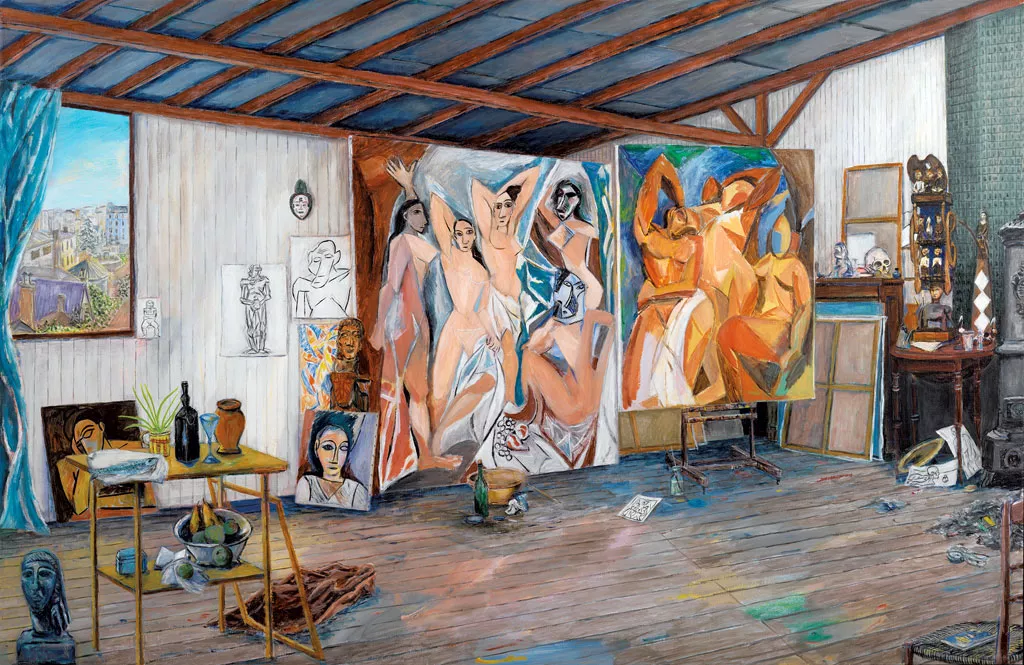 "Picasso's Studio at the Bateau Lavoir" by Damian Elwes
One of the 20th century's most controversial and influential artworks is the centerpiece of a daring show at the University of Vermont's Fleming Museum of Art. "Staring Back: The Creation and Legacy of Picasso's Demoiselles d'Avignon" amounts to a bold experiment on the part of curator and museum director Janie Cohen — not least because that monument of modern art isn't actually on display at the Fleming. "Les Demoiselles d'Avignon" has been ensconced at Manhattan's Museum of Modern Art since 1939.
Inspired by the spirit that prompted Picasso to paint his revolutionary masterpiece, Cohen upends convention in staging this high-tech homage. The multifaceted show is meant to acquaint visitors with the antecedents, historical context and creative process that produced "Demoiselles" — and to demonstrate how the painting influenced artists who came after Picasso.
This is not the sort of static display that museums have long packaged for the public. Cohen goes all out with multimedia installations created by Jenn Karson, a sound artist and lecturer in UVM's College of Engineering and Mathematical Sciences; and Coberlin Brownell, an assistant professor in the Emergent Media program at Champlain College. These not only offer partial compensation for the absence of Picasso's roughly 8-foot-by-8-foot canvas, but work to place the viewer in the time, and even in the mindset, of the artist in 1907.
"Figures" by Stas Orlovski
Hand-controlled digital devices send explanatory blocks of text, photos and reproductions scrolling down the walls. An augmented-reality section includes an array of iPads that offer views of all 700 of the artist's studies for the painting. An audiovisual installation presents the scene and ambient noises Picasso would have heard outside his Montmartre studio in Paris. Another cycles through readings of searingly critical comments made in response to "Demoiselles" when the artist first showed it to colleagues.
Visitors are expected to operate some of the devices — instructions are included. In so doing, they can browse through, or dwell on, words and images that Picasso scholar Cohen chose with the aim of imparting a nuanced appreciation of "Demoiselles"' inspirations and inheritors.
Some viewers may find the technology too much; Cohen does ask more of her audience than simply to amble through the exhibit. A few kinks encountered days before the official opening of "Staring Back" are likely to be smoothed out this week. Still, less device-savvy viewers might spend more time fiddling with the controls than reading or seeing the digital resources.
Even without virtual reality, there is plenty to see, and viewers will find relief from the interactivity sections in the show's ample middle. Here, pictures appear on walls with background text on adjacent panels, in adherence to curatorial tradition. The pieces are responses to "Demoiselles" by nine contemporary artists. They weren't created explicitly for "Staring Back," but most were inspired by the 100th anniversary of Picasso's painting.
Most striking here is a set of photos by Leonce Raphael Agbodjelou collectively titled "Demoiselles de Porto-Novo." At his studio in Porto-Novo, the capital of Benin, Agbodjelou photographed bare-breasted African women whose faces are concealed by ceremonial masks similar to those worn by two of the five prostitutes depicted in Picasso's painting. The photos give a contemporary fillip to the classical African masks that are among the myriad influences discernible in "Les Demoiselles d'Avignon." Agbodjelou is also riffing on European colonialist photos of naked African women, examples of which are among the more startling images included in "Staring Back."
The most confrontational, as well as the funniest, of the contemporary pieces are three small, identical bronzes by Belgian artist Julien Friedler. Each represents a woman seated on the floor with legs spread to reveal vagina dentata. Each figure also wears a "Demoiselles"-style African mask and gives the finger to viewers, thereby considerably amping up the defiant poses (the "staring back") of Picasso's subjects.
Gerri Davis' "Bordel" conveys the same qualities. The New York artist engages in jokey payback of the sometimes-misogy-nist and often-leering Picasso with her painting composed of multiple images of him as an old man — seated, standing, squatting, vamping and always with dick dangling.
One of the most elucidating aspects of this complex show is the four-part set of "themes" laid out in the room equipped with scrolling texts and images.
The first theme, "The Chain," refers to the transmission of ideas and styles from artist to artist throughout the history of Western painting. Commentaries and slides grouped under this heading make clear that, despite its insurrectionary appearance, "Demoiselles" owes much to centuries-old paintings by artists such as Titian, El Greco and Ingres. Cézanne, who died in 1906, was a particularly strong source of inspiration; with "Demoiselles," Picasso set out to honor and surpass the painter whom he called "my one and only master."
As fiercely ambitious as he was preternaturally talented, Picasso aspired to be seen as the baddest-ass of the avant-garde artists clustered in Montmartre during the first decade of the 20th century. "Demoiselles" earned him that status, but it also brought down cascades of derision (and possibly envy) from Picasso's peers, as "The Gauntlet" theme demonstrates.
"Staring Back," a third conceptual heading as well as the show's title, serves as a triple entendre, Cohen noted in an interview. Not only do the five nude prostitutes of the bordello on Carrer d'Avinyó in Barcelona glare at their viewers, but Picasso himself was looking back at art history as he created "Demoiselles." Similarly, the nine contemporary artists in this exhibit cast their gaze back at that painting as they produced their own pieces.
The thematic category that Cohen calls "The Twisted Figure and Cubism" pinpoints the aesthetic significance of the seated figure on the right side of Picasso's painting. Her masked head is positioned backward on her body. That disorienting arrangement prefigures cubism's practice of presenting an object or face from multiple perspectives simultaneously.
"Demoiselles" decisively abolished perspective and elevated form over content, thereby pioneering the principles of modern art. It was so far ahead of its time that Picasso kept it under wraps in his studio for nine years. Not until 1916 did he show it in a public exhibition. During those intervening years, Picasso and his friend and collaborator Georges Braque invented cubism, the style that propelled the artistic revolution ignited by "Demoiselles."
Those two artists likened the transformation they had wrought, semi-seriously, to that of the Wright brothers in the field of aviation. This show likewise establishes Cohen as a curatorial innovator — if not of the same history-bending significance as the creators of cubism and those first flyboys.
"Staring Back," she writes in an email, "serves what I feel is a mandate for academic museums, which is to push boundaries and innovate. I think it's appropriate for the university museum to be experimenting with the exhibition format, the museum experience and the role that technology can play in that context."