Courtesy Of The Fleming Museum
"Happy Valley (Fall)" by Sally Curcio
"Like mementos, [miniatures] can be carried out of a burning house or by immigrants to the new world," writes essayist Lia Purpura in her 2011 reflection "On Miniatures." "They can be held under the tongue like contraband."
The underestimated vitalness of the miniature, and the potential for subversion that comes with altered scale, form the basis of the Fleming Museum of Art's new exhibition, "Small Worlds: Miniatures in Contemporary Art," at the University of Vermont.
Fleming curator Andrea Rosen has long held tiny things dear, from making childhood pilgrimages with her family to the International Guild of Miniature Artisans' annual convention to re-creating famous artworks in miniature as an undergraduate art student. A seed in Rosen's mind since she began at the Fleming in 2015, "Small Worlds" brings together 12 artists who work in reduced size to various ends; the exhibition makes an earnest argument for miniatures as serious engagement.
That said, some works do speak mainly to the immediate and viscerally felt cuteness of the very small: The glossy digital photographs of Minimiam (the working name for collaborators Akiko Ida and Pierre Javelle) reimagine sumptuous spreads as benignly worked landscapes. In the diptych "Gonfleur," teensy hard-hatted laborers appear to be inflating raisins into grapes. A suburban couple tends to the fuzz of a kiwi as a lawn in "Week-end."
In thematic proximity to these "clever visual puns," as Rosen calls them in her exhibition text, are similarly twee environmental constructions. These include intricate watercolor landscape dioramas by New Hampshire- and Maine-based painter Allison May Kiphuth, who identifies herself as a "lifelong nature enthusiast," as well as the four "Bubbles" of Sally Curcio. Constructed from iridescent beads and found elements, the latter give bird's-eye views of both real and mythological places in no more than a square foot, enshrined under clear plastic.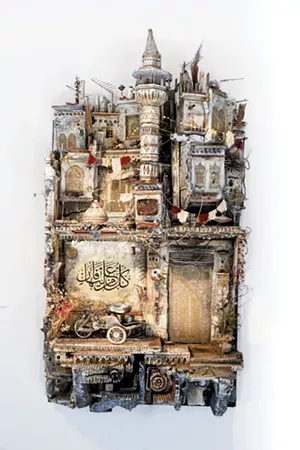 Courtesy Of The Fleming Museum
'Hiraeth' by Mohamad Hafez
Contrasting these relatively pretty, nonthreatening representations of nature and natural elements are several artists who use the miniature form as a way to play directly with ideas of control. In one room of the gallery, Brian D. Collier's "Traveling Museum of Very Small Objects" is a multifaceted, participatory work that burlesques systems of natural taxonomy. Collier combines obsessive cleverness with feats of fabrication akin to prop-making, for grandiose results.
At the center of his installation is a beautifully constructed, shrine-like cherry cabinet proffering the nearly 600 specimens that Collier has collected since he began the project in 2004. Each has been named according to the detailed Collier Classification System of Very Small Objects, photographed and cataloged in leather-bound volumes available nearby. Images of several objects have been enlarged and hung on the wall, among them the Neliwhol buildistabscrach metaliirresharpeunlike — a 20mm metal pushpin.
Matt Neckers of Eden, Vt., similarly toys with the self-seriousness of institutional trappings. "His desire to make it easier for artists to exhibit their work in a museum led him to develop his own," exhibition text explains. In 2014, Neckers founded the Vermont International Museum of Contemporary Art + Design, a fluid and nomadic museum that features his own and others' miniature artwork. At the Fleming, visitors are invited to view three of the museum's "Suitcase Galleries" and even to help curate the "Refrigerator Gallery," provided they stick to strict procedural guidelines that include name badges, gloves and a curator's log.
Last in this particular meta realm are the works of Joe Fig, who meticulously re-creates scenes of artists in their studio. Akin to Toni Collette's creepy matriarch in the horror film Hereditary, Fig dotes on every detail to make his lilliputian "dead" scenes as lifelike as possible: A tiny bottle of wine litters the floor in Fig's "Maker of Dreams (Ivan Albright 1949)." Minuscule paper towels sit at the bottom of a work in progress in "Petah Coyne: 05/09/13." The question that lingers is what, precisely, Fig learns from his practice of re-creating — and arresting — the practice of other artists.
If working in miniature allows the assertion of control, it follows that the form is also well suited for commentary on chaos. In this vein, Rosen has selected four artists — Thomas Doyle, Lori Nix, Kathleen Gerber and Mohamad Hafez — who respond to sociopolitical violence and environmental ruin, aligning themselves with Purpura's sense of urgency.
Doyle's scenes highlight tensions between American domesticity and militarism, and his penchant for using stratified layers smacks of violence just below (or above) the surface. Both "Staging Area" and "Dustoff" place charged scenes between panels of drywall, which appear to have been punched through. In the former, a suburban family kicks a soccer ball on the lawn while a cadre of soldiers maneuvers beneath the dirt under their feet.
Courtesy Of The Fleming Museum
"Hillary Harkness, July 17, 2013" by Joe Fig
Nix and Gerber collaborate to create images of ambiguous destruction. Because their work takes its final form in photographs, their use of miniaturism is more covert. Like Fig, the pair spares no detail, whether it's the imagined wreckage of an American beauty salon or the overgrown crumbles of a natural history museum.
The 2010 documentary Marwencol (and the recent Welcome to Marwen), about a man who awakes from a coma and constructs a miniature World War II-era town in his backyard, suggest that world-making can have a therapeutic value. Nowhere is this more evident than in the works of Hafez, a Syrian-born, Connecticut-based artist and architect. He has become internationally recognized for channeling grief for his embattled native country into tiny scenes of urban destruction. Exploding with energy from their frames, Hafez's intricate assemblages simultaneously introduce and memorialize a built environment — and the human lives it contained — that has been destroyed by war.
Drawing attention to the throughlines of child's play, artistic practice and generalized human angst, "Small Worlds" works like a sampler plate of the miniature's potential in art. From the whimsical to the heartbreaking, the exhibition presents viewers with a broad spectrum of engagements. What the artists have in common is the will to manipulate and re-present the terms of reality.