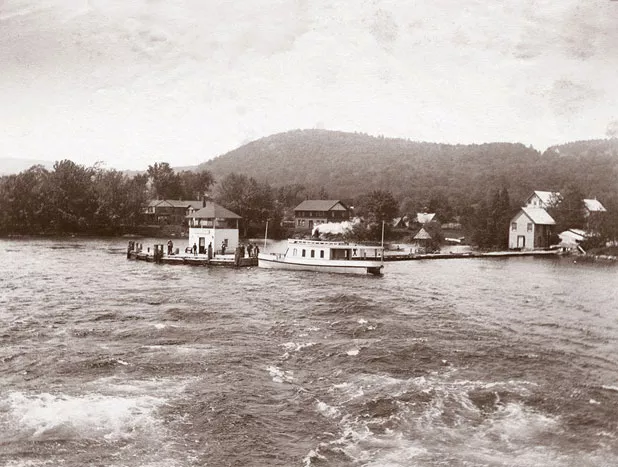 Steamer at Bolton Landing
Seneca Ray Stoddard didn't only popularize the image of the Adirondack region as a wild but fragile refuge; he was instrumental in preserving it from the onslaught of industrialism in the late 19th century.
Stoddard (1844-1917) was the preeminent photographer of the mountainous northeastern corner of New York State at a time when its forests, lakes and high peaks were still largely unknown to outsiders. Lugging cumbersome equipment on foot and in horse-drawn carriages, he recorded pristine scenes that seduced an increasingly mobile urban middle class. You might say Stoddard was an early proponent of mass tourism.
Thousands of the images he made are now divided between the Chapman Historical Museum in Glens Falls and the Adirondack Museum in Blue Mountain Lake, which is about 125 miles southwest of Burlington. In addition to photographing the wilderness north of his birthplace near Saratoga, Stoddard shutterbugged his way around the Caribbean, Europe and the Middle East. His overseas oeuvre is highlighted in "Traveling With Stoddard," a show at the Adirondack Museum that runs through October 14.
The Chapman displays a small, rotating selection of works from its Stoddard collection. It also offers visitors an online sampling of its photography archives, although they couldn't be seen on the Stoddard Gallery's own computer, which wasn't working, during a recent afternoon visit.
Human presence is integral to Stoddard's depiction of the Adirondacks. In the photos currently displayed in the Chapman, we see carriages crammed with black-suited passengers presumably on their way to a vacation in the mountains. There's also a steamer chugging toward a dock in Lake George, where a group of tourists likewise appear way overdressed for the setting. Even when human beings aren't in his view finder, Stoddard often records their impact — as in a photo at the Chapman of a railway line stretching far into the distance along the shore of the Hudson River.
Contemporary eyes will likely be drawn more to the documentary aspects than to the scenic ones of the Chapman's photos. North Country viewers, at least, have probably seen numerous shots of Adirondack splendor, but fewer of our ancestors out for a good time in the mountains. These pictures make us wonder: Were folks of that era really as stilted as they look? What was a day at the beach in Lake George like in 1880?
Stoddard specialized in lighting effects that he and other so-called luminists applied to the still-young medium of photography. They drew inspiration from the artists of the Hudson River School, who painted dramatically lit scenes in and near the Adirondacks.
Having left home at 16 to work as a decorative painter of railroad cars, Stoddard taught himself photography by age 20, eventually mastering the wet-plate process that made it possible to capture expansive views. He also wrote travel books, sketched and painted, and drew detailed maps of the Adirondacks.
Stoddard combined all his talents in an illustrated lecture he gave to the New York State legislature in 1892. The talk is said to have been influential in pushing enactment of the law that created the Adirondack Park, the first preserve of its kind in the United States.
Stoddard understood that the wilderness could be destroyed unless it was protected from reckless development and exploitation. He warned against the damaging effects of logging, particularly the damming of streams that produced "drowned lands" of dead trees.
Stoddard was careful, however, not to oppose all economic activity in the Adirondacks. He argued that natural resources could be tapped in a manner we would term "sustainable" today, even as the land was preserved for recreation and contemplation. That dual mission endures as the code of the Adirondack Park more than 120 years after its birth.
Another set of artistic impressions of the Adirondacks can be seen this summer at the Hyde Collection in Glens Falls, which is showing 58 paintings of Lake George and vicinity by Georgia O'Keeffe.
From 1918 to the mid-'30s, O'Keeffe regularly spent time at the family estate of photographer Alfred Stieglitz, her lover and the foremost proponent of avant-garde art in the United States.
Seneca Ray Stoddard photographs, Chapman Historical Museum, Glens Falls, N.Y. Permanent collection and rotating exhibits. Info, 518-793-2826. chapmanmuseum.org
"Traveling With Stoddard," photographs. Adirondack Museum, Blue Mountain Lake, N.Y. Through October 14. Info, 518-352-7311. adkmuseum.org
"Modern Nature: Georgia O'Keeffe and Lake George," paintings. The Hyde Collection Art Museum & Historic House, Glens Falls, N.Y. Through September 15. Info, 518-792-1761. hydecollection.org
The original print version of this article was headlined "Past Peaks"