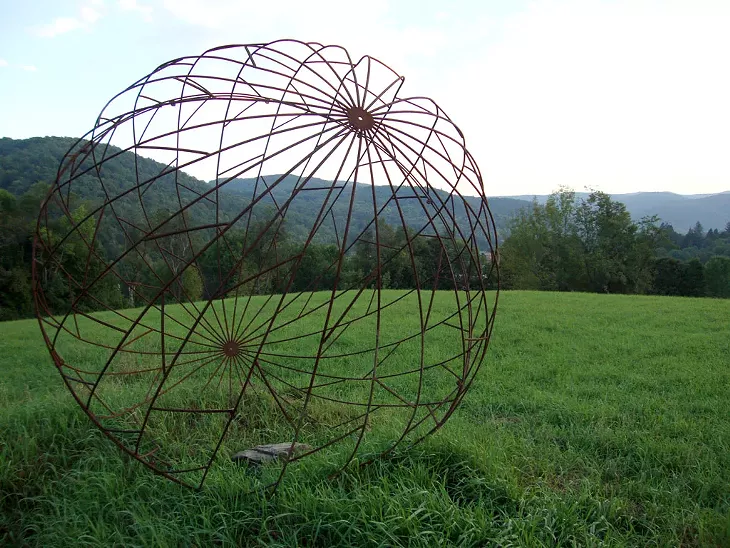 6 slides
The postcard-perfect setting of Woodstock makes Sculpturefest an exceptional opportunity to experience both Vermont's beauty and the creativity of some of the state's artists. Now in its 24th year, Sculpturefest exhibits the work of more than 30 sculptors daily, dawn to dusk, through foliage season.
The annual outdoor exhibit is curated and organized by local artist Charlet Davenport and her husband, Peter, who invite selected artists to install pieces on their Prosper Road property or at the Vermont Land Trust's King Farm nearby. The two sites are now joined by a walking trail, making it possible to park at one site and take a short hike to the other. Both locations inspire lingering, so bringing a picnic lunch is recommended.
It's far more demanding to mount an outdoor exhibit than one in a gallery. In addition to his curatorial duties, Peter Davenport clears about 10 acres of the couple's property for the sites, helps artists install their work, creates signage and maintains the grounds for the duration of the exhibition. It's a lot of ground to cover.
This year, Bruce Hathaway is the featured artist at the Prosper Road site. He creates long, graceful curves or undulating waves in aluminum and often groups these shapes in pairs or trios. The human-scale sculptures imply connection; the combinations sometimes suggest conversation or engagement. Hathaway's playful exuberance is unmistakable in, among others, his "Fishing" series, but the literalness of such works can detract from their otherwise high quality. The Richmond-based artist's more abstract pieces, such as the swooping, ladder-like parentheses titled "Highways From Vermont," resonate more strongly. Even so, plenty of visitors appear to appreciate his whimsical figurative work.
Ria Blass' contribution, "Vessel," pleases the eye even as it confounds the mind. Its construction alone defies easy understanding, let alone a straightforward description. The Norwich artist's work is created from three long boards that have been twisted, or perhaps soaked and steamed to bend the wood. Nearly invisible lines hold it in place, so the loosely boat-shaped work appears to sail on air across a pond that no longer exists. "Vessel" is ephemeral, like a ghost ship.
Stonemason and sculptor Hector Santos of Brownsville created "Fitting In" on-site over many weeks. The dry-laid stone sculpture is like a freestanding wall with a negative-space "doorway" in the shape of an adult human body — a comment, perhaps, on the lifelong process of determining one's place in the world. This work has drawn viewers to it like a magnet; it seems no one can resist standing in the empty space to see if he or she "fits in" the sculpture.
Like Santos, many artists create site-specific work for Sculpturefest. But sometimes serendipity and nature simply provide a perfect environment. Case in point: Lilian Shen's 10-feet-in-diameter "Sphere," made of curved steel rebar, at the King Farm. The work's symmetry and complex geometry heighten the already-dramatic background of the Green Mountains. Another steel structure, Gordon Auchincloss' 61-by-47-inch spiral called "Compass," also seems to focus attention on the landscape.
Much outdoor sculpture alters its environs just as the outdoors alters the art. Other works are so integrated into the environment as to be nearly invisible. Anthea Lavallee and Jan Lee's "Floating Cradle" is one of them; made predominantly of natural materials such as sticks and moss, it drifts in a pond at King Farm as if it's always been there.
The power of simple, organic materials also resonates in Jay Mead's visually striking works. Some of them are executed with minimal objects such as dowels or painted saplings. His site-specific installation "The Forest Within" is housed in a partially rehabbed summerhouse, where painted white saplings seem to grow from a plot of red woodchips. Black walls heighten the contrast between the red and white elements. The convergence of light and wind in and around the building adds movement to the subtle drama.
Several other artists created interior installations, as well. Inside the milk barn at King Farm, Murray Ngoima of Pomfret has crafted a rich environment where enigmatic symbols cover the floor and painted silk scarves drape the ceiling. The writing on the wall describes the historical role that milk barns have played in getting milk to customers. Inside the front door, Ngoima has written directions for how visitors might continue creating the environment with provided materials such as paint and string, making it an ongoing rather than completed work.
Down near a pond, Charlet Davenport's "Floating in Time: Now and Then" uses a tiny outbuilding to explore New England history. Inside it, her large ceramic bowls with painted interiors sit like 19th-century washbowls on log stumps. Old-fashioned bathing suits are strung along a clothesline, and curtains flap in the breeze. These playful curtains are printed with photographic images of summer fun in the 21st century by young artist Katrina Boswell.
From Lynn Newcomb's farm-like implements, to Sue Katz's colorful "Tumbleweed" made from recycled plastic bits, to the austere beauty of stainless-steel works such as Paul Machalaba's "Plunge" and Phil Thorne's "Fifth Confluence," the abundance of work in Sculpturefest offers extraordinary grace, beauty and frivolity. And somewhere nearby, Hathaway's hanging sculpture gently chimes.
Strolling among these artworks is a delightful, peaceful way to spend a summer afternoon. Charlet and Peter Davenport believe that land belongs to all of us, and generously welcome guests to Sculpturefest each year.
The original print version of this article was headlined "Field Studies"