Courtesy Of Fleming Museum Of Art
"Untitled Film Still E" by Cindy Sherman
Edward Hopper. Joseph Cornell. Camille Pissarro. Cindy Sherman. Aside from being artists, what do these people have in common? On the surface, not much. But this fall, they are united in a unique exhibit at the University of Vermont's Fleming Museum of Art. Sixty-four works by 45 artists share wall space in the capacious East and smaller Wolcott galleries flanking the museum's grand marble court. The unifying thread is evident in the exhibition's title, "Sargent to Basquiat: University of Vermont Alumni Collections."
Courtesy Of Fleming Museum Of Art
"Music for Monique" by Robert Motherwell
Yes, all the works here are on loan from former students. If that sounds like a motley foundation for an art show, it is. But it proved a rewarding and compelling one. Before Fleming director Janie Cohen began selecting these pieces two years ago, she set one art-history parameter, which is likewise implied in the title. Works by John Singer Sargent (1856-1925) and Jean-Michel Basquiat (1960-88) ostensibly bookend the exhibit, which draws primarily from the 20th century.
If we strictly consider dates, though, the oldest work in the show is "Nantucket Pump," an 1882 oil on canvas by American painter Theodore Robinson (1852-96). The most recent, made in 2013, is an amusing bronze and copper cabbage with chicken feet, "Choupatte (Petit)," by French artist Claude Lalanne. (She and her husband, François-Xavier, created works together under the collective name Les Lalanne until he died in 2008.) Lalanne, born in 1924, is one of 11 artists in this show still living and making work in the 21st century.
Curators have many choices when presenting an art exhibit, whether it's a selection of works by a single artist, a group show that illustrates a designated period, or a more subjective category. In "Sargent to Basquiat," viewers will find elements of many such themes. In a tour before the exhibit's opening last week, Cohen pointed with delight to a multitude of interconnections among the works. Some are obvious, such those between artists who were friends or who influenced each other, or among works in the same medium.
Courtesy Of Fleming Museum Of Art
"Untitled (Portrait of a Young Man)" by Andy Warhol
Other relationships are subtler, the works' commonalities more a matter of placement within the show. Only a keenly observant viewer might notice, for example, the proximity of Marino Marini's 16-inch bronze sculpture "Piccolo Cavaliere" (1947) to Bill Traylor's painting on cardboard "Untitled (Black Dog)" (1939-42). The Italian sculptor and the African American outsider artist — and their choice of mediums — could not be more different, yet their equine and canine representations seem to share an interspecies bond.
Like hosts strategically arranging guests at a dinner table, curators have an eye for how people, or objects, relate to one another. If this exhibition is based on collecting, it is equally about curation. The opportunity to discover serendipitous links — or to purposefully seek them out — makes exploring "Sargent to Basquiat" more fun than its staid title might suggest.
Overall coherency aside, the stand-alone quality of each of these diverse works is stunning. That suggests another, overarching theme here: This group of UVM alums has excellent taste and has made it a priority in life to collect art.
Courtesy Of Fleming Museum Of Art
"Untitled" by Keith Haring
The catalog that accompanies "Sargent to Basquiat" — actually a 174-page full-color hardcover book — examines individual works as well as the exhibit's underlying connections. One essayist featured there, noted critic and Stanford University art professor Alexander Nemerov, covers both. A UVM grad himself — class of '85 — Nemerov writes cogently about Hopper's enigmatic 1939 painting "Bridle Path." The scene features one man and two women on horseback tearing down a path toward a dark tunnel in New York's Central Park. Nemerov compares and contrasts that painting with Irving Underhill's 1929 photograph "Tunnels of Love, Coney Island," then returns to a consideration of Hopper's more worldly interests in a later painting (not in this exhibit).
Though the book's essays can dive into art-history rabbit holes, their authors' critiques collectively illustrate the associative thinking that underpins the selection and curation of "Sargent to Basquiat." It is a way of thinking that combines intellectual rigor and playfulness.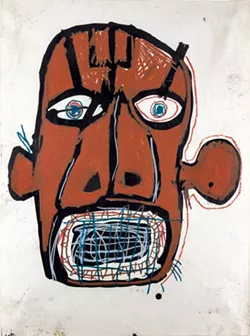 Courtesy Of Fleming Museum Of Art
"Untitled (Head)" by Jean-Michel Basquiat
Cohen, a Picasso scholar, contributed an essay to the book about that towering figure, focusing on the 1907 painting "Les Demoiselles d'Avignon." While that work resides at the Museum of Modern Art in New York City, Cohen's writing is germane to our appreciation of the four Picasso works on paper in the Fleming exhibition. Each depicts the artist and his model. As is well-known, those relationships sometimes turned into, well, relations.
In her forward to the catalog, Cohen pinpoints a different kind of obsession — the one that made "Sargent to Basquiat" possible. "I have been quite moved to realize," she writes, "how passionate our alumni are about the art in their collections." Can we chalk this up as a win for liberal arts education?