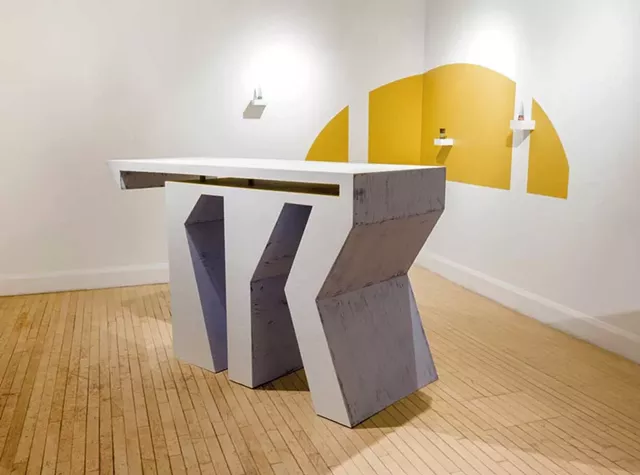 Courtesy Of Red Mill Gallery
"Broadside"
At the risk of sounding goofy, we could say that one of art's greatest capacities is to reference so much with so little — sometimes to the point of vertigo, or of a feeling like a mild-to-catastrophic electrical surge. Sculptor Sarah Tortora's current solo exhibition, "Ode," in the Vermont Studio Center's Red Mill Gallery, ranges into this territory.
If what's on view in the creaky-floored, big-windowed, dining-hall-adjacent space is indeed indicative of Tortora's practice, the VSC staff artist seems to work with an almost maddening restraint. The gallery's entrance is flanked by large-scale forms: the angular plywood "Broadside" on one side and an untitled amphora-like vessel on the other. The surrounding walls hold a series of seven small resin-and-wood works called "Witness Marks," most of them set against a mustard-yellow geometric approximation of a picture window.
Though the sparseness of "Ode" is due in part to spatial constraints, it's also in keeping with the gallery stereotype of the brightly lit white cube. Rather than participating in the opacity of certain contemporary art clichés, however, Tortora's objects make explicit, tantalizing reference to Big History, and to the history of Western thought and aesthetics.
Courtesy Of Red Mill Gallery
Untitled vesse
Take the vessel's similarity to Greek narrative vases, for example, or the cabinet-of-curiosity feel of "Witness Marks." As the artist's statement explains, her influences are ancient Greek vase painting, classical architecture, archaeological or geological core samples, and Euclidean space-time diagrams.
Tortora crafts a conceptually dizzying loop that uses the trappings of contemporary art to rearrange — and thus criticize — our understandings of classical forms. The subversion fits perfectly with her koan-like statement that "every equestrian monument is truly a Trojan horse."
Speaking of warfare: "Broadside" means both a harsh verbal or textual attack and a firing of all guns from one side of a warship. Aptly, Tortora's sculpture is an aggressive object. At four feet high and more than seven feet long, and consisting of flat planes of painted plywood, the gray-blue construction looks like a zoomorphic battering ram. The sculpture's wide, pedestal-like surface has three thick supports whose shapes mimic the legs of synchronized runners from panathenaic amphoras.
So what is the thing for? In a gallery tour, Tortora described it as an "amalgam of architecture, furniture [and] museum display," an object/structure embroiled in its own identity crisis. As an artist, Tortora said, she is led by a curiosity about "what the threshold is between a thing and its fake — and how they can become so close that they become the other."
If "Broadside" represents a Platonic ideal — the purest essence of an object — which ideal does it represent? How can an object be several things and nothing at once? Tortora dives headfirst into the philosophical morass, emerging with frustrating (and perhaps frustrated) forms.
Courtesy Of Red Mill Gallery
"Witness Mark X"
As a counter to the militaristic hard edges and impenetrability of "Broadside," Tortora's untitled vessel is permeable and soft. She described the vessel as a womb-like proxy, nurturing and life affirming — a romantic foil to the classicism of "Broadside." Standing four-and-a-half feet high, it is far from watertight. The vessel is actually made from paper pulp, with its gridded, cage-like steel framework exposed in cutout patches, including one shaped like an oversize keyhole.
With its interior exposed, Tortora's vessel looks like an incomplete (or ruinous) re-creation of an ancient artifact — something "prop-like or [a] false front of [its] original reference point," as the artist put it. During her tour, she noted that the display of artifacts in New York City's Metropolitan Museum of Art compresses time and space: "5,000 years in 50 feet." Many of those artifacts were stolen. In this light, Tortora's vessel takes on another meaning, as an object offering commentary on historical violence and the imprisonment of both people and goods.
Surrounding this formidable pair of works are Tortora's "Witness Marks," tabletop-size sculptures of cast resin and burled wood. Smooth, entrancing, and tinted with watery blues and pinks, these have both the dignity of a natural specimen and the kitsch quality of a souvenir snow globe. Several cylinders evoke geologic or botanical core samples. "The resin casts become punctuation of a weird, misplaced nostalgia," said Tortora.
For visitors, "Ode" might inspire some serious gear turning, and perhaps book cracking. This moment of considering the fall of empires is not the worst time to contemplate the West's foundations. That Tortora can do so with such sharpness and economy — and foster such productive frustration — is no mean feat.