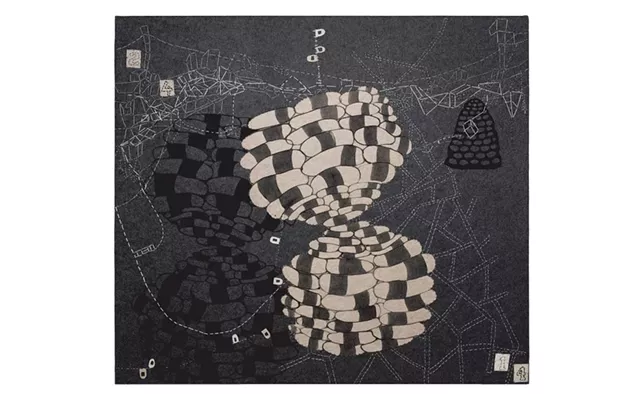 Courtesy Of Sam Simon
"39 Shillings"
In a video on her website, artist Sarah Amos says that printmaking is "a brilliant vehicle for my constant inquiries." Without the benefit of asking her, a viewer can't know for certain which questions she has for the world, for herself or for the creative process. There is only the result — her answers — on spirited display in her work. And, in her current exhibition at Burlington's BCA Center, Amos' artistic responses to her self-interrogation are marvelous to behold.
"Unique Multiples" is on view through October 6, which gives locals ample opportunity to visit this compelling exhibition — perhaps again and again. Here, "printmaking" does not mean simply creating two-dimensional works on paper. The two street-level rooms of the gallery contain a number of enormous — 84 by 66 inches — collagraphic prints on felt, which are further augmented with paint, appliqué and prominent stitching in thick bamboo thread.
Courtesy Of Sam Simon
"Dove's Eye"
Exhibition notes state that Amos shifted in 2014 from printing on paper to "producing monumental images on fabric." Given that she's considered a master printmaker in numerous techniques, perhaps it's not surprising that her "inquiries" would lead to an exploration of other materials. Or that, as her oxymoronic exhibition title indicates, she has created singular works of art in which printing is only part of the process.
Each of these pieces is a vigorously executed statement comprising geometric lines, ovoid forms, decorative patterning, texture and implied dimensionality. Though the works are nonrepresentational, some of them give the distinct impression of aboriginal influences and totem-like figures.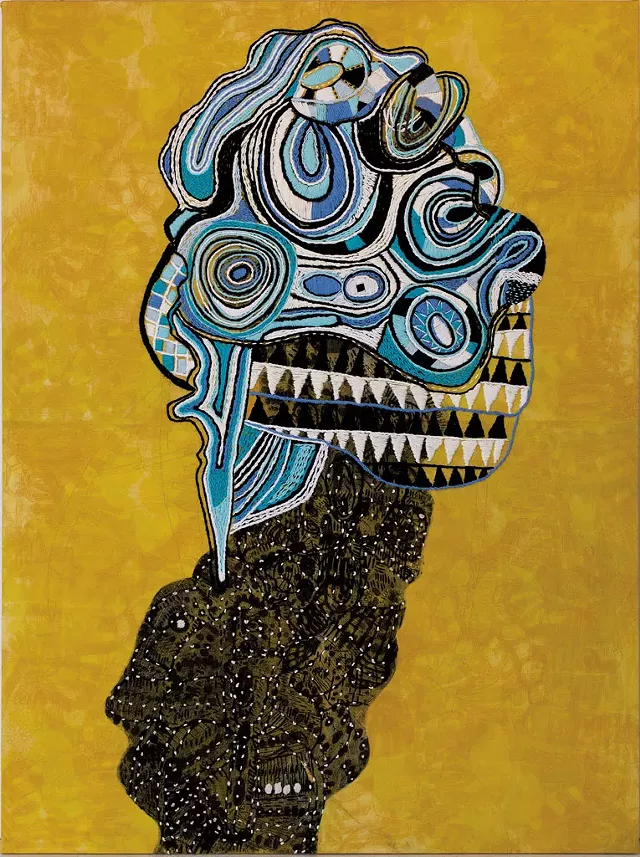 Courtesy Of Sam Simon
"Double Dutch"
That's no coincidence. Amos lives and works primarily in rural northern Vermont, but she is from Australia and refers to that down-under land as her "psychological home." Whether her enigmatic images convey storytelling, mythology or a particular cultural iconography is unclear — and irrelevant. But Amos does describe herself as a "visual archaeologist," interested in studying the artifacts and symbols of cultures and how handmade traditions in particular transmit meaning.
Printmaking itself, the artist states in that same video, is "a world of language; you've got to find the right language that speaks to your temperament, your process, your abilities as an artist."
To extend that metaphor, one could say that an artist's visual language will ideally have something to say to the viewer. Looking at art is a form of bearing witness, and some might find it most rewarding when the looking raises more questions — including how and why — than it offers answers.
The five years represented in "Unique Multiples" were a period of rich experimentation for Amos, who garnered a coveted Joan Mitchell Foundation grant in 2013. During this time she upended the idea and process of printmaking. The first example of her collagraph-on-felt process was "39 Shillings," included in the BCA exhibit. The 66-by-73-inch work pairs organic forms with geometric abstractions; the stitching, an inspired addition, adds to the complexity of the visual image.
Courtesy Of Sam Simon
"Lunette Series #28"
In this and later works, Amos' stitches seem like molecular formulae gone rogue, or doodles in a chemistry class. The patterning, with its whiff of scientific authority, leads somewhere and nowhere at once, and the eye wants to follow its trajectory, to comprehend and translate.
Amos only grew bolder — with patterns, stitchwork embellishments, texture and color — from there. The depth she achieved in printing seductively lures a viewer into her imagined worlds. According to gallery notes, Amos describes her abstract tableaux as "a type of private opera." Most of these arias are dark, with graphic contrasts providing the drama.
One of the 84-by-66-inch works, though, is rendered in an audacious, brilliant blue — a color so deep that one wants to dive into it. Aptly titled "Blue Isabelle," the abstraction distinctly conveys a royal presence — or, as the gallery text suggests, it achieves a "fascinating balance of implied figuration with embellished abstraction on a brocade-like background." The color equally calls to mind European work such as Delft blue pottery and Katsushika Hokusai's images of the sea.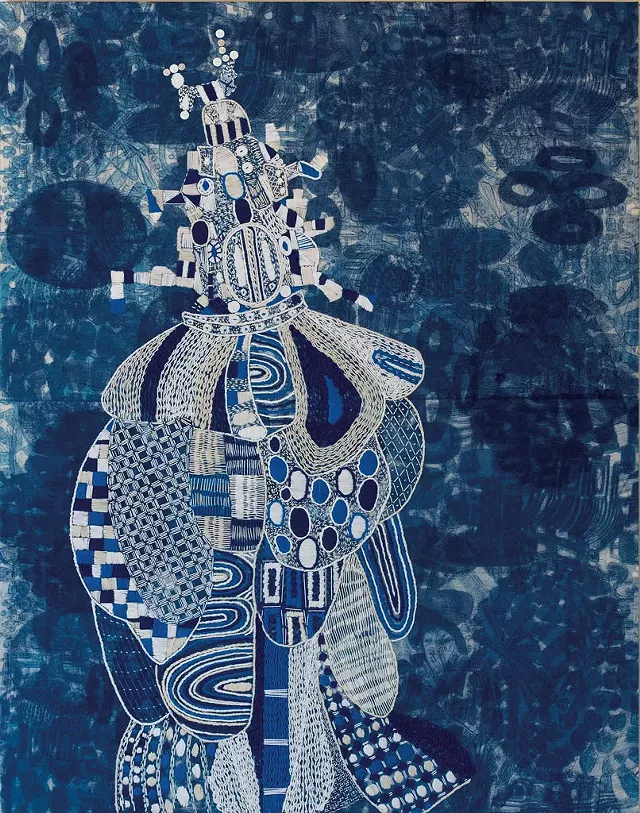 Courtesy Of Sam Simon
"Blue Isabelle"
Amos has also returned to making smaller, simpler prints, and a selection of them is on view in "Unique Multiples." Four examples from her "Lunette Series" — 20-by-16-inch collagraphs on white paper — are minimally augmented with acrylic paint. The palette includes orange, shades of peach, and black and white. Compared with the large-scale mixed-media works, the configurations here are streamlined and more intimate.
In her "Citrus Gumbo Series," Amos plays with citrine yellow and hot pink; a group of the pieces is arranged on a lime-green wall. The effect is like visual caffeine. The smaller works are otherwise studies in line and form; one can almost see Amos drawing them, following the line to see where it takes her.
While the viewer may not pin down precise meaning, memories or symbolism in Amos' works, her visceral connection to the making of art is evident. As she says in her video, "The sense of hand is so incredibly important. People are losing those skills."