If you pay a visit to the University of Vermont's Fleming Museum of Art this spring, you might be tempted to linger in the East Gallery. The largest of the museum's rooms, it's where the current, simply titled "Pop Art Prints" exhibit is hung. The 37 works on view, courtesy of the Smithsonian American Art Museum, are dynamic, vivid and relatable. Even viewers born since these works were created, primarily in the 1960s, will recognize many of the now-iconic images from Andy Warhol, Roy Lichtenstein, Robert Indiana and others. The vocabulary of mass production and material culture these pop artists introduced remains an American lingua franca.
But here's a tip: Do not miss the paintings in the small Wolcott Gallery on the opposite side of the Marble Court. "Samuel Bak: Survival and Memory" presents iconography of an entirely different order, and it is stunning.
Born in Vilna, Poland, in 1933, Bak is now based in Weston, Mass., and represented by Boston's Pucker Gallery. He is a Holocaust survivor who has expressed his experiences through art for more than seven decades. Accordingly, this selection is an abbreviated retrospective of works dating from Bak's childhood years in the Vilna Ghetto through contemporary times — the newest painting on view is from 2015. Visitors will see a very competent self-portrait, drawn at age 14 but representing a much younger boy; and several of Bak's early, darkly expressionist works. The rest are paintings on canvas or paper that are both surreal and all too real.
While Bak's subject matter — buildings reduced to rubble, smokestacks, Jewish symbols — represents destruction and loss, his works are exquisitely painted in the fine-brushed, detailed style of the Renaissance. His palette favors gently contrasting ochre and turquoise, and sometimes includes rich jewel tones. Many of the compositions are bathed in golden light.
As creations in paint these works are lush and beautiful. In content they can be alarming. Broken architecture lies in heaps upon ruined landscapes; jagged stones fly through the air. Smokestacks belch dark plumes. The devastation is unfathomable.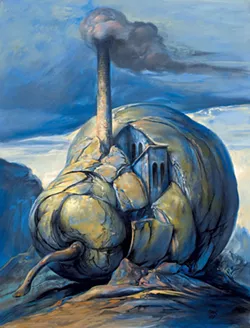 In works where humans appear, their faces are etched in sorrow. "Measure of Time," a large-scale and deeply symbolic painting from 2006, depicts a woman in ragged garb sitting in the foreground. She holds a single candle, which is aflame even in the daylight. Opposite her is a tall hourglass. Though its bottom is shattered, the top glass remains half-filled with sand and a small city tableau — perhaps a memory. A short distance behind the woman, a cratered, moonlike sphere sits on the ground like an oversize beach ball. But this rock-strewn landscape is not a beach and, despite the strong light, the mood is desolate.
Bak employs the graceful shape of a tablet — a rectangle arched at one end — in multiple ways both literal and cryptic: windows, portals, chambers, coffins, gravestones. In "Above and Beyond" (1995), a pair of stone steles appears side by side, perhaps representing the tablets of Moses, amid towering shards of stone.
An unexpected and uniquely evocative symbol for Bak is the pear. Wall text in the exhibit informs us that he preferred that fruit to apples, both in eating and in art making. The curvy, more human-shaped and fragile pear replaces the "forbidden fruit" in Bak's allegories with Adam and Eve. The Fleming selection includes two paintings featuring pears.
In the blue-toned "Persistence of Memory" (1989), a large, central pear lying on its side is clearly a crematorium: smokestack at the top, a building with those tablet-shaped windows tucked into its side. The armor-like skin of the pear is coming apart, destroyed from within.
Next to this painting hangs the smaller "Humble," a 2003 drawing in charcoal and whitening on paper. In this work Bak depicts a pear buttoned into a white, fitted cloth — but whether the cloth is protective swaddling or a shroud is unclear.
There is no mistaking the imagery in "Targeted" (2008). The large oil-on-canvas depiction of a frightened young boy standing behind a wall and holding up his hands, surrender style, is an appropriation of a famous photograph taken in the Warsaw Ghetto and printed in a Nazi publication. Bak clearly means it to represent the loss of innocence, as well as the loss of children's lives. Here the wall is a neat stack of rubble; within it, stones painted blue approximate the shape of another boy. A small pair of white shoes sits in front of the stack.
Followers of the Jewish faith may be better able to identify the religious iconography and Hebrew letters embedded in many of Bak's paintings. But some more recent works contain four letters any English speaker will recognize. Though they are obscured separately within the compositions, the letters combined would spell "HOPE."
In "Engaged" (2015), a midsize oil on canvas, those capital letters appear as architectural salvage, leaning against a tree in the woods. The vegetation around them suggests the boards have been there for a while. To their left in the painting, a man and a woman stand facing each other, wearing long coats and hats of perhaps late 1930s or early 1940s vintage. One is handing something small and indecipherable to the other. The man carries a knapsack and walking stick on his back. The precise meaning of the scene is unclear, but the couple's secret rendezvous — and those hidden-in-plain-sight letters — invite tantalizing interpretations.
Projections of optimism are few, however, in "Survival and Memory." Bak's work does not simply memorialize a particularly gruesome chapter in human history; it is as fresh as today's news of another terror attack.