Courtesy Of Alley Gallery
"A&J Market" by Arthur Gilman
Place is a regularly occurring theme in 21st-century art. Perhaps it's because we've become a nation of transients, a peripatetic population. The world has become more nomadic as new forms of communication and transportation eclipse distances and our jobs crisscross continents and oceans. Place is linked to home and to origins, which may be what drives this preoccupation.
"Rutland: Real and Imagined," at Rutland's Alley Gallery, confronts place in Vermont's third-largest city with an exhibition that's perhaps intended to show a little love for the city and its illustrious history. "Rutland" is equally a reflection of the opposite: the nitty, the gritty, the urban decay.
Rutland's remarkable rise came about through a historic — and fortuitous — confluence of industrial growth and the arrival of the railroad in the 19th century. That era of affluence begat an architectural legacy of Victorian-era beauty, still much in evidence, that wouldn't exist without the manpower and mining skills of Italian immigrants. It was another example of lucky timing for Rutland: Some Italian quarries had become unworkable.
For this exhibition, Pawlet-based photographer Stephen Schaub invited eight artists "to investigate Rutland's geography, history and people, to create artwork that tells a story about Rutland," he writes in a curatorial statement. "Vermont is often sold to outsiders as a pleasant stereotype: an Imagined Ideal place. Those who live here know the reality as inevitably much more complex. [This exhibit] proposes that all representations of a place come from factors both real and imagined. And that this is something to celebrate."
Schaub selected artists who all work with the photographic image, though not all are photographers per se. One uses text in response to two other photographers' work; another uses historical images in collage.
Courtesy Of Alley Gallery
"The Bus" by Bob Van Degna
Of the eight exhibitors, only Bob Van Degna and Susan Weiss populate their work with residents of present-day Rutland. To capture his subjects, photographer and documentarian Van Degna spent eight hours riding the Marble Valley Regional Transit (known by locals simply as "the Bus"). The result is a visual transcript consisting of 18 images of men, women and children on the bus.
Van Degna created a 102-inch-wide horizontal photomontage composed of three stacks of six images each that are printed seamlessly side-by-side, uninterrupted by white space. The passengers are bundled in winter hats and bulky jackets; some smile, while others seem lost in thought. One rider sits in his wheelchair; another has a cane. Outside, a woman waits for the bus and smokes a cigarette.
Scenes inside the bus are occasionally punctuated by a glimpse through a window, beginning with an exterior view of the transit center's entrance. A sense of people going somewhere yet nowhere permeates Van Degna's work.
For "Rutland Postcard," Weiss constructed a full-color postcard of the city from her own Rutland-based photographs. "Greetings from Vermont" is resplendent in a gold frame. The central image depicts a yard filled with an immense stump and cut logs from a huge tree.
Surrounding this large image is a series of 4-by-6-inch "Fantastical Postcards" featuring notes from Rutland citizens. Weiss made postcards from her Rutland photographs and distributed them to locals, asking them to add comments on what they like or don't about their city and to mail them back to her.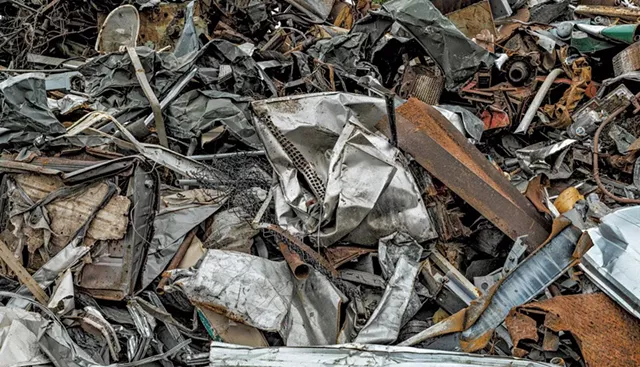 Courtesy Of Alley Gallery
Photo from Junk Series by Don Ross
The comments are a mixture of historical facts, wry remarks and witticisms, some expressing hometown pride and some not. The resulting piece, however, is not glib or snarky. Weiss, who splits her time between Dorset and San Francisco, uses photography to "focus on the human condition and the world we inhabit," according to the narrative accompanying the exhibit. Her work as a documentarian and fine-art photographer is evident in these exuberant color photographs of contemporary Rutland.
Brandon photographer Don Ross brings beastly beauty to the exhibit with large-format color photographs from his "Junk Series." They feature debris, ranging from metal scrap that can be recycled or reused to detritus that has been gutted, bent, twisted and crushed beyond recognition. Ross' colors pop like sparks from a bonfire on a pitch-black night. The series evokes formal portraiture, though the subjects are inert. The crisp, tight photographs — some cropped square — are visual metaphors for hope: If color can be found in a world of rust and decay, then maybe other good things are possible.
Arthur Gilman contributes large-format black-and-white work to the exhibit: 140-degree panoramas of three mom-and-pop grocery stores. The wide angle gives viewers the sense of being in the scene — standing in the road facing the stores and their immediate environs. Such locally owned businesses, historically at the heart of small communities, "offer area residents supplies they need, but also, perhaps just as important, they offer a sense of place, history and continuity," Gilman writes.
Pawlet writer Eve Ogden Schaub created texts to accompany Gilman's photographs and those of Stephen Schaub, her husband. Ostensibly transcribed from an old diary, they're at least partially fabricated. Her wit and imagination fuel mini-tales that are handwritten below or around the photographs, becoming integral to the artwork.
Her text for Gilman's "Bellomo's Market" opens this way: "Alexander Lake built the market store on the site of the old Barrett apple orchard, using funds from the sale of the former mortuary." It goes on to detail changes of hands over the years, including a story about a "batchelor" [sic] owner who "is said to have invented a cure for rheumatism that was very effective." Schaub's provocative stories provide insightful substitutes for the actual histories of the grocery stores.
Courtesy Of Alley Gallery
"The Modern Is The Way" by Ric Kasini Kadour
Stephen Schaub created the 38-by-244-inch photographic print "Rutland: Real and Imagined" using a 140-degree Widelux panning-lens camera, which he says captures panoramas that mimic human vision. To craft this 20-foot work, Schaub took a series of views from all four levels of Rutland's municipal parking garage. The piece is printed on Japanese Harukishi fibrous paper.
The texts accompanying this image represent the Schaubs' first collaboration, according to Eve. Her writing offers both commentary and bits of conversation, as if the photo could speak. Stephen describes the work like a silent film. When viewers discover the words hidden among photographs of the city, "suddenly the film has a soundtrack composed of many disparate voices and stories," he writes. "And now the viewer relates to the work in a completely different manner."
The words are invisible from across the room, where the effect of the combined angles — totaling 840 degrees, impossible in reality — holds the viewer's gaze. Closer in, the various panels composing the panorama become more evident, drawing one ever nearer to an intimate view of Rutland's streets, alleys and buildings. The collective image appears to be the stuff of reality, yet it's a view that does not actually exist.
Carol McGorry, a documentary photographer and English professor at Suffolk County Community College in New York, brings a saintly vision to the exhibition. She photographed Catholic statuary around Rutland, creating a series of beatific, thoughtfully rendered images. McGorry's installation incorporates text from papal documents, Bible quotes and poetry. The result seems to express more about her childhood and evolving thought processes on women and religion than about the city of Rutland. In a different context this work might be more provocative, but here it seems like an outsider.
Courtesy Of Alley Gallery
"Fantastical 2" by Susan Weiss
Ric Kasini Kadour's installation "Kunstkammer" consists of a room — an "art chamber" — that invites viewers to imagine "the greatness of Rutland, past and future." Kadour has created a cabinet of curiosities as a theater of memory. His statement mentions Rutland natives such as tractor maker John Deere and Martin Henry Freeman, the first African American president of a U.S. college, as well as Italian immigrant marble workers.
The photographs in Kadour's collages, however, are unidentified. Without knowing who is who, a viewer may feel unmoored in this installation, despite the artist's emphasis on place, history and people.
Kadour notes that his "Kunstkammer" will travel elsewhere, accumulating new objects relevant to its new sites. This presents an interesting conundrum: The more the exhibit travels, the less it may be about anywhere. But perhaps that's the point. Today's society is made up of rolling stones, bringing history with them and gathering new stories as they proceed to other towns and better opportunities, then return to visit "home."
"Rutland: Real and Imagined" features accomplished and intriguing work, prompting questions about the definition of reality and whether it exists only in the eye of the beholder.