Matthew Thorsen
"Home Portal" by Ross Sheehan
From 1954 to 1964, pre-pop artist Robert Rauschenberg invented his own genre: the "Combine," a collaged, three-dimensional hybrid of painting and sculpture. Vergennes artist Ross Sheehan has adopted and adapted that approach to create several new monumental sculptures, currently on view at the Flynndog gallery in Burlington's South End. These and other, smaller works by Sheehan are joined by about two dozen paintings by Rueben Vidrio of Essex.
Incorporating exuberant and liberally applied paint and standing more than seven feet tall, three of Sheehan's sculptures dominate Flynndog's long, brick-walled hallway; they could easily be shown on their own. As it is, their pairing with several of Sheehan's smaller, otherworldly house structures helps emphasize a strong thread in his work: a preoccupation with home and away.
Matthew Thorsen
"Tribal Dance" by Rueben Vidrio
For the large work "Home Portal," Sheehan has mounted a "front door" (as exhibition text explains) on a platform mosaicked with colorful broken ceramics. On either side of the freestanding "portal," candy-colored oil paint explodes in thick, circular patches, giving way to finger smears at the outer edges. Sheehan created this abstraction over time, when the door was still attached to his studio — evidence of his propensity for using paint to consume architectural materials. A radio antenna fashioned from rebar is attached to the top of the door, reaching up and out to communicate with forces unknown.
The impulse to connect with other worlds is aggressively pronounced in "Communication Station 1992," a massive, 11-foot rocket constructed from metal pipe. An array of industrial tools and hardware has been fused to the rocket's shaft, each coated with slick oil enamel. Long, delicate drips of paint appear to have dried while falling from some of these accessories, frozen in midair like icicles. Sheehan has used oil marker to adorn the rocket's body and fin tails with graffiti-like patterns, oddly out of keeping with his other works.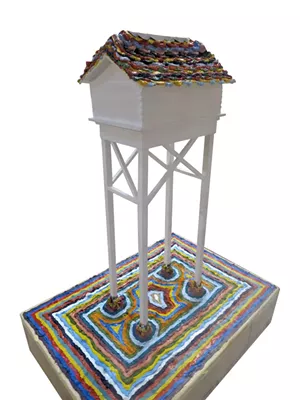 Matthew Thorsen
"A House for Jess" by Ross Sheehan
If "Home Portal" is the artist's home and "Communication Station" his tool(s), "Think Tank" embodies the artist himself. In this piece, Sheehan has approximated a seated human figure using pieces of deconstructed wooden furniture, a lumpy burlap sack for a torso and wooden clogs for feet. Again, the work's base is a mosaic of ceramic shards. One of Sheehan's rainbow palettes sits at the figure's right "hand," a paint can on its left. Instead of a head, a jumble of tangled metal unfurls upward, perhaps on a similar trajectory to the rebar antenna and the giant rocket.
Sheehan's smaller sculptures seem to ground these larger statement pieces. In "A House for Jess," a miniature cabin painted white stands on stilts, perhaps a foot high, above concentric bands of frothy paint. Frosting-like layers of colored paint shingle the roof. A similar, untitled work shares this formula: a white structure topped with brilliant colors. These works provide a surprisingly delicate and domestic counterpoint to the three imposing sculptures reaching up to space.
Vidrio's canvases suggest an artist who continues to experiment with his approach, moving among various styles of abstraction and intentionally vague figuration. He intends some of the works in his series at Flynndog to honor his Mexican heritage and "pay tribute to ancient Aztec design and culture," he writes in his artist statement.
Matthew Thorsen
"Warrior in Training" by Rueben Vidrio
Sometimes this inspiration is clear, as in two of Vidrio's stronger works, "Warrior in Training" and "Tribal Dance." In the former, a 4-by-4-foot square, we see two physically engaged figures emerging from a mottled blue-green background — but only because the title tells us to. Similarly, a winged, head-dressed figure in black and deep, burnt reds can be discerned in the smaller work "Tribal Dance." Both pieces successfully convey motion as well as gravity regarding their focal points.
Others of Vidrio's paintings depart from such gestural tribute. "City Ride" is a patchwork of amoeboid, bordered color fields that falls short of being the rollicking romp its title suggests. "Invasion" hints at a rectangular city skyline dominated by what is undeniably a UFO — one wispy thread of potential connection to Sheehan's celestial longings.
Matthew Thorsen
"City Ride" by Rueben Vidrio
This pairing of Sheehan and Vidrio is a peculiar one. The choice seems predicated on the artists' shared engagement with paint as a textural medium, as well as their embrace of abstraction and bold, sometimes brash, color combinations. While such similarities often make for good or great inquiry, here the combination is distracting, rendering it hard to parse each artist's strengths. When the urge to trace a meaningful dialogue between two artists' styles feels thwarted at every turn, the result is a show much less riveting than it could be.