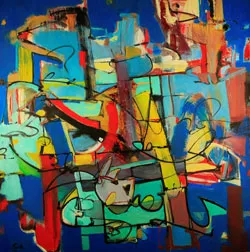 It's a rare individual who decides, at age 43, to drop everything he's doing and go back to school. Roger Book did just that, leaving a retail job in Iowa to attend Green Mountain College in Poultney. He earned a BFA there and went on to acquire a master's in painting at the Rochester Institute of Technology. But the artist reports that he really blossomed under the mentorship of painters at the International School of Painting, Drawing, and Sculpture in Montecastello, Italy.
None of these moves was a waste of time, as Book — now in his mid-sixties and living in Boston — reveals in a stellar exhibit called "Breaking the Ice" at the Compass Music and Arts Center in Brandon.
It's an apt name for the inaugural show at the brand-new venue on the grounds of the former Brandon Training School. (Seven Days reported in the June 19 issue on that institution's transformation.) As it happens, the 47-by-47-inch titular painting, from 2008, is a stark work — a scribble of broad, energetic, black slashes on white — that boldly confronts visitors entering the front door of Compass. It does not prepare you for what awaits just around the corner in the gallery proper: an explosion of color.
The nine large-scale works here, each roughly four or five feet square, also feature heavy black lines, but Book has clearly been exploring hues and shapes. Or, as he puts it in an artist statement, his focus is "on light, color, spirituality, and to push back in space in order to find out what lies beyond the two-dimensional plane. It's a matter," Book adds, "of searching for the unknown."
Most of these paintings rely on and manipulate geometry to some degree — and, yes, push and pull in space — but in some, the lines and patches of brushwork break free from that constraint, bursting into vaguely organic shapes or even a flurry of squiggles. In "Rabbit in a Flower Bed" (58 inches square, 2009), Book allows his black lines to form into petals — albeit messy ones that defy botanical classification. Inside these outlines, the "flowers" are loosely dashed off in pink, pale blue and white, while the backfield is a sunny yellow. It is his most feminine painting here, and, even without an actual rabbit in sight, the closest to representational.
The rest of the paintings do not trade in realism, even if some of Book's titles are prosaic, such as "Round Table on a Porch." The artist seems smitten with yellow — including the alarming "safety" yellow that we associate with school buses and warning signs. The color is aggressive in a painting where it dominates, such as "Dream Catcher" (58 inches square, 2011), even though Book tames it somewhat with more subdued hues such as rusty red, warm turquoise and olive green. The ostensible circular "subject" of this painting is intersected by thick black lines that don't quite meet, yet all lead to an off-center focal point. There may actually be symbolism here, but it's better to let your eyes do the thinking, as it were.
This is also true of the painting "Driving on an Endless Highway" (48 inches square, 2011). The title makes you want to see interstate cloverleafs and roads that lead nowhere, but the painting doesn't quite give you that literal recourse. There are, in fact, curves and swerves and lines with no particular destination, but what's most interesting about the piece is the way Book "frames" it with heavy black elements in each of the four corners, as well as with a bit of a black "ceiling" at the top. These serve to contain the going-nowhere action, like guards or fences. Rather than feeling claustrophobic, the painting merely seems anchored.
That cannot be said of the more free-form "Play Room" (58 inches square, 2011), in which indeterminate shapes seem to float in a cobalt-blue sea. Prominent lighter blue and aqua add to the marine sensation, though the busy center of the piece, with its swooping, bisecting black lines and multiple blobs of color, does the title justice. As Compass co-owner Stephen Sutton puts it, "Play Room" is "like the avant-garde music we do — it takes a while to find the structure."
Book's paintings need to be seen from a bit of distance, and the Compass gallery facilitates that with freestanding triangular structures presenting three walls each. In Book's case, one painting occupies each surface, making it possible to lose yourself in one without being distracted by others. While you're looking, the works provide structure if you're seeking it, and a resistance to order if you prefer that. So it goes with abstraction, which Book expresses magnificently.
"Breaking the Ice," abstract expressionist paintings by Roger Book, Compass Music and Arts Center, Brandon. Through August 18. Info, 247-4295. cmacvt.org
The original print version of this article was headlined "Book Works"