Courtesy Of Jack Rowell
Giuliano Cecchinelli
Barre's tradition of Italian-immigrant stonecutters stretches back more than a century, and now it's nearing an end. "He's the last one," Studio Place Arts director Sue Higby says of Giuliano Cecchinelli, 73, whose artistry in granite and marble is being celebrated at the Barre gallery. About 50 of his political, religious and erotic sculptures make up the entirety of "Rock Solid XVI," the latest of SPA's annual exhibition of work made of stone hewn from local quarries.

"The Italian stoneworkers used to gather on Saturdays in front of Whelan's drug store, which was right near where SPA is now," Cecchinelli recalled in a recent interview. "I was the youngest of them all. Everybody else is gone now."
Cecchinelli was born in Carrara, a town midway between Genoa and Pisa and famous for the white marble that's been quarried there since the time of the Roman Empire. Several generations of his family earned their living by cutting and sculpting Carrara marble. A plaster bust that Cecchinelli made in 1969 of his grandfather, Francesco, crinkly lipped and wearing a hat, is included in the SPA show, along with a graphite profile of his uncle, Andrea Sacchi, that Cecchinelli drew at age 9.
He was clearly well schooled at the Carrara arts institute that he attended for six years; classes ran eight hours a day from October to July. "You do that much, and you've got to learn something," Cecchinelli remarked with characteristic self-effacement.
He migrated to Vermont in 1961, two years after his father, Alberto, had been among a dozen Carrara craftsmen recruited to work on columns at the U.S. Capitol building. Cecchinelli initially settled in Proctor, home of a marble company that employed his father and that operated from 1880 to 1993.
The SPA retrospective features the first work Cecchinelli created in the United States: "Three Phases of Life," a trio of bronzed plaster busts on a quartzite base. It's a skillfully executed piece by an 18-year-old, and a harbinger of the classically styled work Cecchinelli has been producing since 1965 at Buttura & Gherardi Granite Artisans in Barre.
"I came equipped with all the smarts I needed," he said. "I had the same smarts then that I do now."
Asked if he didn't improve with maturity and experience, Cecchinelli demurred. "No, I didn't improve over the years," he replied. "I've regressed. I've gone backward."
Courtesy of Studio place arts
"Stone Cutter a Punto" (foreground) by Giuliano Cecchinelli
All evidence to the contrary, the sculptor insisted that he's "just a mechanic." He acknowledged, however, "What I've got is a gift." And, Cecchinelli added, "If there's something to know about granite, I know it."
In addition to the skills he transported to Vermont, Cecchinelli brought along hammers, chisels and king-size calipers from Italy. These are the only instruments he uses in carving granite blocks that other sculptors drill with pneumatic tools.
Most of his work stems from Renaissance antecedents such as Michelangelo, who also sculpted in marble from Carrara quarries. Cecchinelli agreed that he's part of that tradition but waved off the suggestion that he's been inspired by Michelangelo.
"Each individual develops his own style," he said. "Everybody who cuts stones does it their own way."
Cecchinelli's religiously themed work most directly channels Renaissance artists. His pieces at SPA include "Scourging of Christ," various New Testament scenes and a bust of Pope John XXIII. "I'm a Catholic," he noted.
Cecchinelli shared that faith with John F. Kennedy, the subject of four stone portraits in the exhibit. A prayerful president's face appears to be suppressing a smile in "Cuban Missile Crisis," in which Kennedy is flanked by cigars in Cuban-labeled canisters made to resemble missiles.
Courtesy of Studio place arts
"Shafted Since 1620" by Giuliano Cecchinelli
The political (and satirical) dimension of an artist who calls himself "a current-events person" is further manifested in "Shafted Since 1620." A Native American's head grows out of a shaft of corn in this four-year-old piece.
Then there's "George Aiken's Formula," an undated granite work with the subtitle "Declare Victory and Get Out." That was the Vermont senator's famous suggestion for how the United States should extricate itself from the Vietnam War. Cecchinelli here depicts an eagle, with wings spread and a miniature tank in its talons, as it's about to land in its nest.
The septuagenarian sculptor is au courant in his political commentary, as well. One piece, "Freedom From Genetically Modified Organisms," shows a pair of hands gripping a scythe in a teardrop-shaped enclosure.
The single most beautiful sculpture in the show, however, may be that of a hermaphroditic figure carved in purple Westerly granite and bearing the confusing but probably politically incorrect title "Two She or Two He = It²."
The sexy side of Cecchinelli's artistry emerges in "Once Upon a Rock," which apparently took him 49 years to complete. An undulating female form has been carved from granite and quartz in this piece dated 1958-2007. A similarly curvaceous body, back arched, is presented in a cubist-inflected bronzed plaster piece titled "Driftwood Figure."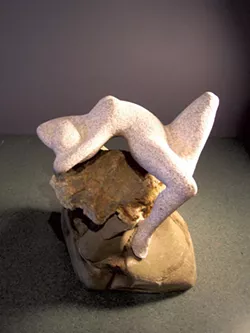 Courtesy of Studio place arts
"Once Upon a Rock" by Giuliano Cecchinelli
One notable work that doesn't fit any category is the scale model for the "Mr. Pickwick" sculpture that stands in front of Barre's Aldrich Public Library. The bespectacled Dickens character is shown reading one book while holding a second in his other hand, cradling another beneath an arm, and with two more wedged between his legs. The bibliophile is also standing atop a stack of four books.
Visitors to SPA may be fortunate enough to see Cecchinelli on the sidewalk outside the gallery chiseling away at a block of granite that, when completed, will be his tombstone. That monument might also mark the end of a long line of Italian-born stone artists who've left indelible marks in Barre and beyond.
But it won't be the absolute end of a tradition that has put down roots of its own in central Vermont. Cecchinelli has been schooling his thirtysomething Vermont-born son, Giuliano Jr., in the granite arts. "My son is doing the same thing I've been doing," the father said. "He'll take the name, and he'll run with it."