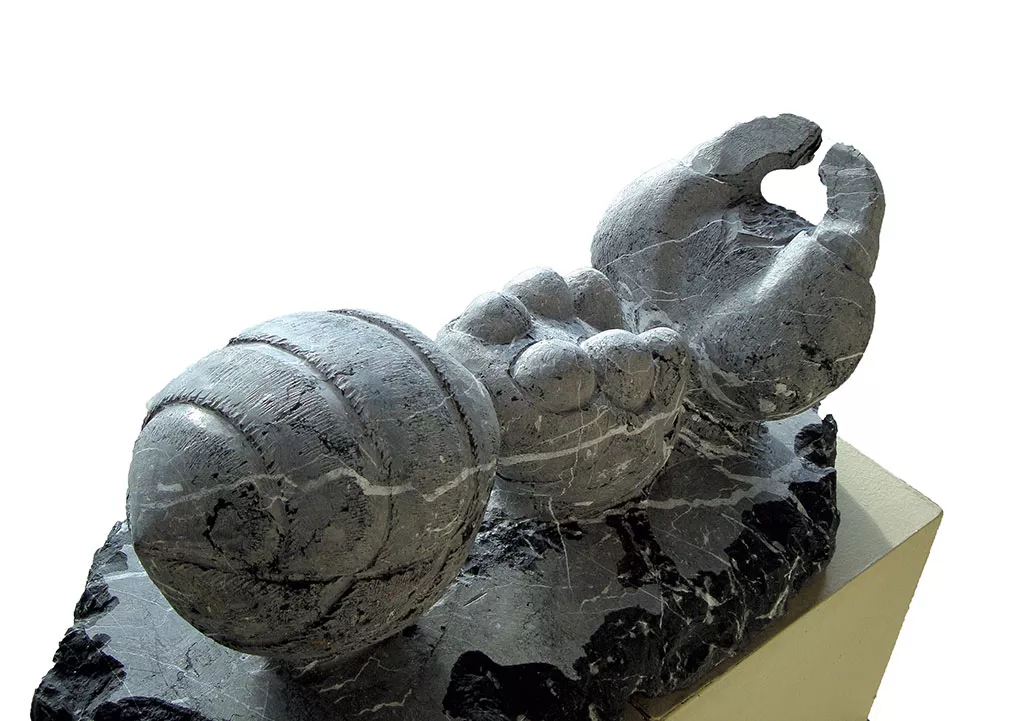 Meg Brazill
"Death of a Worker" by Sean Williams
In "Rock Solid for Fifteen Years" at Studio Place Arts, 21 artists have a total of 30 works on exhibit. SPA's annual "Rock Solid" exhibition is now in its 15th year, as the title indicates, and the work is indeed rock solid — sometimes literally, always artistically.
The exhibit emphasizes stone sculptures and assemblages, paying tribute to Barre's nearby quarry and its history as a place where artisans relocated from Europe to carve high-quality gray granite. Many of the local artists here are perennial "Rock Solid" exhibitors.
The year 2000 saw the genesis of both SPA and the first "Rock Solid" show. SPA's founders wanted to provide an opportunity for artisans who create commissioned monuments in their professional careers to show another aspect of their work.
Of the multitude of diverse works in the show, the paler-colored ones, usually created in marble, catch the light — and the eye of the viewer. Paul Marr Hilliard's "Artifacts," made from local marble and steel, is one of them. Five smooth white shapes, faintly suggestive of crescent moons, are held aloft by slim black steel rods. The shapes evoke tools from a workshop — both prehistoric and futuristic — while the contrast of light marble and dark steel is simple and elegant. The work's title, "Artifacts," could refer to the five marble pieces (were they leftover "artifacts" from a larger project?). Or perhaps it implies that marble, and the culture of stone sculptors, are "artifacts" left for this generation to explore.
Viewers are allowed to touch the sculptures on exhibit, an unusual policy for any gallery. Curves and lines reveal themselves through touch, while both polished and rough textures offer thrilling tactile sensations. Some of the stone carvers learned to carve in Italy, and they believe that touching the stonework gives it life.
A close look at Plainfield stone carver Heather Milne Ritchie's "Nights in White Satin," made of Danby marble, bears that out. Two white marble sculptures, each about 20 inches tall and flat on one side, act as bookends for several large art books. The other side follows a torso-like curve that gives way to a rounded breast shape. The nipples are rougher than the rest of the polished surface, and they invite touch. Veins in the marble run through each one; these "imperfections," natural to this type of white marble, breathe life into the artist's creation.
Ritchie apprenticed under Barre stone carver George Kurjanowicz, who also has work on exhibit here. Ritchie's "Harvest," created from Primo Italian marble, is a substantial white stone about the size of a female torso. Like much of the sculpture here, it's abstract, but "Harvest" clearly suggests the female body. Its subtle beauty is captivating, yet hints at a loss; marble has been sculpted away from one side, leaving the surface raw and unpolished. One breast appears to have been removed — and, indeed, proceeds from the work will be donated to breast cancer research.
Courtesy Of Studio Place Arts
"Artifacts" by Paul Marr Hilliard
This exhibit will upend any notion that marble is only white or pink, gray or black. It will do the same for granite, sandstone, soapstone and even brick. SPA executive director Sue Higby likens the variations of stone to those in wood — the differences between hardwood and softwood, the varied patterning and even coloration (think pine compared with cherry).
Sean Williams and Gampo Wickenheiser created work from the same piece of Portuguese black marble, which makes their different approaches all the more interesting. Wickenheiser sculpted "Vision Serpent," a mystical symbol in Mayan culture that appears in mural relief in temples all over Central America. Wickenheiser's 3D serpent features carvings along its midsection that evoke wavelike vibrations — according to tradition, used by the serpent to deliver a message. He employs the heft of the stone to make the figure emanate strength and power.
The startling title of Williams' "Death of a Worker" refers to a worker ant, not a human being, and Williams uses the marble's black hues to his advantage. This marble is not the polished, shiny black of monuments, but can appear as black, gray or veined with white. Williams' humorous title, coupled with his substantial skill, creates a powerful figure, bringing the enormous ant alive. Though it's sited in the gallery's front window, a viewer might miss it once inside, so make sure to seek it out.
Sculptor Giuliano Cecchinelli, born in Carrara, Italy, learned to carve from his father. When he came to the U.S., he worked for Vermont Marble in Proctor before moving to Barre in 1965. This year, he offers "Sieko Brick," the whimsical result of a friendly challenge. When Cecchinelli's friends ribbed him, saying that even he couldn't carve a brick, he proved them wrong by carving a realistic pear from terra cotta. It rests on a small piece of Barre granite, topped with the stem of a real pear. Despite its brick coloring, the pear looks ripe and ready to eat.
Cecchinelli taught the art to his son, Giuliano Cecchinelli II, whose granite sculpture "Character" is paired with "Sieko Brick." "Character" seems to grow from its roots of stone into a tree in full leaf. Less about realistic detail than about the vitality Cecchinelli II has wrought from stone, the piece embraces the medium and the air that flows through and around it.
Nick Santoro of West Rutland uses sandstone and West Rutland marble for his "Bed of Abandonment." A piece of marble creates the headboard, and a sandstone block scored with multiple lines is the bed. The clean, linear work is perhaps the most contemporary piece in the show, with its hard lines and assemblage of pieces.
Santoro uses material from the quarries near his home, where he likely found these pieces abandoned. "Bed" implies a place of comfort, rest and often connection, but coupling that motif with abandonment yields a work filled with melancholy mystery. Viewers may be left asking, What happened? How was it abandoned? Who was there? The answer may lie in the history of Vermont's quarries.
Higby says she realized during her 13 years of working on the annual exhibit that the stonework needed a counterbalance, so she began incorporating paintings, drawings and photographs. René Schall and David B. Tibbetts celebrate the qualities of stone in two-dimensional paintings. Schall's "Quarried Stone I; II; III" consists of three square acrylic paintings on canvas in which she has rendered the 3D qualities of massive blocks of stone. She brings order to an abstract world of boulders and quarries, emphasizing the surface texture of the rock. Tibbetts' large, framed watercolor paintings of river rocks in bright, natural hues provide a rich contrast to the stone sculptures.
With this year's exhibit, SPA has capped its own 15 years as both a beacon and an anchor for art in the community. With any luck, it will continue to honor local artists with many more "Rock Solid" exhibits in years to come.