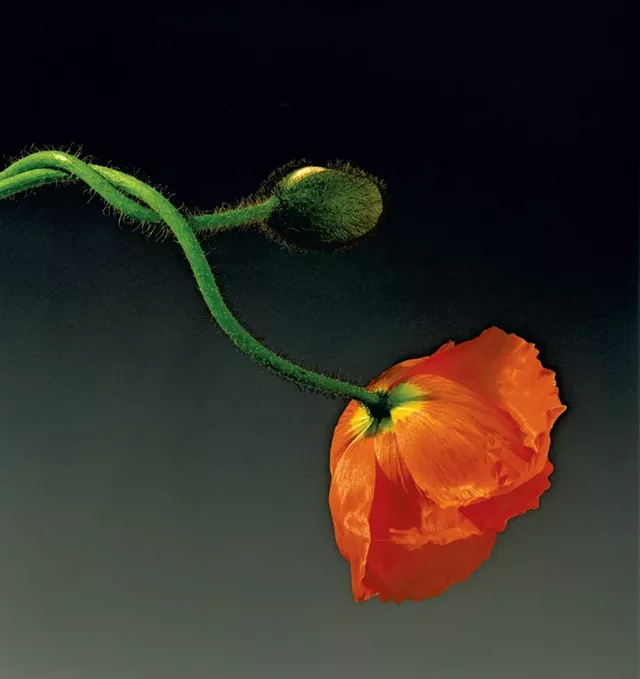 If one had to encapsulate Robert Mapplethorpe's explosively successful but short-lived career in a single word, it might be "tension." Now on view at the Montréal Museum of Fine Arts, the retrospective "Focus: Perfection" offers an expansive investigation of the fruitful contradictions that shaped the New York City photographer's trajectory. The show is the first major North American exhibition of Mapplethorpe's work since his 1988 obscenity trials (a reaction to his sexually explicit images) and his death from AIDS in 1989 at age 42.
The exhibition design offers the first clue to Mapplethorpe as a figure of contrasts. White text on black walls greets visitors at the show's entrance. Here are self-portraits, as well as photos of the artist taken by others, including Andy Warhol, and examples of Mapplethorpe's early, pre-photography works. These last reveal his propensity to appropriation, ranging from simple, talismanic jewelry made of found objects to the much larger "Untitled (Altarpiece)," made in 1970.
The altarpiece work also exemplifies Mapplethorpe's attraction to Catholic iconography and its potential for evoking, and subverting, ideas of light and dark, good and evil. Built like a domestic shrine with a small writing desk at its center, the work intersperses religious objects with fur, pieces of velvet and other fabrics.
The two representations of Jesus here, a chromolithograph and a small statue, both have black bands over their eyes, as if auguring the censorship controversy to come. The object's label explains that some of the items belonged to Patti Smith, Mapplethorpe's soul mate, whom he met in 1967. The poet-rocker is omnipresent in this exhibition; she not only appears frequently in pictures but is cited extensively in large wall quotes throughout the galleries.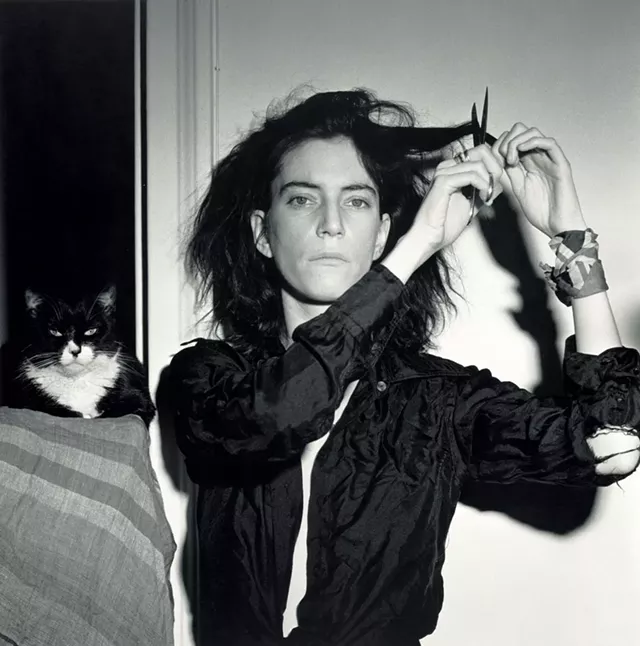 The next gallery is the largest, and the works there speak volumes about Mapplethorpe's calculated art-world ascension — lest anyone think his acclaim came by accident. The space is filled with black-and-white studio portraits of art-world and other celebrities, the sheer quantity of star power overwhelming. Here are images of Kathy Acker, Louise Bourgeois, Richard Gere, Debbie Harry, Paloma Picasso, Isabella Rossellini, Cindy Sherman and Warhol, among others.
Especially striking is the Man Ray-esque portrait of model Lucy Ferry. The image's composition and intense contrast make the subject's head look like a Brâncui sculpture being held aloft in her own hands.
In addition to printed studio portraits, this gallery showcases early Polaroids, short films and ephemera, including contact sheets and album covers with photos taken by Mapplethorpe. Among the record portraits are ones created for Laurie Anderson, Joan Armatrading, Philip Glass, Paul Simon and Taj Mahal, as well as Patti Smith's 1975 Horses, featuring the iconic image of the androgynous Smith in menswear.
Particularly telling of Mapplethorpe's ambition and social savvy is "Downtown Art Dealers," a 1978 photo-strip-style portrait of New York's preeminent gallerists of the era. Accompanying text explains, "It was a clever move on Mapplethorpe's part, as it was intended to flatter those most influential to his blossoming career."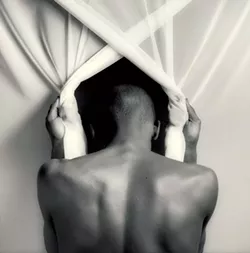 In 1972, Mapplethorpe met the wealthy collector Samuel Wagstaff Jr., then curator of contemporary art at the Detroit Institute of Arts. Wagstaff became Mapplethorpe's mentor, patron and lover, providing the polish and financial support to complement the artist's bohemian lifestyle. Exhibition text states that it was in large part because of Wagstaff that Mapplethorpe was so "adept at moving between uptown and downtown social circles, both socially and artistically." The curator's role in elevating Mapplethorpe's career is the subject of the 2007 documentary Black White + Gray.
Wagstaff's support perhaps gave Mapplethorpe the impetus he needed to delve into new, riskier subject matter. The Montréal exhibition transitions from portraiture to the artist's two other primary subjects: erotic male bodies and floral still lifes. Included are images from the artist's X, Y and Z Portfolios (1978-81), which depict the homosexual BDSM subculture, flowers and eroticized black male bodies, respectively.
In a stroke of exhibition design brilliance, translucent dividers form a narrow hallway in this section. The passageway is lined with small images of Mapplethorpe's early flowers, while sub-galleries on either side offer his "viewer discretion advised" photos. The effect is such that the three categories of X, Y and Z images are visibly layered. It's a physical embodiment of how Mapplethorpe's eye united seemingly disparate topics — the beauty of flowers and culturally marginalized forms of sexuality.
What may be most disconcerting about this body of work is the way in which Mapplethorpe's "deviant" images do not humanize their subjects. As wall text explains, these pictures "did not simply document a human activity but transformed it into a purified ideal, reduced to basic forms and geometries."
If hedonism and perfectionism could coexist, Mapplethorpe was ostensibly trying to figure out how to unite them. The resulting images can seem hard-edged and impersonal, despite the artist's notorious participation in the scene he documented.
The tension of treating sex and sexuality as potential expressions of both love and violence is central to the X and Z sets of images. In "Dennis Speight, N.Y.C.," Mapplethorpe homes in on African American Speight's torso and crotch, using the shadow of the subject's erect penis to give the illusion of a massive, weapon-like spear. In "Hooded Man," a nude black man stands with a pillowcase over his head, simultaneously evoking kink and the pointed hoods of the KKK.
The adjacent gallery contains Mapplethorpe's larger-scale and in-color floral images. The spear-like, purple-tipped stalks in "Irises" resemble those in a Japanese painting. In general, these meticulous, minimal compositions evoke the art of ikebana. Text describes the images as "caught somewhere between delicate perfection and menacing petrification." Perhaps even more than in the X and Z photographs, a viewer can feel Mapplethorpe's intensity in these images, which detail a floral stem down to its most minuscule fuzzy fibers.
Toward the end of the exhibition, viewers find a small selection of landscapes, portraits of Mapplethorpe's lover Philip Prioleau and body builder Lisa Lyon, and several images the artist made with sculptures later in his career.
These endnotes give way to the exhibition's final gallery, a room plastered with enlarged political cartoons addressing the obscenity trials that Mapplethorpe's work sparked in the late 1980s.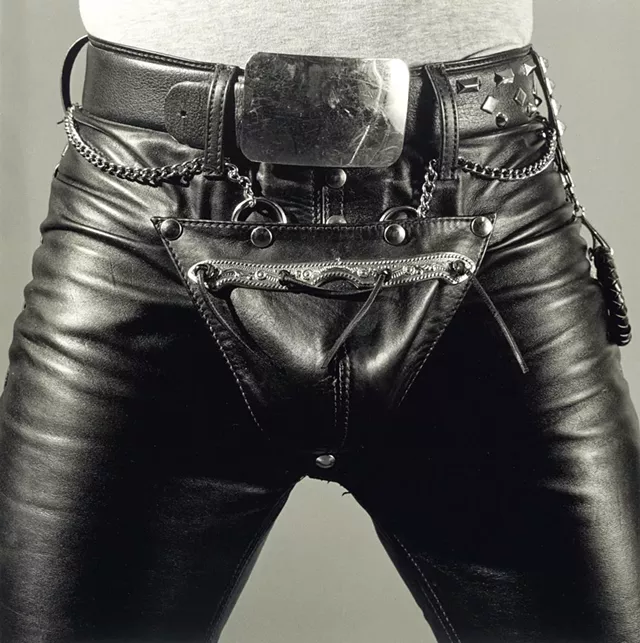 Photos courtesy of montrÉAl museum of fine arts
"Leather Crotch," 1980
When "Robert Mapplethorpe: The Perfect Moment" was scheduled to travel to the Corcoran Gallery of Art in Washington, D.C., museum staff and members of Congress declared themselves scandalized by some of the content. That included the "X Portfolio" self-portrait of Mapplethorpe with a bullwhip in his anus, among other BDSM-related photos. The controversy that ensued challenged the use of public funding for the arts and the role of cultural brokers in defining art and what the American public is allowed to see.
Speaking to the tension that shaped Mapplethorpe's career, Robert Reid-Pharr wrote for Art in America that he "achieved art superstar status by ostentatiously rejecting certain rules while carefully following others."
In carefully presenting the subjects that captivated and defined the photographer, "Focus: Perfection" offers an absorbing portrait of an artist who suspended himself between the poles of high and low culture, "good" and "evil," social acceptance and pariah-hood, obsessiveness and abandon.