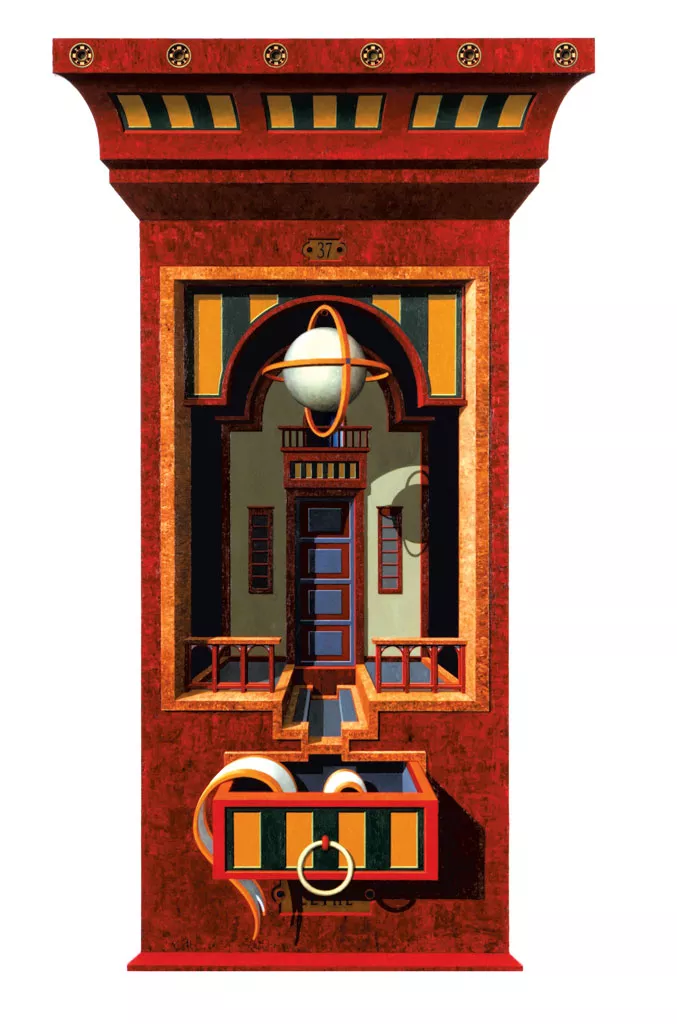 Richard Whitten's odd artworks will amaze, amuse and possibly confuse visitors to his show at Stowe's Helen Day Art Center, aptly titled "Experiments."
A master of trompe l'oeil, the Rhode Island College painting professor meticulously renders imaginary architectural spaces in the style, and with the painting methods, of the Renaissance. The 50 or so assemblages and oil-on-panel pieces on display are rigorously classical in their forms and scholarly in the allusions contained in their titles. Whitten's insistently symmetrical work often includes precise depictions of spheres, cubes, cylinders and other three-dimensional shapes.
His aesthetic is austere. Human forms make no appearance in these pieces, and their regimented, soulless arrangements can be off-putting. Whitten's palette, while varied and sometimes fanciful, is generally more dark than light.
But this is an artist committed to conundrums — both in his individual creations and in the tenor of his entire show. Many of Whitten's works have a paradoxical playfulness, even jokiness. Plus, his utterly persuasive illusions often appear to violate the laws of physics and to defy spatial logic. "Experiments" thus serves as a fitting accompaniment to "Play," a concurrent Helen Day exhibit featuring artists who incorporate games and comical objects into their work.
Whitten's show includes, for example, a quartet of seemingly purposeful contraptions consisting of gears, propellers and lettered or patterned discs that have been given the collective title "Mechanism for Measuring the Velocity of Wind in Paintings."
Propellers — painted this time — also appear in "Le Cigare Volant," in which they seem to enable a giant tube, which looks more like a bomb than a cigar, to stay afloat inside an arched interior.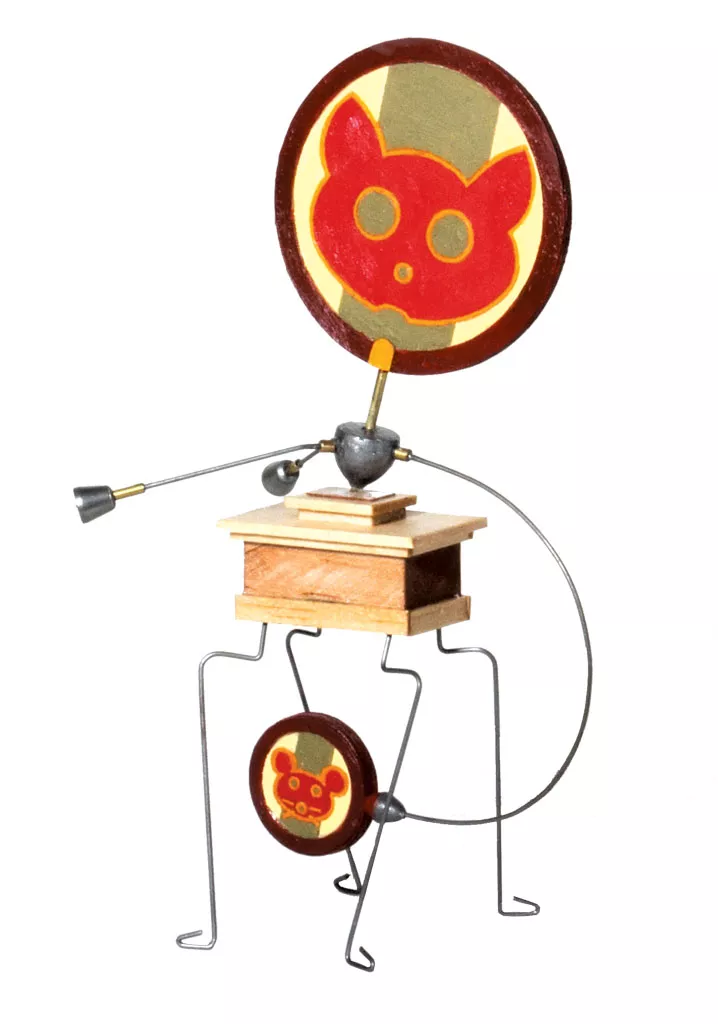 Cartoonish cat and mouse heads are central elements of a few pieces. A circus elephant and a toy train also catch the eye, even as it's tricked by receding and protruding planes. These recall the ingenious befuddlements presented by Dutch graphic illusionist M.C. Escher (1898-1972).
Such feats of fantasy reflect Whitten's stated interest in antique toys, mechanical devices and scientific instruments, especially those involving repetitive motion. Characteristically, however, none of these objects actually moves. Each looks as though it's about to spin or whirl and make noises in the process, but remains static and silent.
Viewers will twig to the subtle humor as they make their way through "Experiments." They will also come to realize that, despite the works' generally exact geometry, many pieces are irregularly shaped, with rounded or angular appendages affixed to otherwise rectilinear forms. Some seem to have hinged sections of the sort seen in altarpieces made for public or private worship 600 years ago. But Whitten's constructions don't actually fold — they just look like they could.
Further indulging his penchant for mirage making, the artist encloses his wall-hung objects in faux frames. They sure do look like wooden or stone enclosures, but they're products of oil paint as much as everything else represented on these panels.
A quality of surrealism lurks in some of Whitten's work. It's especially evident in "Un Coup d'oeil," one in a set of smaller paintings that Helen Day curator Rachel Moore has grouped close together. The influence of Salvador Dalí can be seen in the floating sphere resembling an eyeball that's attached via a slack cord to what may be an upside-down spinning top.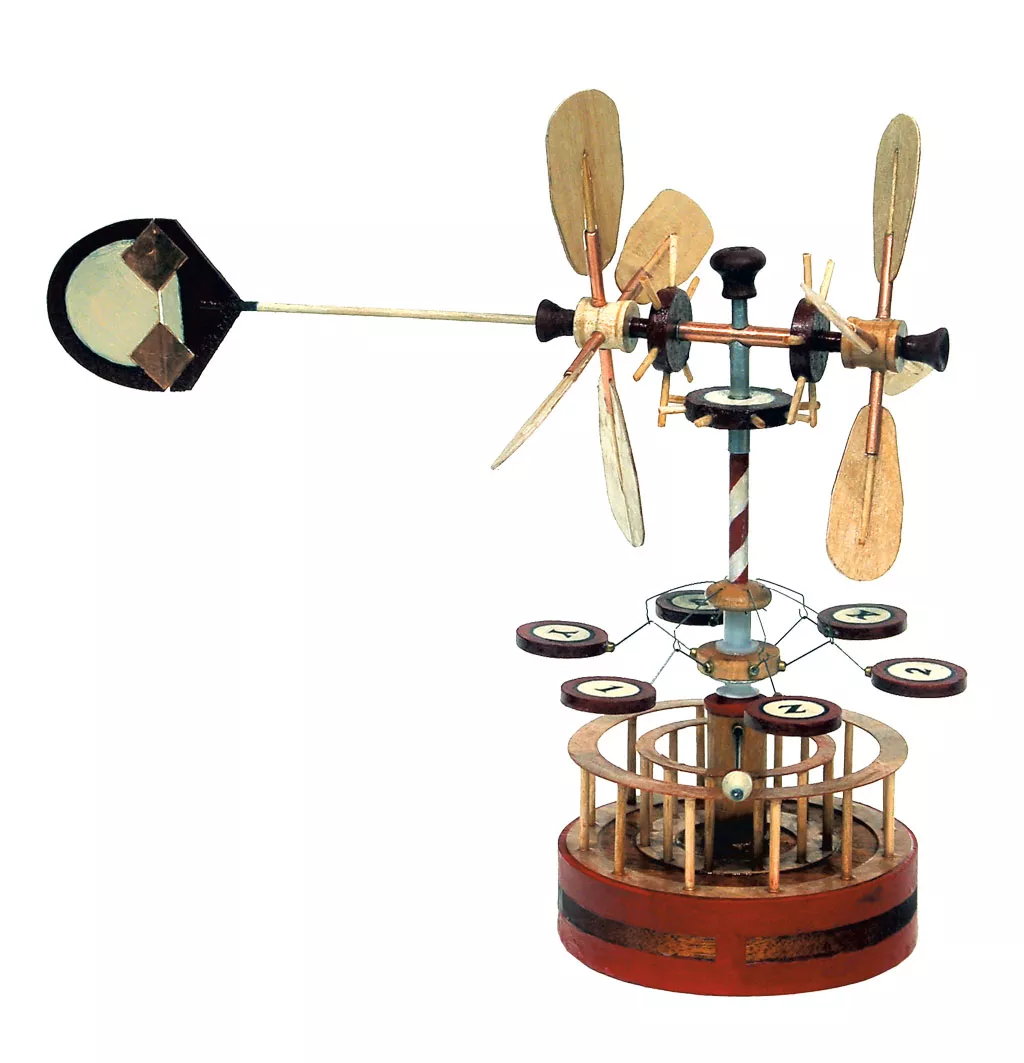 "Mechanism for Measuring theVelocity of the Wind in Paintings III"
The influence of Italian metaphysical artist Giorgio de Chirico (1888-1978) pervades the show, but in an unobtrusive and nonderivative way. Whitten shares de Chirico's predilection for classical architecture, bright light and deep shadows. Both imbue their works with a melancholy, vaguely ominous aura, which both complements and emphasizes their surreal subject matter.
"Ultimately," Whitten writes in an artist statement on his website, "my paintings are about intellectual play — an impetus for learning and exploration." Visitors may well agree with that capsule description after seeing and reflecting on "Experiments."
The titles of Whitten's works will certainly lead the curious to explore and learn by googling. "Putterjie," "Thaumatrope" and "Orrery" are a few of the esoteric words Whitten chooses, in addition to his expropriations from French, German, Italian and Latin.
"Putterjie" is a Dutch word for "goldfinch" — a curious name for a piece whose focal point is a dancing elephant. The Goldfinch also happens to be the name of Donna Tartt's 2014 Pulitzer Prize-winning novel, which, in turn, is based on a gem of a painting made by Carel Fabritius in 1654.
A thaumatrope was a popular 19th-century toy and a forerunner to the film projector. It involved discs with pictures that, when twirled by the pull of a string, seemed to merge into a single image through a phenomenon known as persistence of vision. Whitten makes reference to this device in his pieces featuring cat and mouse heads that seem to be about to spin.
An orrery is a mechanical model of the solar system. The cat and mouse faces also appear in the piece with this title — perhaps as representations of animal planets?
"Experiments" may strike some viewers as more gratuitously dense than satisfyingly cunning, similar to British playwright Tom Stoppard's more confounding intellectual bedazzlements. But there's no denying Whitten's originality and even uniqueness. You won't see anything like his work elsewhere in the Vermont art scene — or likely anywhere.