Amy Lilly
"Great Auk" by Gail Boyajian (left), and "Flow Thru" by Duncan Johnson
The annual Art at the Kent show is one of the state's exceptional art events, drawing hundreds to its fall opening every year. The 2019 edition, titled "reVision," grew from a core of playful work by collage and assemblage artists and loaned works by renowned collage artist Varujan Boghosian. Curators Nel Emlen, Allyson Evans and Vermont state curator David Schutz eventually chose 17 artists' works to fill the idiosyncratic spaces of the Kent Museum in Calais.
"Fill" is perhaps too mundane a word. The work might more accurately be said to participate in the partially restored 19th-century building's presence. The state purchased the structure with the intention of establishing it as a history museum but never completed renovations. Now the charming site is opened only one month a year as an art venue. Many interior walls consist of nothing but narrow lath boards separated by gaps, layered here and there with metal mesh and the odd spot of plaster.
Hanging art on such exposed layers of history is not only tricky — nail holes are impossible, not to mention interdit in this historic building — but conceptually amusing. The collage-centric works in "reVision" evoke both the layering and the surreality of the space.
The show begins with Duncan Johnson's "Build Up," a framed assemblage of small pieces of reclaimed wood cut into rectangles, with dimensions ranging from a few millimeters to a few inches. The pieces have been painted or bear traces of their original paint. They give the viewer the impression of a random dump of colorful wood several layers deep, but inspection reveals that each piece has been carefully attached.
Amy Lilly
"Persephone" by Benjamin Davis
Wood can be found throughout the exhibit, from Alexandra Bottinelli's found wood crates filled with smooth, beeswax-rubbed wood sticks — one is titled "container nine (box of 54 golden wands)" — to Benjamin Davis' maquette-size sculptures. "Medusa," a top-heavy figure with a highly stylized head of snakes, appears to be a study for a much bigger marble version that is installed on the grounds.
Joe Chirchirillo's kinetic sculptures, made from found wood and metal, are the first sign of the "wacky, funhouse" thread in the exhibit, as Emlen describes it on a recent visit. Intended to reference cause and effect in nature, the scrappy sculptures, when plugged in, set up chain reactions using water or weight that make a lot of noise.
Peter Thomashow's electrically powered assemblages generate similarly zany movement with a more aesthetically pleasing intent. A collector of midcentury wood toys and other vintage artifacts, Thomashow attached a variety of balls, dolls and discs painted with swirls to 11 vintage laboratory stands powered by motors to create "Rotating Optical Toy Experiment."
Delia Robinson's whimsical handmade whistles and hand-painted "crankies" — hand-cranked mechanical contraptions that display a painted scroll — fill a downstairs room. The Kent's imaginative event roster includes a crankie performance by Robinson, as well as a magic show by artist Rob Mermin, founder of Circus Smirkus.
Walter Newman sets toy creatures — a mammoth, a lizard, a dinosaur — among large plants and floral wallpaper in cheerfully painted scenes that make for amusing studies in scale.
Matt Neckers, known for his mobile microexhibits — one is housed in a 1940s refrigerator — arranged an installation titled "Missile Guidance System" in a small room. The assemblage includes a metal typing stand, a rotating globe contraption, jumbled house façades, a framed photo of the artist ducking in fear beside a homemade rocket, and other narrative detritus; it brings to mind the lair of a tinfoil-cap-wearing DIY neurotic.
The humor turns surreal in collages by Marcus Ratliff, whose René Magritte-like images include an apple suspended in the air and the bowler-hatted "Orville and Wilbur," who stand waist-deep in a waterfall. W. David Powell similarly uses 19th-century photographs, images and other ephemera to create such collages as "Reifier," featuring the figure of a fantastical robot that, the title suggests, can make abstract ideas concrete.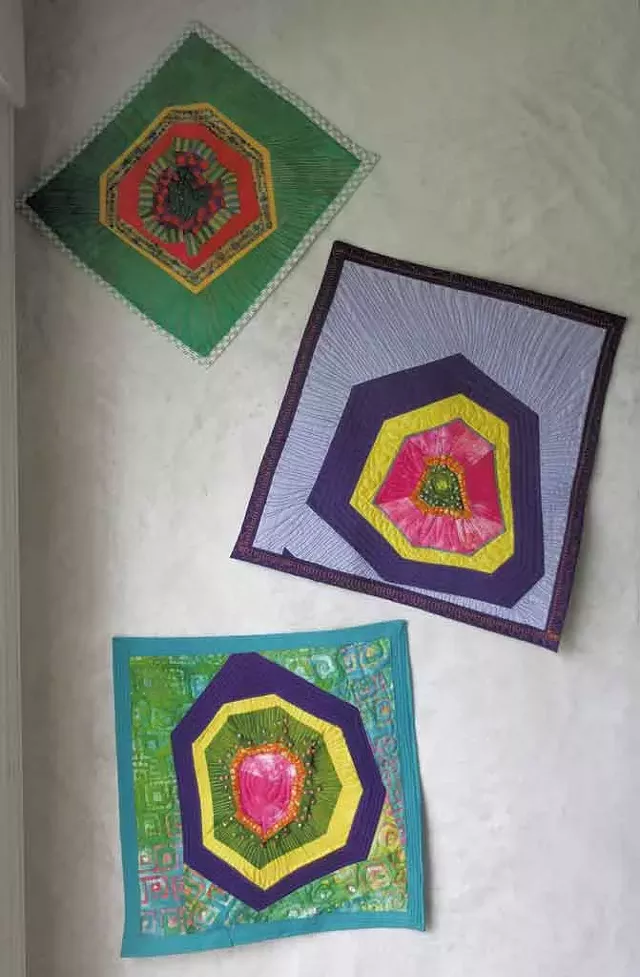 Amy Lilly
Small quilts by Kristina Snook
By contrast, much of the show is not at all humorous. Bottinelli, whose collages feature oil on paper on birch panel, often takes the Black Lives Matter movement as her subject. A series of prints by Jessica Scriver explores her emotional grappling with cancer. Scriver's larger, mixed-media paintings are abstractions that evoke the interplay between manmade and natural forces shaping the land. One of quilter Kristina Snook's gorgeously detailed, colorful, asymmetrical works, "Multiplier," addresses the effects of fracking.
Gail Boyajian's life-size papier-mâché birds, placed throughout the exhibition, commemorate 24 extinct species using only colored paper from the New York Times. She wryly ties this sense of loss to current events, incorporating a photo of Hillary Clinton in her tribute to the great auk and one of Barack Obama in her dodo.
Diane Sophrin, who divides her time between Vermont and Hungary, uses writing — legible script and illegible scrawls — in her abstract works on stitched paper. In "Blue Midnight," the abstract shapes appear as enlarged, enmeshed cursive letters, while in works such as "Fekete Ország/Black Country," discernable words in chalk and acrylic paint serve as a black-and-white study in the interaction between medium as object and language as document.
Amy Lilly
"Boneyard" by Chris Groschner
A playful nostalgia tinges Chris Groschner's large painted collages, which consist of photographic assemblages in high relief within interior frames. In "Boneyard," 2D angels appear to hold aloft a framed scene of an abandoned seaside house and graveyard, its fence and other elements set inches off the surface. Groschner uses antique curio cabinets in two other works, creating dioramas of abandoned rooms behind the glass doors and perching models of aging houses on top.
The traces of living are explored in very different visual language in Kelly Holt's photographic collages. Urban and idealist, Holt's blurry images often result from a jolted camera hand, capturing not the solid presence of people but their paths through a city street or urban space. Holt chops and collages them with alphanumeric or geometric elements in acrylic or spray paint, creating an everyman environment that celebrates the unity of passersby.
Viewers may notice traces of the curators' own hands only subliminally, in a succession of forms from one artist's work to another's, or in the placement of a painting whose patterns mimic the wall's exposed metal mesh. Yet these touches help make Art at the Kent shows unmissable. Artists do not apply to be shown there; the curators select them after year-round visits to exhibits, studios and galleries.
"ReVision," like the Kent's previous 12 shows, unites a remarkable group of work into an artful viewing experience. Don't wait too long to see it: On October 7, the unheated building will close for the rest of the year, and the art won't leave a trace.