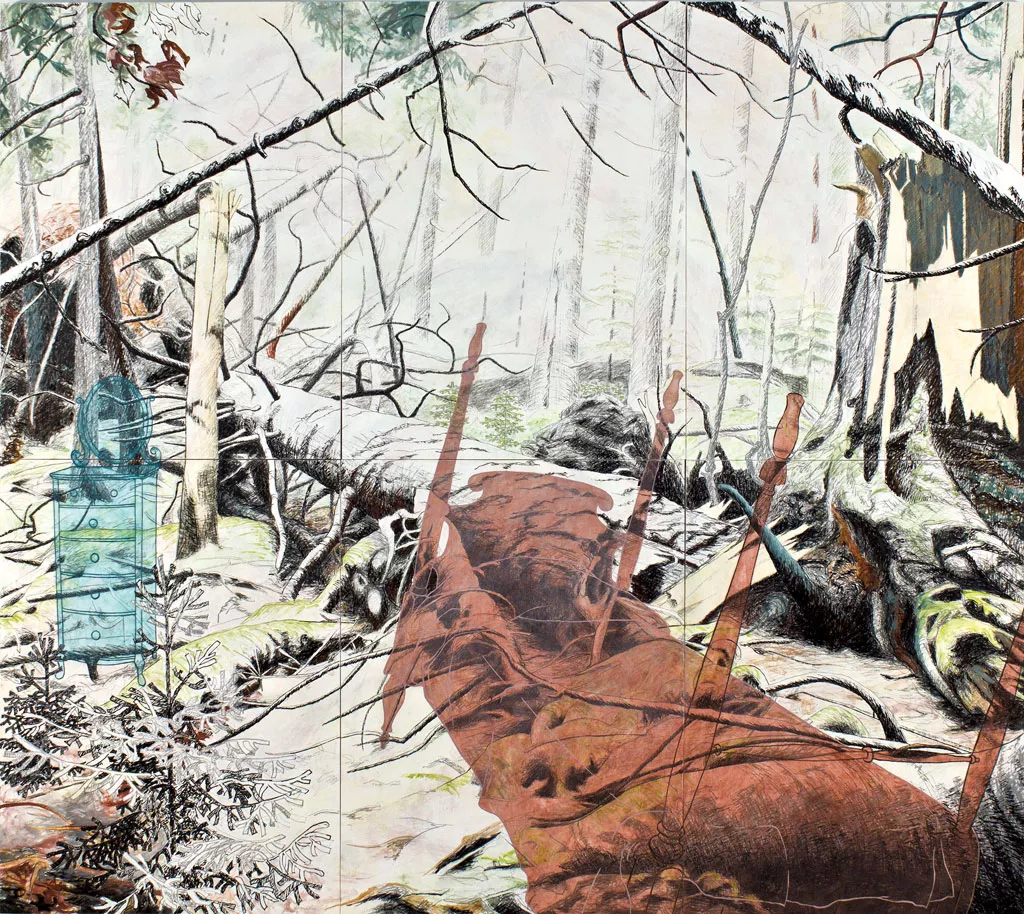 Fairy tales warn children not to venture into the woods. Predators live there: wolves, snakes, bears, even witches. Such impressions die hard, and outlive their childhood usefulness. As adults, we continue to gaze warily into a forest, seeing it as the home of the wild.
Tensions between humans and nature are evident throughout the conceptual, mixed-media landscapes created by Boston-area artist Prilla Smith Brackett, now on view at Catamount Arts Main Gallery in St. Johnsbury. The artist leads us into her depicted forests with a sense of almost fairy-tale innocence, but then fractures the viewing plane or tosses in unexpected images of man-made furniture. Those choices work like fender benders in traffic; they force us to keep going back to make sense of what we see.
An environmentalist, Brackett has a passion for trees for which she credits her father, a medical doctor who loved trees so much that he launched a Christmas tree farm. Her own focus is on old-growth forests, particularly those in New Hampshire and Maine, where she hikes and photographs. Those images and ideas form the bedrock of her drawings, prints and paintings, produced over 25 years.
"When I go to the forest like that, it can be peaceful, but I come at it with a 21st-century mind," Brackett says. In other words, she's thinking about global warming and the overuse of natural resources. However, her conceptual approach engages viewers in a more primal way. The work prompts questions and pushes viewers to seek answers.
Those viewers can easily follow the trail of Brackett's evolving vision, thanks to the wise curatorial choices made by Catamount Arts gallery director Katherine French.
The oldest work is "Selva Oculta #7," a three-panel, mixed-media drawing created in 1990, after the artist's visit to a Costa Rican tropical forest. At eight feet tall, the painting towers above the viewer like a tree. Viewers take the perspective of a walker seeing three different views, each represented by a panel. First one peers down at the forest bed, where fallen leaves, twigs and gnarly roots form shadowy crevices. Then one gazes slightly overhead, to a vaulted woven ceiling made of layers of leaves and fanning palm fronds. In the final panel, the viewer's line of sight travels even higher, stretching the length of the tall trees to the sky.
Curiously, the artist has rendered this triptych in gray scale using ink, charcoal, pastel, oil stick and graphite. Green would have been too much, too obvious. Black-and-white photographs, taken by Brackett's son, triggered the idea for this magnificent and slightly haunting perspective.
After Costa Rica, Brackett hiked old-growth forests in New England. In her next series, she continues with the multiple-view approach, now combining those perspectives in just one viewing plane. For instance, in "Remnants: Old Growth in the White Mountains #2," the viewer sees a chaotic forest bed strewn haphazardly with fallen trees that obstruct our visual path. Three-fourths of the image is drawn in rich, black graphite. Shard-shaped areas drawn with lighter Conté pastels interrupt the reading of this image; the effect is like looking through a shattered windowpane. It is unsettling.
The purpose is not immediately clear, but those who follow Brackett's progression will realize this is yet another way of creating a multi-view. The break in the image — coupled with the title, "Remnants" — alludes to forests fading or disappearing as a result of acid rain, global warming, fire, disease or some other catastrophe.
"Remnants: Communion #11" offers more shards, but this time the images alternate between a tree shattered by lightning and one captured in the city, imprisoned by concrete sidewalks and iron fencing. The work reminds us that destruction of trees occurs in both the natural and human environments.
In the "Places of the Heart" series, Brackett adds furniture. She tosses an upholstered armchair and an antique bureau into the forest. The sight may trigger nostalgic thoughts of home and warm memories of elderly relatives. Yet the longer one gazes, the more eerie the scene feels, leaving the viewer ultimately displaced and dissociated.
Such emotions emerge more clearly in the monumental "Family Patterns #13," which measures 8 by 9 feet. A four-poster bed — nearly actual size — extends from the foreground of the painting, positioned so it practically invites one to tumble in. The bed is painted in bright, transparent glazes that allow under-drawings to show through — images of lumpy logs, crisscrossing branches and sharp, threatening tree snags. Like Goldilocks, we wake up and realize this is not our bed or even one that's comfy. It belongs to the forest, to the bears.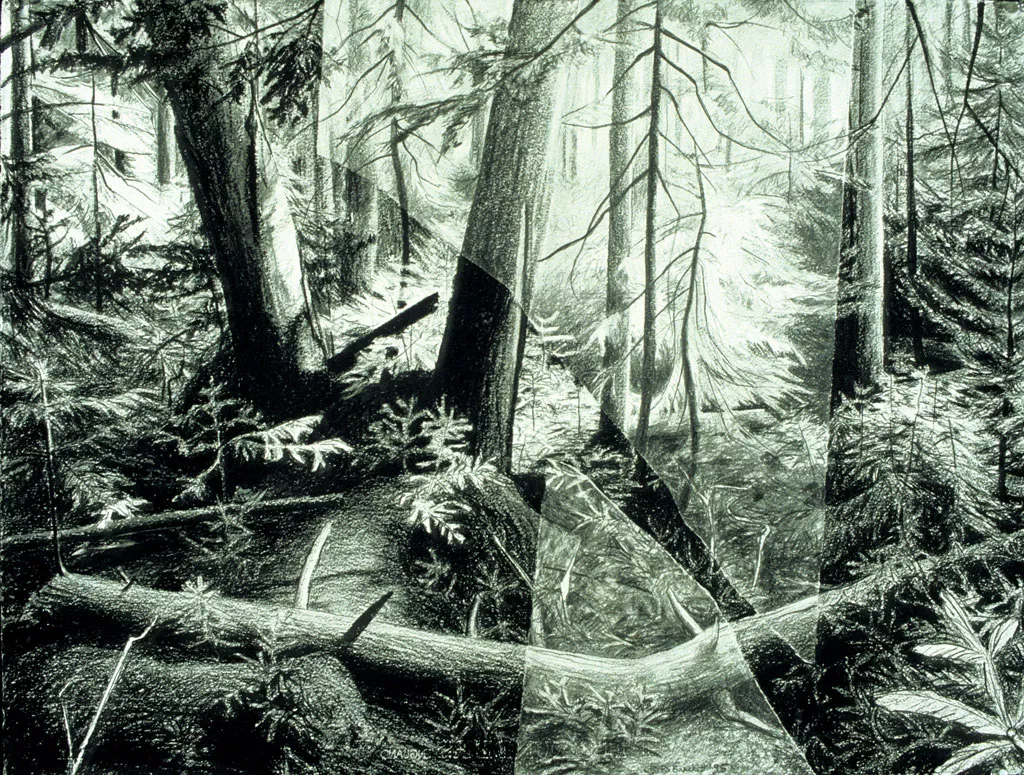 "Old Growth in the White Mountains #2"
The work's openness to interpretation pleases Brackett. She notes that one viewer told her the furniture reminded her of pioneers dumping their belongings in the woods so their horses could pull the Conestoga wagons over the Rockies. While such literal interpretations are possible, many may find the ghostly furniture more suggestive of faded memories, or even of spirits of trees that have been carved into domestic goods. Titles of Brackett's other works invite such interpretations: "Edges of Memory, #8," "Dreamscape #50," "Reverie #15."
Brackett's body of work reaches its ultimate expression in her later monotypes and woodcuts. In the prints, the woods fade into the background, as if turning into old wallpaper. Across the surface, chairs, dressers and beds float as if part of a curious dream.
Brackett equates the woods — a vital part of the planet's ecosystem — with human memories and dreams. In an age when ice is melting, bees are dying and the planet is heating up, she poses the question: Will the forest become just a memory, too? It's a thought she leaves for viewers to ponder. What's left unsaid will linger long past this exhibit's duration.