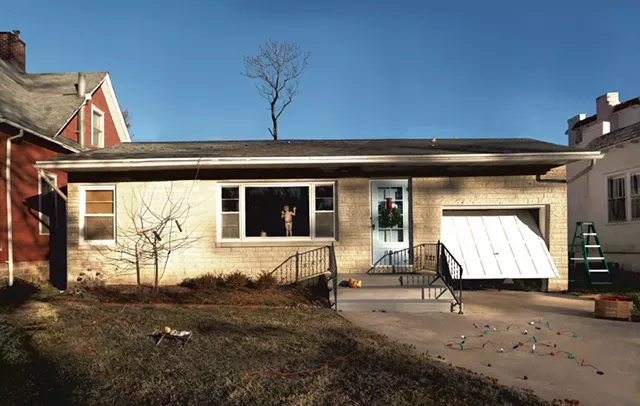 A mother's back is turned to her three small children while she searches deep in a car trunk for something out of view. Behind her, one of her children spins around a loading zone sign, while her baby brother picks at cracks in the sidewalk outside a boarded-up building, and their toddler sister clutches a purse as she crosses the street alone. The scene is ominous yet strangely carefree — if trouble is on the horizon, it hasn't happened yet.
Julie Blackmon's photographs, including "Loading Zone," suggest a delicate balance between freedom and responsibility, chaos and order. They provide a glimpse into the artist's world and, sometimes, right into her backyard.
Ten of Blackmon's large-scale color photographs from her most recent series, "Homegrown," are on exhibit in "Julie Blackmon: The Everyday Fantastic" at the Hood Downtown gallery in Hanover, N.H.
The phrase "everyday fantastic" refers to the extraordinary things that we sometimes find in ordinary details of day-to-day life. Children populate Blackmon's photographs, with occasional glimpses of parents or other adults. The locations — screened-in porches, dark-paneled stairways and blacktop driveways — are more like characters playing a role.
In "Hair" (44 inches square), for example, a girl stands on the bottom step of a staircase with a hairbrush in one hand. Perhaps the need to keep brushing her waist-length blond hair explains the fearful look in her eyes. Or it could be related to the just-out-of-sight figure in the closet (a sibling?) or to another figure, also partly hidden, above her on the second floor. The stairs seem to be a gateway, with safety located neither above nor below.
A blacktop driveway plays a prominent role in the 44-by-58-inch "Stock Tank." Two kids in their swimsuits lie on the blacktop, a few feet away from a swimming pool in which five kids swim underwater like a circle of sharks. The point of view, from high overhead, exaggerates a sense of menace in the otherwise pleasant scene. So does the fact that children are swimming with no adults in sight — and, yeah, those kids on the blacktop might be frying in the sun.
The photographs were all taken from 2008 to 2016 in Springfield, Mo., where Blackmon grew up as the oldest of nine children and where she and her husband have raised their three kids. Blackmon studied art education and photography at Missouri State University but didn't return to photography until she was 35.
"Life happens. You have kids," she explained in a phone conversation. "Then we moved into this old fixer-upper, which had an old darkroom. It was the first photography studio in Springfield."
Initially, Blackmon's motive was simple: "to make black-and-white photos of my kids to hang over the couch, à la Pottery Barn. Eventually, I started taking photos during that magic hour in the evening."
Among many things Blackmon began studying were 17th-century Dutch genre painters. She was enamored of the colors, the titles and the narratives. Jan Steen, whose paintings are filled with the chaos of big families, was an inspiration for Blackmon's own domestic narrative.
"I started thinking about how I could capture how much has stayed the same, how much has changed," she said. "It made me think of my own life, my own childhood. How could I do my own updated take on these old paintings?"
Blackmon starting out photographing her own children, along with her nieces and nephews. (Her youngest child is now 18.) Over time, that group has expanded. "I have a unique situation in that the kids I'm shooting have been doing that their whole lives," she said. "They have this perfect fusion of doing what I tell them and doing something else."
Behind the camera, Blackmon is very much the director: choosing locations (often her house or that of a sibling), then adding a piece of furniture, a painting on a wall, toys, hamsters. "I like the control of figuring out what goes where," Blackmon says, "but it mostly needs to be done on the actual set where I'm shooting."
Everything about these photographs is intentional, even when serendipity rules the day. Well-curated choices and detailed planning only go so far when people are added to the photo shoot, especially children. That's why it's so important that "They're comfortable with what I'm doing without being self-aware," Blackmon said. "I can't work that miracle."
In Blackmon's photographs, children live, play, grow bored, make up stories, act them out and play some more, as if unaware of the camera. Her willingness to relinquish control and allow for happenstance makes her work truthful and wonderful. She likens it to fiction, which often tells the truth better than reality.
In addition to the 17th-century masters, Blackmon credits more recent artists, including Edward Hopper, Norman Rockwell and Balthus, as sources of inspiration. Like many of Hopper's paintings, Blackmon's images are open-ended. The viewer is part voyeur, part participant, building a story of their own from Blackmon's mise-en-scène.
Hood Museum of Art director John Stomberg compared her images to the interiors in Hopper's paintings, saying, "There is personal poetry in these rooms." In Blackmon's "Night Windows" (44 by 57 inches), viewers peer inside an apartment. There, a man is pouring a drink and seems about to engage in more than conversation with a woman, who appears to be naked on a bed. An exterior wall partially blocks our view of her, so certainty remains elusive. The description of this scene could be that of a Hopper painting, but it's a Blackmon photograph.
A whiff of nostalgia inhabits these images, but they also make us question memory and history. What has changed? Is it better? Why, and for whom?
It's difficult to pinpoint the time period of these photographs by their settings alone or by the people in them, yet they are contemporary. The scenes create the sense of a past era — perhaps the 1950s or '60s — while objects such as a FedEx van serve as 21st-century validations. Having spent a lifetime in Missouri, Blackmon is not nostalgic for a place, but she may yearn for a time that she can catch and release.