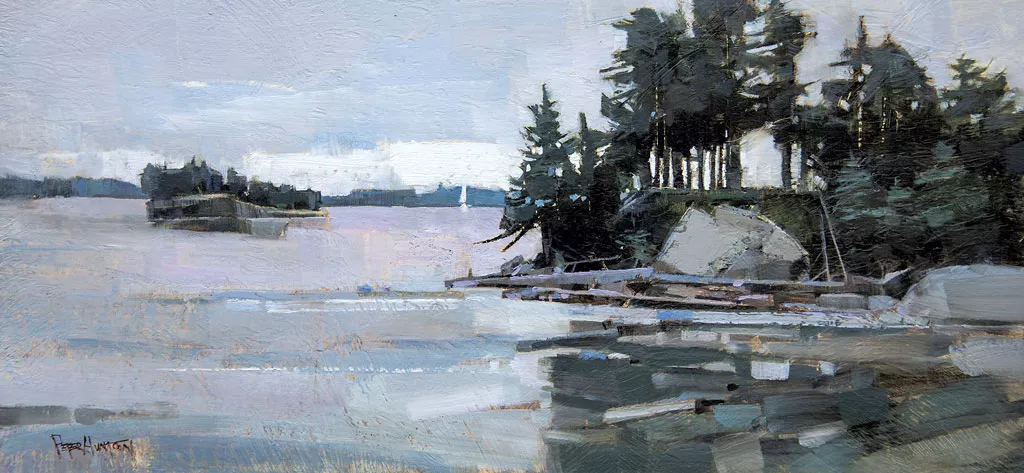 Two-person exhibits invite comparison. When the two artists are husband and wife, the comparison is inevitable and, often, reveals contrasting and complementary elements. "Oil and Water," with more than 30 works by Middletown Springs painters Peter Huntoon and Mareva Millarc, is that show. Its title alludes both to their differences and to two of the mediums in which they frequently work.
Huntoon, who has been painting professionally since 1994, is an adjunct professor of art at Castleton State College and a founding member of the Vermont Watercolor Society. He's also an award-winning artist known in particular for his plein-air watercolors that reflect his love of Vermont's landscape and villages. For this exhibit, Huntoon has also included newer works in oil. While his watercolor paintings, such as "Middlebury Main Street," are typically well received, a new level of recognition for Huntoon's mastery of paint and light should emerge from this exhibition.
In his watercolor "Weston Barn" (18 by 21 inches), Huntoon's trademark colors surge on the paper. In "Cold Snap 2," a 16-by-20-inch oil, a similar color palette is more subdued — and far more stunning. Unlike the heightened colors in "Weston" and "Middlebury," the colors of "Cold Snap" are organic, born of natural light cascading down Vermont's hillsides. Here, Huntoon's hand is evident in the scraping and building up of paint, particularly in the snowy foreground.
The largest work on exhibit is "Equinox Pond" (24-by-30-inch oil), which, like so much of Huntoon's work, exquisitely renders Vermont's beauty. Almost one third of the painting depicts an inverted reflection in the pond of the mountain beyond; the mountain itself appears in another third.
While this piece's scale is appropriate for its subject, three of Huntoon's other, smaller oil paintings are more compelling: "The Rambler" (11 by 14 inches), "Vergennes Falls" and "Champlain Shoreline" (both 8 by 16 inches). "Vergennes" particularly hints at the Old Masters. The historic buildings adjacent to the waterfalls evoke the Old World, as do Huntoon's handling of paint, composition and brushwork.
"Champlain Shoreline" is Huntoon's most riveting work — not just of these three but in the entire show. Its muted palette of blue, gray, green and white is lively despite the quiet colors. There's a sense of calm, perhaps before a storm, or derived from the season and time of day. A distant sailboat — little more than a stab of paint — dots the horizon, adding depth through detail. This is a painting you could live with for many years.
Mareva Millarc came to professional painting in 2007, much later than her husband. Her relative newness is never a drawback, as she brings vitality and a fresh eye to all her work. Most of her paintings are acrylic, oil or mixed media, and they range from very small vertical paintings (3 by 6 inches) to large ones (24 by 30 inches). Whether Millarc is working in a quiet palette — as she often is — or in bold bursts of orange and red, her paintings are spirited and evocative. She specializes in abstractions that seem to invite a conversation with the viewer, whether through the assemblage of shapes or the sense of movement they convey.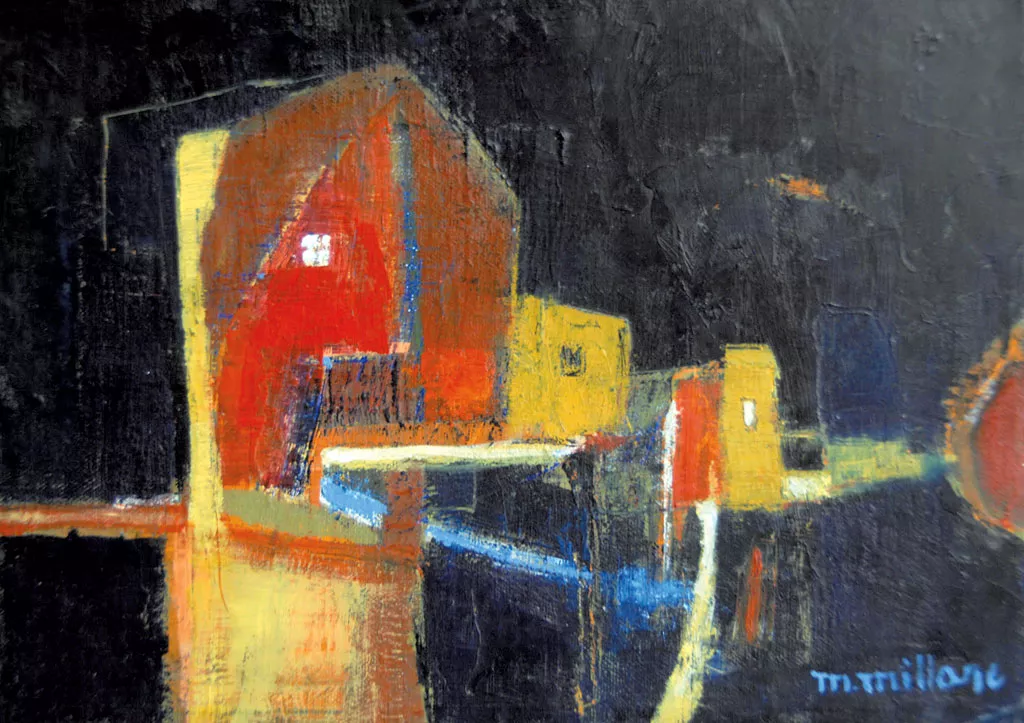 In her artist statement, Millarc says she draws inspiration from Richard Diebenkorn, Arshile Gorky and her father, the late artist William Millarc. In "Shades of Pale," a 20-by-24-inch oil, and the 6-by-8-inch acrylic "Of the Ocean," Diebenkorn's influence is visible in the strong lines and boxy shapes that suggest an aerial view of a working landscape. Gorky's surrealist style, which included colorful circles and ovals and sinewy lines, makes a subtle appearance in "Between Here and There" (20-by-24-inch acrylic) and "Jazzy I" (2-by-6-inch acrylic). Though the influences are strong, Millarc has fully integrated them and developed a recognizable style that's entirely her own.
"Stormy Greys" (18-by-24-inch acrylic) puts it all together. Grays, white and blues combine in a whorl of shapes both calming and energetic; opposites attract. Millarc's work is centered, ordered, even though it is fully abstracted. While most of these paintings are in acrylic, one hopes that she will begin working more often in oil and on larger canvasses. Millarc reflects mood and music so well that it would be exciting to see what might evolve if she expanded beyond the size of the paintings in this show.
Viewed on their own terms, however, Millarc's diminutive works are just right, their scale perfect. In "Blues I," "Jazzy" (I & II) and "Pieces of Land" (I & II), she hits grace notes. These pieces are little jewels — sublime combinations of color and line. Millarc's series "Like a Child" also beguiles with its nuanced approach to childhood imagery, real and imagined.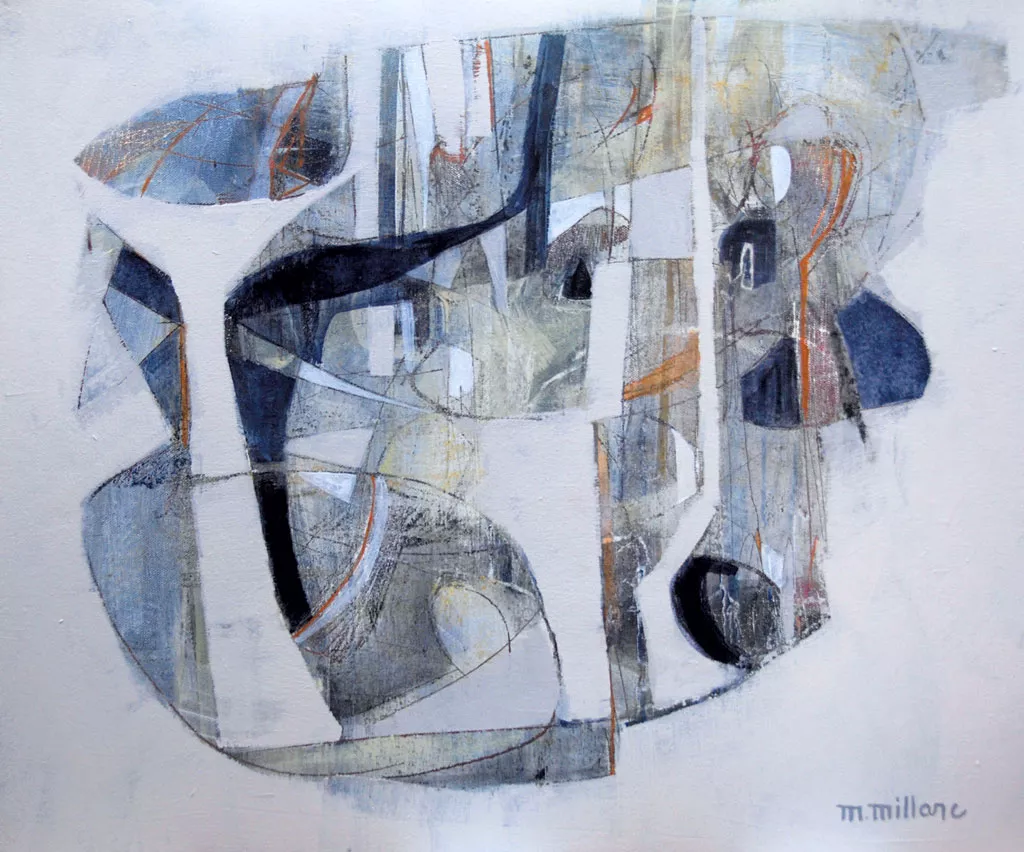 Another just-right painting — in size, shape, color and light — is "Big Red," surprisingly bold at just 9 by 12 inches. A variety of house-like shapes pop on a black background.
If artists share a silent language, an artist couple may find a special dimension to their relationship through their art. Despite the differences in their paintings' content, this husband and wife sometimes seem to be influencing each other. Huntoon has been incorporating more abstraction than in previous works and working, at times, with more natural hues, even tending toward dark, saturated colors. For her part, Millarc seems less affected by her partner's aesthetic, though her "Child" series picks up his cheerfully bright colors, which could be associated with childhood.
Two paintings in the exhibit, hung together, visually represent each artist's interpretation of a close relationship. Huntoon's 8-by-10-inch "Winter Walk" shows a couple walking their dog, beginning an uphill trudge through the snow. The man's arm pulls the woman in tightly. Beside this hangs Millarc's 6-by-8-inch "Side by Side." While the second image is abstract, a viewer could read into it two people walking with arms around each other through the snow.
A stretch? Perhaps. Paintings are silent, explanations left unspoken. No matter — the works in this two-person exhibit speak for themselves.
Meg Brazill
INFO
"Oil and Water" by Peter Huntoon and Mareva Millarc, Chaffee Downtown Gallery, Rutland. Through November 29.
The original print version of this article was headlined "Two By Two"