Northern Daughters gallery in Vergennes strives to merge "the aesthetic of blue-chip galleries with the familiarity and authenticity of a Vermont general store," according to its website. In Patrick Shoemaker, whose solo exhibition "The Strong and the Weak" is on view through October 15, the gallery presents an artist whose work elegantly crystallizes this impulse to fuse contemporary with folk.
Eight canvases by the Brooklyn painter, who is represented by New York City's Anna Zorina Gallery, hang on the gallery walls. They range in size from the 24-by-20-inch "Small Fight (Warm Embrace)" to the five-foot-square exhibition namesake, "The Strong and the Weak." Most of Shoemaker's works contain an archetypal struggle, generally between human and beast. He renders his oils with a watery texture; the scenes appear plucked from a particularly pretty, if fuzzy, version of the collective unconscious.
Previous critics of Shoemaker's work have focused on the ambiguity of his narratives — specifically, the lack of clarity between what constitutes a hug versus a fight for survival. In "Yellow, Danger," a female figure in lavender and rose hues tangles with a cream-colored, wolfish creature whose mouth is a large, bloodred smear. The mouth gives the picture an edge of violence; without it, these two might be floating aimlessly together through space. Above its lips, the wolf's eye and nose double to make the eyes of a smiley face, a cheeky code-switch into so-called modern times.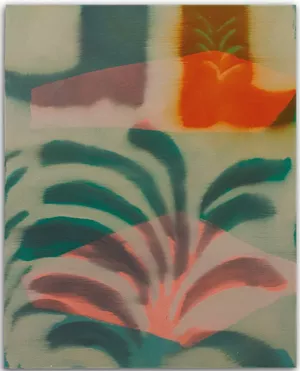 Additional characters are visible in "Yellow, Danger" beyond its two protagonists. Shoemaker's loose positioning of, say, the wolf's claws, the woman's rubbery arms or the patches of color that indicate her torso suggests other presences: another woman, a mermaid, a humanoid specter. These layered apparitions make the painting about more than a single encounter and conjure instead a dreamlike realm.
The fraught exchanges continue in "Hindrance" and "Small Fight (Warm Embrace)." In the former, Shoemaker uses minimal, muted colors to show what could be a homoerotic sexual encounter, a fight, a dance or all of the above. In the latter, two wolves entwine, which could convey a mother lifting her young or a predator triumphantly grasping its conquered prey. The artist uses a hard-lined color field to highlight the action of one wolf grasping the other.
Shoemaker layers abstracted geometry in "Spooked" as well, here bringing full attention to the canvas as surface. It's the only work that depicts a lone human, and it's a frightening painting. Broad swaths of bluish-gray paint delineate a person whose oversize hands seem to be pressed against the canvas as if against glass. Simplistic petals of three flowers mimic the figure's fingers, suggesting that the person is being consumed by the landscape in which they find themselves trapped.
The show's largest work, "The Strong and the Weak," has a decidedly less ambiguous tone. Set against a rusty maroon background, two white hares seem to frolic near a two-toned wolf (or fox). A pair of old-fashioned, baby-blue shoes float nearby, their former owner presumably in the belly of the alpha beast. In this work, who is strong and who is weak is not an open-ended question, because someone has been eaten.
"Chase" is perhaps the most overtly contemporary painting on view. Repetitive floral patterning and swaths of pink and teal paint are background to a perpetual tail-chasing romp between Keith Haring-like canine and human figures. It has the movement and humor of an old-fashioned cartoon pursuit receding into the distance — nostalgic but decidedly more modern than the timelessness evoked by Shoemaker's other works.
In "Chase," especially, there is something of art-world lioness Katherine Bernhardt, with whom Shoemaker shares a tendency toward arresting color contrasts and the folk-art-like use of repetitive "naïve" imagery and botanical motifs. Like Bernhardt, Shoemaker blurs the line between fine art, folk art and something that might be reproduced as a dorm-room print.
Shoemaker's works benefit from a palatable aesthetic and obvious universal themes — human versus animal, wilderness or inner demons. But what makes them most interesting is his self-aware inquiry into which modalities, and types of stories, allow paintings to survive through time.