Patrick Dunfey's exhibit of new paintings conveys us from the interior of a primitive cabin across a swamp, then to the exterior of a rural camp and over to an isolated dock. His richly saturated palette invites viewers into a world that seems familiar and comforting, while also being eerie and somewhat foreboding. That old cabin may be picturesque, but you might not want to step inside.
Indeed, the extreme close-up point of view that Dunfey employs makes a further approach impossible to imagine. We are already too close, as if a stranger introduced himself and continued conversing while standing less than a foot away.
The exhibition's subtitle, "Large Paintings on Paper," is an understatement. All but one of the five paintings are 60 by 85 inches; the gallery walls are just wide enough to exhibit two of them side by side. The paintings are luscious, inventive and mysterious by turns. Those who saw Dunfey's 2016 exhibition at the Tip Top building in White River Junction are in for a surprise. The largest work on exhibit there was just 22 by 24 inches.
A New Hampshire native, Dunfey received his BFA in painting from the Rhode Island School of Design in 1981. He lives in Hanover, where he is head of exhibitions design and planning at the Hood Museum of Art at Dartmouth College. His work has been shown in museums and gallery exhibitions nationwide and is in the permanent collections at numerous universities and museums. A move to a much larger studio in the past year is the evident explanation for Dunfey's exploration of large works on paper, if not for the renewed exuberance he shows here.
The artist's instincts for color are spot on in these paintings. He uses gunmetal blue to flesh out a cabin's interior, pale yellow to describe the rim of sunlight that the door attempts to keep out, and putty gray for the daubing used to chink spaces between the wall boards. For each painting, Dunfey begins with a limited palette of one or two colors; he restricts himself to just one or two brushes, then lets things unfold.
Patrick Dunfey installation view
These new paintings are executed with the trademark precision that he brings to all his work, but here Dunfey allows — even seemingly delights in — the occasional paint drip and unplanned moment. These are tight, focused, complete works. They exude confidence that isn't confined by perfection. In fact, he chose to hang the works with pushpins.
Dunfey said he prefers the rough edges of the painting to be seen and felt, not hidden by a mat or frame. The pushpins add a provisional quality, too, perhaps inadvertently, as if he is painting so quickly that new paintings will arrive any moment to take the place of these. Or as if, when the lights in the gallery are turned off and the door is locked, magical realism might take over. The hose in "Leader" might uncoil, spinning out of control; the river in "Breach" might rise higher and fill the painting with water and logs.
If they were scaled down, Dunfey's paintings would appear almost photographic. "At this size, the roughness, the immediacy seems more important," Dunfey said in a conversation about his work. "It's not trying to be representational. I'm not interested in what's real." He makes an important point here: Dunfey is painting ideas derived from his head, not from existing images or photographs or references to other works of art.
All the paintings are tempera and pigmented gesso on paper. Dunfey doesn't consider them a series, but he's created them all since January. At first glance, "Day" depicts a rudimentary cabin, its seams daubed with a mud-like substance. A thin cloth covers the sole window. Our view is from inside the cabin, its door secured with a single-bolt lock. It's not apparent how the door can be opened from the inside; there's no latch or handle.
The light shining through the cloth implies it's daytime, as the title suggests, but that light also reveals what might be bars on the window, rather than a checkered pattern on the cloth. A slightly askew horseshoe hangs above the door in a "U" position, so all the luck doesn't fall out. The scene is beautiful and heartbreaking, yet it's difficult to know precisely why. For all its seeming simplicity, the work is highly evocative, likely to open doors in a viewer's psyche or bring a buried memory to the surface.
The big, cartoonish shoes that appeared in Philip Guston's paintings may come to mind as one looks at some of the elements of Dunfey's: the oozing mud between the boards and the crooked horseshoe in "Day"; the hose and wooden reel in "Leader"; the place where water and land meet in "Breach." Like Guston, Dunfey is not making a joke, even when semblances of a cartoon style slip in. Viewers may also think of Marsden Hartley, who took Maine as his muse. Dunfey, however, who is also a songwriter, embraces a rural America that has more to do with music than with one specific place.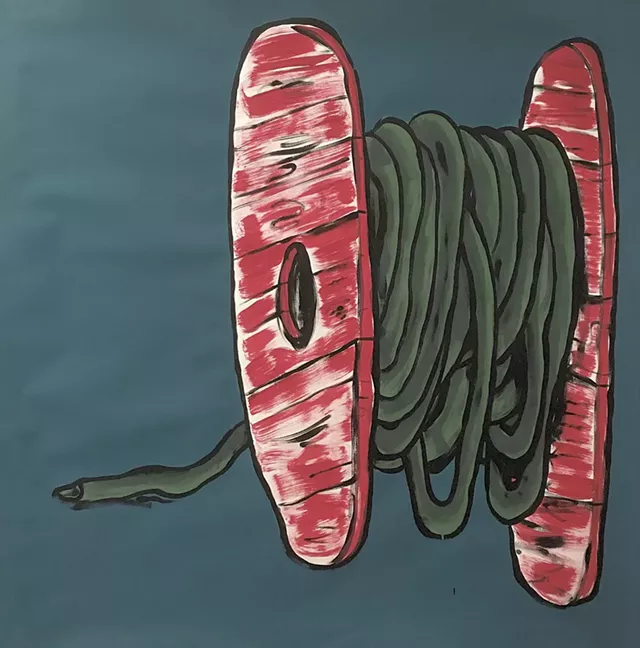 The native New Englander describes himself as increasingly happy over the years to be "so informed by the region I grew up in." Yet these paintings seem to describe areas well beyond the Northeast — perhaps deep in Appalachia, or the rural South or Southwest.
"I write songs, so often a painting will come from the first lyric, or from just a single word," Dunfey said. "My creative self has been fueled by music, writing and history."
What about these paintings suspends the viewer between comfort and unease? It may be that their flatness sets up a conundrum in the brain. The perspective puts us in the water, almost at the dock, in "Cove." In "Breach," the perspective is again from the water, setting us adrift. We see the images as not flat, yet the brain knows they are. Our biological understanding of what is real and what is not may be confounded by what we think we see right in front of us.
No matter, what you see in Dunfey's work is, in fact, what you get — and you're likely to want more of it.