Amy Lilly
College Hall Gallery
The Vermont College of Fine Arts' spacious College Hall Gallery has undergone a transformation since its days as the T.W. Wood Gallery. Sporting a new maple floor, and no longer darkened by partitions, the high-ceilinged room is now fully illuminated by daylight entering the tall, arched windows on either end. It's among the grandest spaces for showing art in Vermont.
The current show comprises nearly 50 works by Matthew Monk, who teaches in the MFA graphic design program at VCFA. Monk founded the program in 2010 while still a tenured graphic design professor at Rhode Island School of Design, one of the East Coast's most prestigious art schools. Attracted by VCFA's low-residency graduate-arts model, he left RISD in 2012 to become the college's academic dean.
Images Courtesy Of Matthew Monk
Untitled collage/mixed media on plywood by Matthew Monk
Monk created all the works in the show over a six-month period in 2017; it began with a residency at the Vermont Studio Center in Johnson and concluded with a sabbatical from his deanship. The show is titled "Painting as Language," a phrase that arose from conversations between Monk and Sumru Tekin, a painter and multimedia artist who cocurated the exhibition. Tekin serves as exhibition coordinator for VCFA's visual art program.
"Painting" shouldn't be taken literally. These works are mixed-media collages wrought from discarded paper ephemera and paint, in rectilinear format. Their layered surfaces have been abraded, scratched, scored with a straight edge, dry-brushed, punctured and sanded — among other treatments — giving them a subtle texture. (In an artist's statement, Monk ambiguously adds "corrected" to his list of processes.)
The works' palette is governed by the colors of used paper: whites, grays, creams and browns, accented here and there by a thin, red, dotted line or a suggestion of pale green or yellow. One 12-panel group departs from the white-toned neutrality to explore contrast using black and white.
Most of the compositions are on thick plywood. Four 30-by-36-inch works consist of plywood boxes five inches deep whose collaged surfaces wrap around the sides in a bid for three-dimensionality. Other compositions, on old book covers, hang nearly flush with the wall. In these, discarded material constitutes not just the surface but the work itself.
As for the titular "language," viewers will notice it everywhere: a shred of a child's multiple-choice answer sheet, a partial list of defunct addresses, math problems, technical illustrations, scribbled words on torn index cards, columns of printed text.
Images Courtesy Of Matthew Monk
Untitled collage/mixed media on plywood by Matthew Monk
Yet, in every case, the language is inscrutable. Blocks of text are smudged to the point of illegibility. The scribbles could have been made by your doctor. On one 12-by-18-inch plywood panel, printed material is applied facedown to be read in reverse, if at all. (All works are titled either "Untitled collage/mixed media on plywood" or "Untitled collage/mixed media on book covers.") An old-fashioned library catalog card is blank. The only complete, non-puzzling word in the show — which, given the context, strikes a note of irony — is "new."
What to make of such works as language? In one sense, everything is language, to be parsed, interpreted, imitated, challenged. College Hall Gallery's bright white walls offer a kind of language themselves: They speak of the shift in the art world from 19th-century salon-style exhibitions of paintings, crowded on busily papered walls, to the reverent display of each work at eye level in a neutral field of white.
If language is a method of communication, "Painting as Language" appears deliberately to fail. Or perhaps viewers must make their own meanings — as was the intent of Dadaist Kurt Schwitters, who collected street trash for his post-World War I collages. Monk cites Schwitters as an influence, along with Robert Rauschenberg, Pablo Picasso's Cubist collages, and such fabricators of rectilinear purity as Piet Mondrian and Le Corbusier.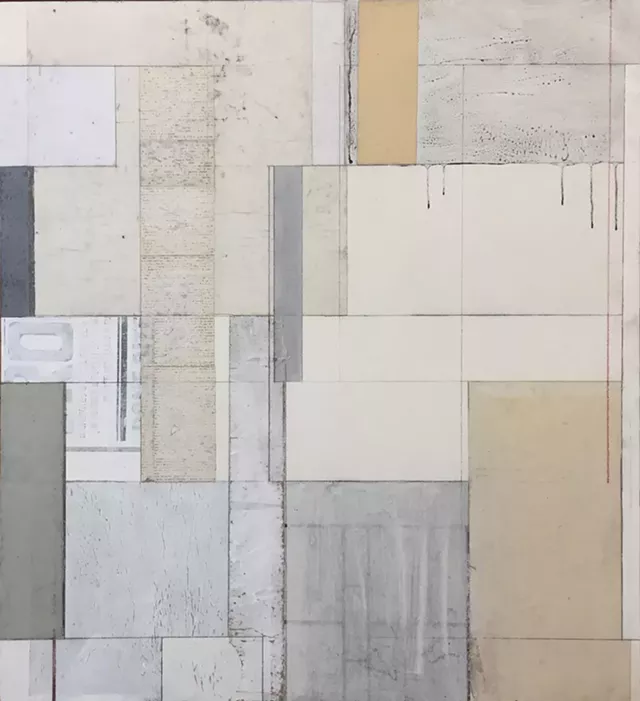 Images Courtesy Of Matthew Monk
Untitled collage/mixed media on plywoodby Matthew Monk
As a graphic designer, Monk engages regularly with the world of new books. He designs covers and interior layouts for books published by art, architectural and educational institutions. The cover he designed for a 2005 book on the photographer Irving Penn was selected for AIGA's "50 Books/50 Covers" that year.
Monk's interest in the materiality of old books is therefore intriguing. There's a kind of spare beauty in his book-cover compositions, where serrated edges, wrinkles and water stains take on a painterly dimension within Mondrian-like gridded compositions. Cast-off papers, in both the book-cover and plywood compositions, become the vehicle for compositional perfection.
That uniting of "the purity of ideas" and "the impurity of the physical world," as Monk writes in his artist's statement, prompts associations that will vary with the beholder.
This viewer's associations veer toward the practical: the need to create a world integrating widely disparate socioeconomic levels of society; the value of reuse in a consumer world oriented toward the new. At some level, written language can only get us so far in these pursuits. That point is reinforced by Monk's 12-panel black-and-white arrangement, which includes no printed ephemera at all.
Perhaps where language fails, art steps in.