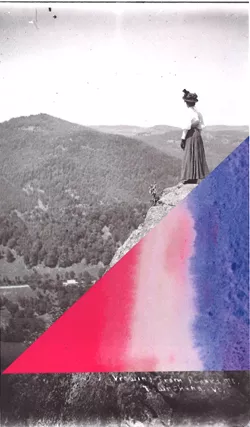 "Viewing Townshend from Peaked Mountain" by Pamela Fraser
"This is probably like bringing coals to Newcastle," said Michael Mercil as he introduced his 47-minute barnyard film, "Covenant," at the Shelburne Farms Coach Barn. It was the second Burlington-area opening for "Of Land and Local," the first being at BCA Center the previous week. And those are just two of seven venues for BCA's sprawling, thematic exhibit comprising some 60 artists. Curated by DJ Hellerman, the multidisciplinary show is intended to "initiate a dialogue about issues surrounding the Vermont landscape."
As we noted in an October 2 article introducing the exhibit, "Of Land and Local" is ambitious in scale but skips the kind of programming — speakers, panel discussions, etc.— that typically accompany such a topical exhibit. Even though he arrived in Vermont (from Cleveland) just last year, Hellerman certainly observed that Vermonters love to talk about their landscape and their agricultural past and present, that they zealously embrace the locavore movement and have, admittedly, a rather self-satisfied "sense of place." Moreover, for this exhibit BCA partnered with the Vermont Department of Tourism and Marketing in association with the Vermont Agency of Agriculture, Food & Markets. Note the emphasis on marketing in the very names of those state agencies.
Yet despite all that, or perhaps because of it, Hellerman chose to dispense with didactic engagement; he intentionally allows the artwork to speak for itself. The "dialogue," if there is any, is a mental, visceral or emotional one between art and viewer. Or, perhaps, among viewers experiencing the work together.
Similarly, this review is not going to suggest how you should think about individual works in "Of Land and Local," or to weigh in on how "good" they are. In fact, I'm not even going to mention individual works — there are too many, and the variety is enormous. Instead, I recommend that you adopt Hellerman's conceptual overlay, and look at these works yourself with an eye to the ways different artists express their relationship to land, landscape and/or place. What, in turn, does the work bring up for you? Why was the artist chosen for this show? Sometimes it's far from obvious. Hellerman may not want to tell us how to think, but he does want us to think. And here's the thing: He wants us to think about what art does.
Which brings us back to the reception at Shelburne Farms. Mercil was aware of Vermonters' finely tuned consciousness about land and local — that's what instigated the "Newcastle" trope before screening his film. Ironically, the Ohio State University art prof and chair of graduate studies is not local here, but in his work showed how he introduced agricultural consciousness, and ideas about sustainability, to a student body where there had been little to none.
Lacking a studio space at the enormous university — which has, he said, 65,000 students and hundreds of buildings — Mercil said he decided to make the campus itself his studio. In brief, he filmed agricultural scenes from a place he likened to "a smaller version of Shelburne Farms" and set up a "virtual pasture" via remote broadcast right on campus. The point, Mercil said, was "to remind people that the agricultural experience used to be part of everyday life." Among the thousands of students who passed by his video, the most common question, he said, "was 'What kind of animal is that?'"
In an interview, Hellerman said he invited some non-Vermont artists to participate in "Of Land and Local" because "one of the ways we learn about ourselves is who we aren't." It's probably safe to say that most Vermonters of verbal age could identify a farm animal, but that smug response is not the conclusion to be drawn from Mercil's film. Truth is, even if surrounded by agrarian evidence, most Vermonters no longer work the land personally. And it is never a bad idea to be reminded where our food comes from, and by what means. (For that matter, it's nice to be reminded that visionary Vermont legislators long ago determined we would not be surrounded by billboards.)
If Hellerman did want to tell us what to think, he might simply point out the similarities between farmers, who shape our visual landscape, and artists who create in a variety of other media. He might want us to see the myriad ways that both sustain us.
One last note: While most of the selections for "Of Land and Local" can be seen conventionally in a gallery or other venue, one is online only. Be sure to check out Iona Fox's cartoon on the Burlington City Arts website. Now pursuing an MFA at the Center for Cartoon Studies in White River Junction, Fox (aka Iona Woolmington) was farming in Burlington's Intervale when flooding from Tropical Storm Irene "abruptly ended the growing season in August 2011." And there her graphic story begins.
Full disclosure: Seven Days is a media sponsor of "Of Land and Local."
"Of Land and Local," a multivenue, multidisciplinary exhibit at BCA Center and Shelburne Farms Coach Barn. Through December 7 and October 20, respectively. Other venues and dates: Carving Studio & Sculpture Center in West Rutland through October 27; Fair Haven Welcome Center through November 8; and Gallery 2: Vermont Artisan Designs Gallery in Brattleboro through October 31. burlingtoncityarts.org
The original print version of this article was headlined "Back to the Land"