PHotos courtesy of Burlington City Arts
"Dog Monsoon" by Galen Cheney
Two venues. Three cocurators. More than a dozen artists. Many mediums. It's the fourth edition of the ambitious annual art show jointly organized by Burlington City Arts and Shelburne Farms under the heading "Of Land & Local."
Like the three previous exhibits, this year's consists entirely of works made by Vermont artists that address aspects of the state's environment as shaped by nature, humans or both. This time, the theme shifts from land to water, signified by the subtitle "Watershed." It was chosen as a double entendre, the organizers explain, since the term refers scientifically to a network of waterways and figuratively to a turning point.
Several of the works in the simultaneous displays at the Shelburne Farms Coach Barn and the BCA Center on Church Street respond to the probability that climate change has brought Vermont — and the planet — to a turning point. And what's ahead, some of the artists suggest, is not going to be pretty.
That premonition leads in a couple of cases to an aesthetic breaking point. Upper Valley sculptor Brenda Garand and southern Vermont photographer Jen Morris warrant particular attention for their works that don't conform to the bucolic norm of much of the art made in the state. They focus on what lies beneath the sylvan surfaces.
Garand's suite of eight drawings sets a somber tone at the beginning of the Coach Barn exhibit. She uses homemade inks and clay from the White River to produce dark, mournful images that are more abstract than representational, although a few include recognizable references to plants, fronds, waves and floating debris. Engorged by Tropical Storm Irene, the river flooded Garand's home and studio in 2011. Her gestural method produces splotches, smears and streaks that convey turbulence and a sense of bereavement. Disorder and loss are the hallmarks of this watershed.
Morris presents a roomful of photos collectively titled "Pastoral" that register, on the surface, as typically picturesque portraits of the Vermont countryside. Text panels indicate, however, that the pristine appearance of many of these scenes is deceptive. Mounds turn out to be heaps of discarded stones from quarries; benign-looking plants are invasive species that kill off native flora. And that grassy field and the gorge with an inviting swimming hole? Each conceals toxic residue from the Elizabeth Copper Mine in Strafford, which operated from 1809 to 1957 and is now a Superfund site.
"Pastoral" thus comes to be understood as an ironic tag. As Morris explains in a commentary on her project, the facts her camera subtly reveals "are at odds with the venerated organic culture and the idealized, pastoral imagery that characterizes the state."
Yet the irony can be easily overlooked. Human intervention doesn't always degrade Vermont's beauty, as Morris demonstrates in a photo of etched quarry cuts covered with moss that spills like a trickling waterfall down the rock faces. Her images are postcard-lovely, despite what she tells us about their secret selves.
PHotos courtesy of Burlington City Arts
"Of Land & Local: Watershed" at Shelburne Farms Coach Barn
The title of this exhibition, too, can be at odds with its content. Because of its concern with climate change, the show's 2016 iteration might be more accurately termed "Of Land & Global." Vermont is affected by warming temperatures, but there's not much local about their sources, as Rachel Moore and John Douglas implicitly observe in their contributions to the displays in Burlington and Shelburne. Each of these artists looks beyond Vermont in addressing the subject of climate change.
Moore is the executive director and director of exhibitions at Helen Day Art Center in Stowe. She expresses her interest in data collection through sculpted versions of the drifter buoys that are deployed in the world's oceans to measure changes in temperature and sea level. At the BCA Center, her blown glass and plaster replications are installed near a wall-size world map on which pushpins indicate the locations of actual buoys.
Burlington filmmaker and photographer Douglas, a longtime political and artistic provocateur, introduces a mordant note to an exhibit that could stand to crack a smile or two. His "Auto Warming" video, which won first prize last month in the South End Art Hop's juried show, shows a fleet of cars sinking in a flood ostensibly of their own making. A city skyline looms ominously in the distance as the water rises and the sun sets. Douglas has a suite of large-scale photographs on display in the Coach Barn, as well.
A number of other pieces at both venues nod toward the theme of water, but the aquatic aspect is only incidental to these compositions. Five locally celebrated female artists — Karen Henderson, Galen Cheney, Cameron Davis, Gail Salzman and Janet Fredericks — have made art for art's sake.
Especially appealing are the five textile works resembling paintings in which Henderson uses stitching to draw lines and introduce dimension. A watery scene inspired each, as the surface of one piece seems to shimmer, and rain-like streaks appear to fall on mountainous forms in another. Henderson's muted palette and contemplative quality recall the minimalism of Agnes Martin (1912-2004), whose career is surveyed in a current show at New York's Guggenheim Museum.
If it weren't for the curious title of "Dog Monsoon," viewers might not associate a large-scale Cheney oil abstraction with anything wet. The blue background can be read as water, but the thick brushstrokes in many colors that the artist applies on most of her linen surface conjure neither liquids nor canines. The work is visually captivating, though — as is Cheney's adjacent "China #9," a piece made of horizontal bands of torn and inked papers that jitter in the air currents on the fourth floor of the BCA Center.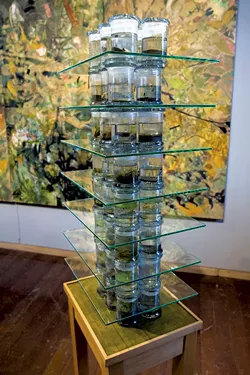 PHotos courtesy of Burlington City Arts
Installation by Cameron Davis
Davis presents all-over acrylic abstractions in both Burlington and Shelburne titled "Air, Waters, Soils (Places)." They were clearly inspired by the exhibit's theme, but their painterly power would win them fans with or without "Of Land & Local." Davis uses her multihued palette to suggest seasonal variations, with dabs of yellow, splashes of green, and tangles of pink, black and violet evoking the hopefulness of spring and the melancholy of autumn.
The University of Vermont art professor has also created installations in both the Coach Barn and BCA Center consisting of numerous glass vessels filled with water samples, plant life and mucky stuff collected from rivers and lakes in the Champlain Basin. The broad array set against the rear window wall of the BCA Center is especially striking when illuminated by the westward sun.
Salzman's pair of paintings shows nude women swimming upward, sinking downward and floating laterally against aqua and ocher backdrops. These figurative images come as a pleasing and confidently executed shift from the abstractions that the artist has made for much of her career.
Fredericks gives a literal spin to the notion of immersive art making: She painted her two Coach Barn pieces — "New Haven River Scroll" and "Bend in the River" — "en plein eau," in the river, according to a text panel. "Scroll," a colorful paper piece, grabs and holds viewers' attention as it spills onto the floor in twists and leaps, with rocks deployed along its route.
Space does not permit reviewing every single piece in the ambitious dual exhibition that is "Of Land & Local: Watershed." Other participating artists are Michael Zebrowski, Sean Clute, Al Larsen and Mark Reamy.* But it's worth noting that two-thirds of the exhibition's artists are women.
*Update October 14, 2016: The names of participating artists not originally included in the review were added.