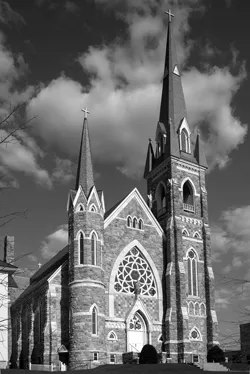 Courtesy of Curtis Johnson
Immaculate Heart of Mary, Rutland
Say the words "Vermont" and "architecture" together, and the image of a barn — say, Waitsfield's Round Barn — may spring to mind. But what about the Canal Street School in Brattleboro, an elegant beaux-arts work from 1892 by McKim, Mead & White, who would complete their masterpiece, Manhattan's old Penn Station, 18 years later? Or House II in Hardwick (1970), one of Peter Eisenman's first attempts at embodying architectural deconstructivism?
Vermont is home to fine buildings of every major American style and era, and that is one of the pleasing insights of "Observing Vermont Architecture," currently on view at Middlebury College Museum of Art. The modestly scaled exhibit includes 20 framed black-and-white photos (only three feature barns) and a digital slideshow of 100 more notable examples of architecture around the state.
"The place is a real revelation if you look at it closely," said Salisbury resident Glenn Andres in the measured but enthused tones one might expect from a Midd professor of the history of art and architecture. Andres and his longtime collaborator, Calais-based photographer Curtis B. Johnson, jointly created the exhibit.
The show is a tiny selection from a book project Andres and Johnson have been working on for 20 years: Buildings of Vermont. The groundbreaking tome, detailing the significance of 643 photographed examples of architecture statewide, is forthcoming from the University of Virginia Press as part of its Buildings of the United States series.
Both men have deep knowledge of local and general architectural history. Johnson, now a full-time photographer, was architectural historian at the Vermont Division for Historic Preservation from 1983 to 2000, during which time he edited books on the historic architecture of Addison and Rutland counties. Andres has served since 1986 on the Vermont Advisory Council on Historic Preservation — the governor-appointed body that recommends properties for the National Register of Historic Places.
Johnson and Andres probably know more about Vermont's built heritage than anyone. They started with the 40,000-odd structures listed in the state and federal historic registries, selected 900 through an agonizing culling process, then were forced to cut that number by nearly a third when UVA took over the series from Oxford University Press and introduced a new format. The final choices were required to cover "every period and genre and every part of the state," Andres said.
For the far smaller exhibit, the men followed similar guidelines. A large, centrally mounted map of the state marked with each building's location shows a fairly even distribution of red tabs. The framed photos are arranged in roughly chronological groupings of two or three buildings. These begin with Rockingham's extraordinarily well-preserved meetinghouse, built between 1787 and 1801 by John Fuller, and end with Bennington College's Crossett Library, an International Style award winner from 1959 designed by Pietro Belluschi, then dean of the Massachusetts Institute of Technology.
Some of the selections are inevitable, such as Ammi B. Young's 1838 classical statehouse in Montpelier and the 1885 Romanesque gem that is Henry Hobson Richardson's Billings Library at the University of Vermont — two buildings widely viewed as the state's most significant. Another unsurprising inclusion is Strafford's Town House, a white-spired beauty completed in 1801 whose very presence makes it worthwhile to live in Vermont.
The looped slideshow, with nonchronological categories such as "unusual and one-of-a-kind buildings" and "landmarks," does hold surprises. One is auto-parts manufacturer Sonnax Industries' 1997 postmodern facility in Rockingham, designed by Joseph Cincotta of the sustainability-oriented firm LineSync Architecture in Wilmington.
On the exhibit's opening day, Johnson explained his methodology. Architectural photography is an art in itself, and his crisp, closely cropped shots are stunning. Taken with a D800 Nikon, they capture each building at the time of day and in the weather that best expose its architectural details.
"A little earlier — say, 20 minutes — and you wouldn't have gotten this depth," Johnson said, pointing to the precisely shadowed French Second Empire detailing on the Morgan Horse Farm Barn in Weybridge (Clinton G. Smith, 1878), which he shot on a sunny day. A building in Canaan's Alice M. Ward Memorial Library required multiple trips and a 20-millimeter lens to minimize the library's lawn sign and show off its exemplary second-story recessed arch.
Johnson took all-new digital photographs for the exhibit owing to his publisher's copyright restrictions, though many early originals in the project are on film. He handled the project's logistics and focused on agricultural and vernacular buildings; Andres covered those in architectural high styles.
"Observing Vermont Architecture" makes it clear why the National Trust for Historic Preservation twice declared Vermont the only state to be a "national historic treasure." That happened most recently in 2004, noted Andres, in response to Walmart's effort to build 11 new stores in the state.
The exhibit will likely inspire viewers to embark on Vermont road trips — past some key barns, yes, but also a host of churches, university buildings, town meetinghouses and private residences. In Stowe, for example, a 1938 ski lodge off the Mountain Road called the Hob Nob, designed by Royal Barry Wills in a rustic modernist style, set the image of the ski industry for half a century.
"Observing Vermont Architecture" at Middlebury College Museum of Art, through March 23. Exhibit photographer Curtis B. Johnson gives an illustrated lecture and gallery talk, "Photographing Vermont's Architecture," on Thursday, January 23, 4:30 p.m. in Mahaney Room 125. middlebury.edu
The original print version of this article was headlined "Built to Thrill"