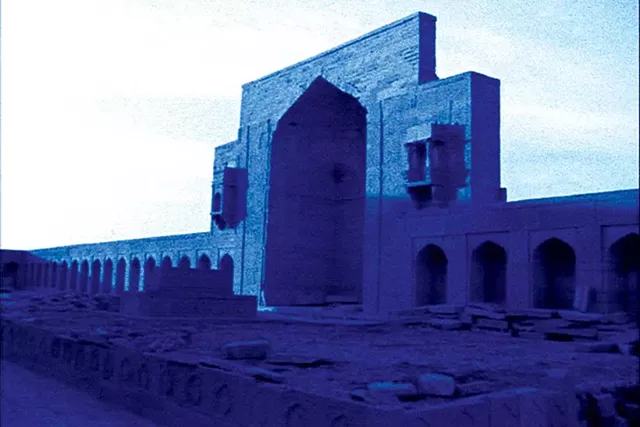 From "Death in the Garden of Paradise" by Nurjahan Akhlaq.
Memory is an unreliable narrator. Never mind its nemesis, forgetting; even our most vivid recollections of the past are colored, at the very least, by emotion and our varying ability to make sense of them. While it's true that an entire nation can share a memory — the twin towers falling on 9/11, for example — it is also true that every individual remembers events in his or her own unique way. The same might be said of each person's relationship to place.
The title of a new art exhibit in Burlington acknowledges the potentially unknowable in memory, using terminology that suggests a ship at sea. In "Navigating Memory: Exploring Place," which opened last week at the BCA Center, curator DJ Hellerman invites us to examine the idiosyncratic ruminations of three female artists from South Asia.
The exhibit's theme is not unusual — artists often draw on their own histories for inspiration and self-expression. It is the viewer's task not to question their memories as if on a witness stand, but to observe how personal experiences and cultural narratives become manifest in art. At its best, art transcends those human constructs, anyway, and encourages our own leaps into the unknown.
Both leaping and mystification are possible outcomes of viewing the prints, mixed-media paintings, collage and video in "Navigating Memory." And both these potential reactions begin with the observation that "place," for these artists, is anchored in Pakistan. Nurjahan Akhlaq and Seher Shah were born there — in 1979 and 1975, respectively. Aqsa Shakil was born in Tanzania in 1979 but grew up in Pakistan. These days, Akhlaq resides in Lahore, Pakistan, Shah in Delhi, India, and Shakil in San Francisco. All three women have traveled to and lived in multiple countries, absorbing and mixing cultures. One may imagine that, for them, the word "foreign" has lost its relevance, if not its definition. But the homeland still has a pull.
An American viewer may perceive the artworks in "Navigating Memory" as bearing more than a whiff of cultural exoticism, because of the ancient aesthetic traditions some of them reference: Islamic architecture, miniature paintings, beautiful floral ornamentation.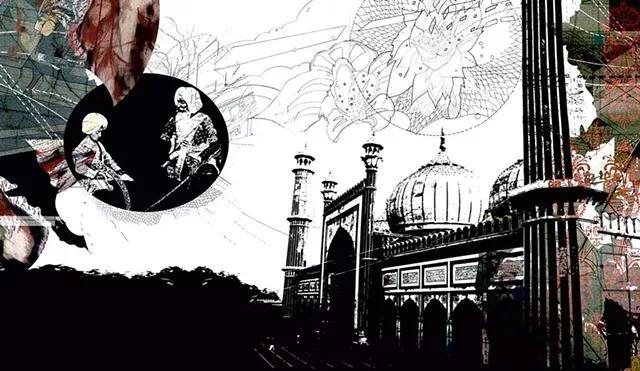 "The Black Star (1)" by Seher Shah
In the dozen prints from a 2007 series titled "The Black Star," Shah uses line-drawing versions of such motifs, robbed of color. The prints are starkly black and white, no grays; some include dark red and blue botanical elements. Among high-contrast photographic images of domed buildings and broad plazas, Shah scatters blueprint-like drawings. These architectonic images give a sense of an imagined future being built over the past, and reflect Shah's architecture studies at the Rhode Island School of Design. In several of the prints, a pair of young boys, backs to viewer, regard these designs in the skies as one might look at passing clouds.
The ornamentation, the collaged vintage portraits of men in fanciful military uniforms, and the filigreed floral details allude to Pakistan's rich dynastic and colonial history. But Shah seems to use these images as a form of talismanic shorthand — conveying iconic, collective memory of a place. Her personal overlay is harder to read.
A pastiche approach also characterizes the four paintings here by Shakil. Her mediums include watercolor — primarily black and brown — ink and precipitation: "San Francisco hail" or "Dallas rain." The weather elements give these pictures a spattered quality and suggest they have been baptized by Shakil's American locales.
"Mute Legacy" by Nurjahan Akhlaq
Shakil got her BA and MFA degrees from, respectively, the University of Texas at Dallas and Meadows School of the Arts, Southern Methodist University. Like Shah, she incorporates decorative patterns into her work, albeit with a lighter touch — circular motifs float in her abstracted compositions of splats, swirls and washes. She also inserts figures, such as the head and torso of a dark-eyed woman in a patterned dress in the 26-by-20-inch "Asma."
Place is not easily recognizable in Shakil's paintings; the figures are nearly obscured by paint, and the decorative elements don't hew to a single artistic tradition. If they represent memories for the artist, those, too, are elusive to the viewer. But the works are appealing in composition and execution, worthy participants in any exhibit. (Other works on the artist's website do strongly reflect this show's theme, however.)
Collage is both device and concept throughout "Navigating Memory," Hellerman notes, and he suggests that Akhlaq's pair of 14.5-by-10.5-inch mixed-media works "tie together the other two artists' work." "Atrophied Structures II" and "Mute Legacy," both from 2015, are true collages. Akhlaq uses "recycled imagery, secondhand art books and objects from Anarkali Bazaar in Lahore," according to a description. Both pieces employ sharp geometric shapes cut from paper. "Atrophied" is primarily black, white and gray, an assemblage of elements as fiercely contemporary as a Frank Gehry building. "Mute Legacy," though also composed of crisp shapes, employs lilac and pink, a bit of floral paper, glitter and a print of a classic miniature painting. The effect is softer and almost humorous.
From "Death in the Garden of Paradise" by Nurjahan Akhlaq.
There is nothing funny about Ahklaq's 22-minute film "Death in the Garden of Paradise." It is as disturbing as it is mesmerizing. After the credits appear, and a female figure with a fetus visible within her spins like a pinwheel, a handheld camera pans over a porch, interior rooms and grounds of the filmmaker's house. It is unoccupied. Ahklaq's voice-over calmly recounts the day — January 18, 1999 — when a lone gunman entered that home, fatally shot her father (a painter), her sister (a dancer) and her sister's boyfriend, and then "walked out into the sunny afternoon and disappeared." She doesn't suggest any motive for the crime, yet neither does she imply it was random. (It bears noting that neither Ahklaq nor the other artists focus on Pakistan as a geopolitical hot spot.)
From there, Ahklaq roams Lahore with camera in hand, and its lens becomes the viewer's POV. She seems to be searching for the murderer, or for clues, in the streets, formal gardens, graveyards, ruins. Her human subjects return the scrutiny with disapproving glares, or indifference. Everyone appears suspicious, from young boys in school uniforms playing cricket to old men in the bazaar hawking fruit. A murky soundtrack, filled with clanks, drones and occasional snippets of singing, creates a fitting mood for this meandering, dreamy film. Though grainy and often soft-focus, it is sharply poignant.
In the end — well, we won't give that away. Suffice it to say that "Death in the Garden of Paradise" is the most intensely personal and elegiac piece in this exhibit. Even as it revisits tragedy, the film serves as a fragmentary tale of a city, a culture, a place in time. It navigates memory and loss at once.