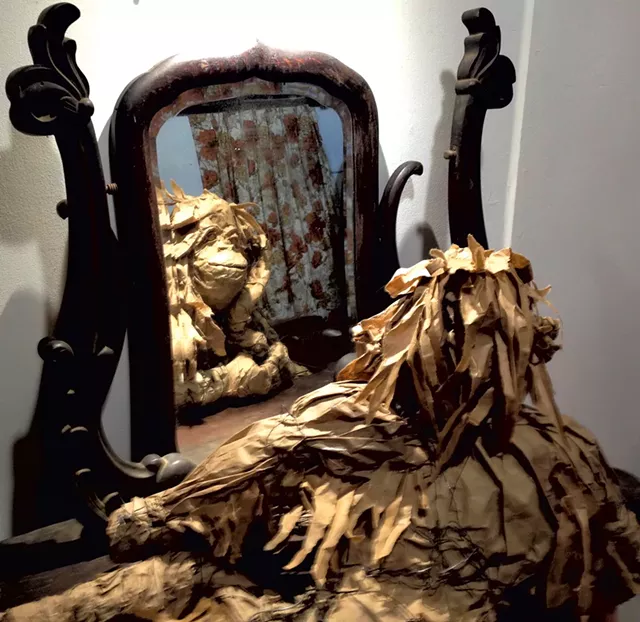 Molly Zapp
"Animal Mirror" by Cate Kelly
It's impossible to look away from yourself at the Museum of Everyday Life's new exhibition, "Mirror/Mirror." In nearly every part of this Glover barn-cum-gallery, the museumgoer is in the purview of one, or many, mirrors. The exhibit's introductory text, hung beside a Mylar re-creation of the pond in which Narcissus pondered his reflection, states: "This is a mirror's offering: the reciprocated gaze, the power of looking, which is, after all, a way of knowing, never simple."
Curated by Clare Dolan, the museum's founder and "chief operating philosopher," "Mirror/Mirror" offers viewers a unique opportunity for introspection, with plenty of space to examine any baggage they've brought.
Toward the front of the museum is the cordoned-off "Surveillance" room, where you can close the curtains and watch fellow visitors through a two-way mirror. It overlooks the "Vanity" section, where signs invite people to try on hats and wigs and check themselves out in a full-length mirror. An opportunity to try one's hand at voyeurism, "Surveillance" is set up to allow one to watch people watch themselves.
At the museum's opening, a young boy stuck his face right up to the other side of the "Surveillance" mirror, then jumped back quickly. I thought I'd been caught being a voyeur until I looked at the mirror closely from the boy's side and could see nothing through it. Who, if anyone, I wondered, watched me as I looked unseeingly back?
The museum presents other opportunities to be creepy. A telescope is set up to view a spot on the nearby pond where, according to Dolan, people routinely swim in the nude. Like "Surveillance," that arrangement promises potentially uncomfortable experiences of observing and being observed. In the post-Snowden digital age, we know we're being watched, but how often do we stop to notice or think about it? And what does it mean to be the unseen observer?
One of the unique aspects of going to this rural museum is that you and your companion might be the only people there — the barn is unlocked, and a sign asks visitors to turn off the lights when they leave. Viewing a room full of mirrors alone or with a friend is a different experience from doing so as one of an anonymous crowd.
When it's quiet, you can hear dance music emanating from the ear buds of an iPod in another curtained-off room. Hearing disco beats 10 feet away, within sight of at least eight mirrors, captures the 21st-century fear of missing out — in the incongruous setting of an old dairy barn. It sounds like a bumping party is going on in your neighborhood and you weren't invited.
That music comes from the party room installation, which has spinning disco balls and a "Drug Culture" display of a horizontal mirror, credit card and chalky powdered substance. Entering the room presents a choice: You can accept a sign's invitation to put in the ear buds and dance, potentially alone, or you can just check out the "party" and walk away.
Despite the light reflecting off the disco balls, the room is mostly dark, and too small for three people to, say, dance the electric slide. With its continuous, impersonal stream of music, the installation seems like the perfect setting for a coke addict to hit a very lonely rock bottom. Outside the party room stands a tall, crinkled mirror made of Mylar; the distorted view it offers is an effective, even relieving, contrast to the literal reflections throughout the exhibition.
The Museum of Everyday Life has a playful, "punk-academic" side; you can touch and even sit on displays. There are periscopes for looking around corners that you can carry through the museum, and a chessboard à la Lewis Carroll's Through the Looking-Glass. "Mirror Theory" is an installation featuring a vintage chaise longue draped in animal pelts, with a tall mirror, a loudly ticking clock and a box of tissues. Visitors are welcome to lounge on the chair while pondering, perhaps, their childhood traumas and adult disappointments.
The title of this piece, created by Dolan, is a reference to French psychoanalyst Jacques Lacan's theory of the "mirror" stage of development. He postulated that, during this phase, infants recognize themselves in mirrors and develop an understanding of themselves as subjects. Wall text for "Mirror Theory" states, "Seeing oneself in a mirror (whether literal or metaphysical) is key to self knowledge and integration of one's physical experience in the world."
Molly Zapp
"Seven Years of Bad Luck" by Richard Littell
One of the lighter pieces in the show, "Seven Years of Bad Luck" is a broken mirror donated by Richard Littell of Hartford, Conn. Its label explains the origin of the superstition that breaking a mirror causes seven years of bad luck: It comes from an old belief that souls take seven years to regenerate. In the deadpan tone typical of this museum's exhibitions, the sign goes on to note that, since breaking the mirror, Littell "has sprained an ankle, locked his keys in the car, and been hit on the head by a line drive at a little league baseball game."
In "Animal Mirror," created by Cate Kelly, a life-size, brown-paper primate rests on a shabby wooden desk, gazing into an old-fashioned vanity with a look of calm reflection on its face. The text beside it notes that nine species have been shown to recognize their reflections: humans, bonobos, chimpanzees, orangutans, gorillas, bottlenose dolphins, orcas, elephants and European magpies.
Overall, "Mirror/Mirror" is more somber in tone than previous Museum of Everyday Life exhibitions, which had whimsical, absurd or sociopolitical bents. Last year's "Dust," for example, included a jar filled with a large clump of dust bunnies and cat hair. The introductory text of 2014's "Toothbrush From Twig to Bristle" connected the 19th-century rise in oral hygiene with increased sugar production fueled by slave labor and colonialism.
This new shift toward introspection could reflect the chief operating philosopher's status. Dolan, 49, has a painful herniated disc and lacks normal feeling in her legs, she says, a condition that has slowed her down and made installing "Mirror/Mirror" more challenging. She says the experience of installing a show full of mirrors while having difficulties with her body influenced how she set up the exhibit.
"And maybe that also encouraged that interiority," she says in a phone interview. "It took me to a pretty introspective place. It's more like the mirrors worked on me, than me intentionally making that happen."
In a way, the focal point of "Mirror/Mirror" is the museumgoer him- or herself. The most reflective exhibition of the museum's five-year history, it's worth an extended gaze, even if that's not always easy viewing.