Amy Lilly
"Blue Beaded Bodice"
If ever the country needed mending — of its political rifts, racial divisions and coronavirus woes — now is the time. Carol MacDonald's new work, on exhibit at the Rokeby Museum, plumbs that need with uncanny timing.
The Colchester artist didn't have this moment in mind when she conceived of "Mending Fences" in September 2019. But as she developed the show's items — stitched monotype prints, repaired household objects and site-specific installations — MacDonald began to realize that "repair and healing are conversations in tandem," according to her artist's statement.
The artist proposed the exhibition after participating in a lab at the Rokeby led by Ric Kasini Kadour, a Montréal- and New Orleans-based writer, artist and publisher. The lab, which drew 10 participating artists from as far away as Los Angeles, was part of "Contemporary Art at Rokeby Museum," Kadour's two-year project run in collaboration with Kasini House, his business. The project engaged contemporary artists with the museum's archives, objects, buildings and land. Of the eight exhibition proposals generated through the lab, MacDonald's was the winner; Kadour curated the exhibition.
The Rokeby, a National Historic Landmark in Ferrisburgh, is the former home of four generations of the Robinson family, who served in the Underground Railroad. Familiarizing herself with letters and objects saved by the Robinsons, residents of the home from 1793 to 1961, MacDonald discovered that the act of mending was central to daily life. Broken wooden spoons were rejoined with linen thread; worn-out tablecloths were remade as children's shifts; broken porcelain washbasins were preserved in boxes and stored in the attic for future repairs.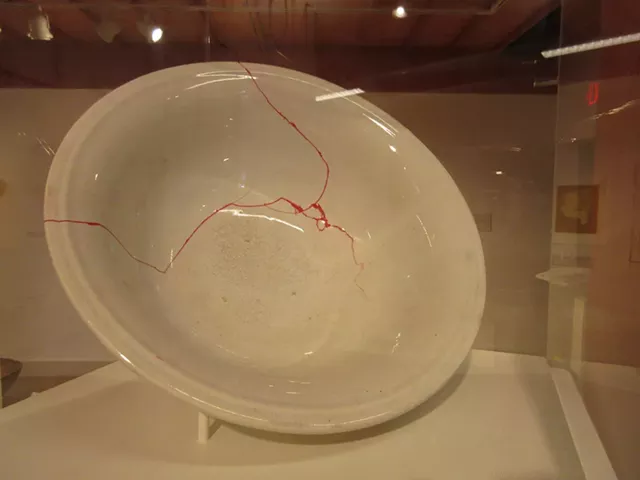 Amy Lilly
"Porcelain Washbasin"
For her art making, MacDonald was given access to any damaged items that had no known connection to a particular family member. Among her works in "Mending Fences" are broken ceramics she repaired with reversible red epoxy and paint. These red cracks, wending through old white porcelain and china, are both beautiful and insistent in their disclosure of former rifts, like Japanese kintsugi.
The artist also acquired several deaccessioned articles of clothing that were too deteriorated to display or were duplicated in the collection. She ran the garments through a printing press to make monotype prints, and then sewed that paper, "repairing" printed images of the fabric's holes and tears with red thread and bits of fabric. In some cases she made repairs using pieces of the garment itself, which had shredded in the printing process.
The Robinson family's investment in repairs went beyond the physical: A generation of abolitionists attempted to redress the harm of slavery; another generation group-wrote a letter of support to a family member who struggled at work in nearby Brandon. (These and other items demonstrating such efforts are in a display case in the exhibition.)
Current events — particularly the work of Black Lives Matter — gradually influenced MacDonald's thinking during her months of detailed mending. The exhibition became "a much deeper inquiry into racism and social justice," she notes in her artist's statement. "I have come to understand that really it is up to those of us who are white to confront and engage in the conversation and work of undoing the wrongs that have been perpetuated for centuries."
In a phone call, MacDonald added, "I don't know if I expected that [focus on BLM and the role of white people] to happen, but that was a huge change for me." The focus led to"long conversations about reparations and social justice and the act of repair" between the artist and Kadour.
Another timely topic, the pandemic, influenced "Pandemic Runner," a sheer, cream-colored table runner whose many holes are embroidered with red thread. MacDonald worked on it in isolation; whether intended or not, its randomized pattern of holes, a few connected with thin lines of thread, evokes a map of isolated and socially distanced individuals.
Amy Lilly
"Woven Fence"
The trail of red in the exhibition — from the tiny decorative lace flower shape sewn onto a print of a child's dress to the red nylon cord wrapping the split-log fence outside ("Woven Fence") — reflects a continuum in MacDonald's long career as an artist. In her early 1990s work relating to sexual abuse, red yarn signified both wound and repair. A drawn red line in her birds and nest imagery from the late '90s evoked safe interior spaces. Work that followed 9/11 and the Iraq War used red threads to signify communal links and support.
Lately, red threads "have become threads of communication" as MacDonald's work has shifted to address divisions in society and politics. She states as much in Kadour's exhibition book, Mending Fences: The Culture of Repair in Art and History.
Explaining her use of red to a New York Times reporter on March 8, when she was still creating for the exhibition, MacDonald said it "speaks to a wound, something that's been broken ... It speaks to anger." That article explored how the Rokeby is honoring its history by addressing contemporary racial tensions. It also recalled the museum's posting of Black Lives Matter signs in 2016; they evoked sign-stealing, angry letters and the loss of one volunteer who quit because he objected to the signs and the movement they represent.
Significantly, notes museum director Catherine Brooks, MacDonald's outlook seems to have shifted, as the artist made her repairs, away from the anger she referenced in that Times article. Exhibition labels quote her words: She describes her thinking process as "tending to the wound," and references the "scars of repair." And this time, adds Brooks, "the Black Lives Matter signs are all still there" outside the museum.
Originally, the Rokeby intended to reclaim the items MacDonald mended with reversible glue and restore them to boxes in the attic. Now, says Brooks, the museum may "keep them as is, because they now have more of a story to tell."