"Skiff Prototype" by Angus McCullough
Memory may seem like a puzzling rubric for a sculpture exhibit. Sculpture is generally permanent, whereas memory is ephemeral and unreliable. Yet "Memory Work" is the theme of this year's annual SculptFest at the Carving Studio & Sculpture Center in West Rutland. Guest curator DJ Hellerman, chief curator and director of exhibitions at Burlington City Arts, selected eight artists who created site-specific works.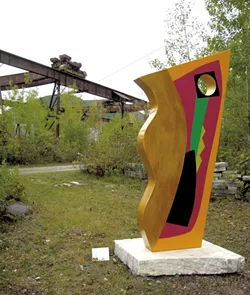 "Field Party" by Katherine Clarke Langlands
"Memory Work" has everything to do with CSSC's location amid Vermont's historic, now largely inactive quarries and their former manufacturing facilities. Hellerman called on artists to keep in mind "the labor, traditions and generations of people responsible for the success of the Vermont Marble Company, as well as the history of the CSSC."
Here, Italian immigrants labored alongside those from Sweden, Poland, Germany, Hungary and other countries. In his curatorial statement, Hellerman writes that these immigrants "made a significant impact on the ways we commemorate, remember and memorialize." Those workers quarried Vermont's marble and carved it into significant monuments, memorials and buildings around the world, including the Thomas Jefferson Memorial, the U.S. Supreme Court building, Arlington National Cemetery and the Tomb of the Unknown Soldier (the tomb base was fabricated in Proctor).
The result is an exhibition of artists responding to and rethinking forms of monument making.
"The material is going to be here forever," Hellerman said at the opening last Saturday night, referring to the massive blocks of marble and abandoned equipment on the property. Outside the studio, small chunks of discarded marble have embedded themselves in the soil over decades, while stacks of cut marble seem to be awaiting shipment, and former marble-moving beams tower overhead, adding to the industrial ambiance.
"Big Lady" by Stella Marrs
Hellerman's observation takes on a new meaning when one considers the work of Bennington artist Angus McCullough. His "Boat" employs traditional craft-making methods (weaving, carving, hammering and more) to create clothing, tools and objects similar to those made by prehistoric humans — except that he uses contemporary, nonbiodegradable materials. McCullough's full-scale, two-person handmade boat and its cargo are composed of newly manufactured materials such as polyvinyl chloride, Tyvek, nylon, fluorocarbon and roof patch.
The boat resembles a birch-bark canoe; it contains a pair of boots, a sheaf of arrows, a bow and other items. The single-seam boots, made of high-density polyethylene, are based on Neolithic, Paleolithic and otherwise primitive forms that McCullough researched. In place of feathers on the ends of the arrows, he threaded 21st-century plastic ties. The quiver, traditionally made of leather, is Mylar.
Today, petrochemicals commonly replace natural materials in everyday objects. And, like marble, those substances will be with us far into the future. Even when the objects decline and lose their usefulness, the plastic will persist.
At the opening reception, McCullough lowered his boat into the brilliant green-blue water of the quarry and pushed it off. Lacking a passenger, it suggested a traditional funeral boat.
That wasn't the only work that loosely incorporated a performance at the reception. Mary Zompetti's static images were shown rapid-fire, like a short movie; Burlington artist Stella Marrs inflated her "Big Lady" Mylar figure multiple times during the evening, changing its shape, position and even expression. As if performing, the sculpture appeared exultant, joyful, supplicating and even despondent by turns.
Zompetti, of Grand Isle, began her animated projection, "West Rutland Marble Mills," with a historical photograph taken at that site. She explained how she created her animation by working from a digitized version of that photo. Zompetti removed one random chunk of the image's computer code at a time, each time saving the new image. Eventually, she created 146 different images and connected them to make her animation, which she projected inside the former marble-cutting facility.
Zompetti's visuals reflect the way memory often reorders events: with glitches in the "code." The images are like fragments of memories that can't be summoned as wholes. As the animation progresses — at about a 10th of a second per image — more and more bits of the original image go missing. By the end, the picture is unrecognizable, but the newly reordered one is beautiful in its abstraction.
From its opening photograph showing plumes of black and white smoke streaming from the marbleworks, Zompetti's work evokes the hard labor involved in quarrying and carving. What is not evident is the hundreds of hours she put into her own work. Hellerman refers to this invisibility of toil as the "time of perceived labor": Consumers of all kinds of goods underestimate both the quantity of work and the time it takes to perform it. That conundrum is well-known to artists.
The show's connection to work is perhaps most evident in Marrs' "Big Lady." The 25-foot-tall inflated sculpture here is one of three she's created, including a 35-foot version that made a recent appearance at Burlington's Waterfront Park. Despite the sculptures' lightweight appearance, Marrs said that creating each one involved tremendous physical labor — and the trio took her all summer.
"I had to get on top of the materials. The bolt of Mylar was so heavy I couldn't lift it," Marrs told Seven Days. "I had to think of myself as an athlete."
"Big Lady" could be regarded as a modern equivalent to stone monuments — which, Marrs noted, always depict men and seem to populate every park. The artist's outsize inflatables are a departure from her previous small-scale, two-dimensional pieces. But they are consistent with her interest in environmental issues, feminism and redefining public space.
Two separate sculptures of marble and steel make up Samuel Spellman's "Not Yet Diagnosed; Nervous." One piece is an elephant with elongated steel legs, the other a marble head caught in a scream; they face each other as if in conversation. Elephants have long memories to aid in their survival, and they participate in recognizable rituals around death.
Nearby, Katherine Clarke Langlands' "Field Party" is the antithesis of Spellman's plaintive work. Her bright, colorful sculpture of reclaimed wood and paint beckons viewers with a jazzy combination of modern shapes. The base of the sculpture is marble, a material that roots Langlands' work in the tradition and history of carving.
On opening night, an indoor gallery showcasing strong work by Robert Bennett Jr. and Mark Lorah gave viewers a chance to get out of the rain. Handwritten notes and signatures of former marble workers on the marble walls underscored the exhibition's theme.
Zoë Marr Hilliard gave a dance performance that drew an enthusiastic crowd. As a teacher of the youngest students at CSSC, she sees education as a way to transfer and create memory, which can include skills, knowledge and emotions, she said.
In addition to this year's SculptFest entries, many works from previous years are on view throughout the grounds; recent work appears in a second gallery at the Carving Studio.
If monuments are erected to remind future generations of their history, then the artists in SculptFest2015 have created monuments, whether their work appears for a few weeks or remains on-site for years. Ephemeral or permanent, these sculptures are likely to remain in the memories of viewers for a long time to come.