"A visit to the henhouse"
Natural and man-made elements conspire to create a beautiful, dark vision in Mary Admasian's new exhibition "Boundaries, Balance and Confinement: Navigating the Limits of Nature and Society" at the Vermont Supreme Court Gallery. The Montpelier artist infuses every one of her mixed-media constructions with provocations, enlightening the viewer with titles and descriptions. But she also leaves the work exposed to individual interpretation, thus allowing the show to resonate deeply.
Admasian's 23 works are composed of natural materials, including dirt, rocks, wood, chicken bones, feathers and butterflies, used in combination with floral wire, netting, a chain saw, found objects and lots of barbed wire. In fact, every piece in the show incorporates or highlights barbed wire, underscoring the concepts of constraint indicated by her title.
In her artist statement, Admasian writes, "Rusted objects have always been of interest to me and, in particular, the connective yet alienating beauty of barbed wire." Indeed, her associations with the stuff are charged, and will likely evoke reactions in viewers, as well.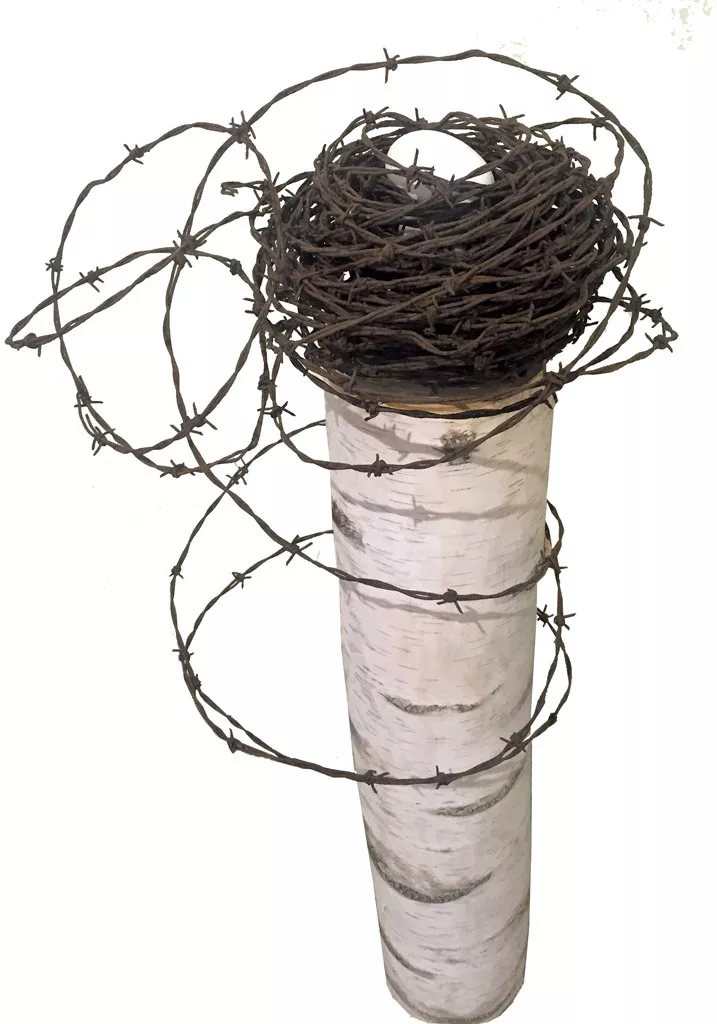 Barbed wire comes in many styles; even the word "barbed" has multiple meanings: physically thorny and prickly, as well as acerbic, cruel or taunting (in reference to language). In "Boundaries," Admasian carefully curates the materials she incorporates with found objects, and she is equally concerned with language. Case in point: "Go Cut Yourself a Switch" (8-by-4-foot acrylic on board, 2014), the visual focal point of the show. Six bundles of five willow switches are each mounted vertically on a neutral-colored horizontal board and held in place with a short length of barbed wire.
Some viewers will be familiar with the title's meaning, but it's not terminology common to everyone. A "switch" is a short whip cut from a thin tree branch — typically willow — and used for corporal punishment. An adult might require that an about-to-be-disciplined child go out and cut her or his own switch, thereby inflicting psychological pain along with the physical.
"The Last Flight" and "Halted Journey" are more prosaic titles describing the deaths of Charaxes and other types of butterfly, caught up in netting and barbed wire. "The Last Flight" captures six butterflies, seemingly still in motion, between layers of netting. Their arrangement — separated from one another by barbed wire and on display — makes viewers unwitting participants in their captivity. These are beautiful but disquieting images whose literalist titles contribute to the narrative.
In addition to assemblages and sculptures, Admasian includes two black-and-white mixed-media paintings in the exhibit. Distinctive for their stark graphics, "The Well" and "Black AND White — When will the discrimination end?" are hung in the front room on opposite walls, possibly intended as a pairing.
"The Well" (40-by-30-inch barbed wire, acrylic and spray paint on canvas, 2015) is a wide black rectangle with a painted white square "hole" in the center. Black barbed wire runs across the canvas in multiple horizontal and vertical rows. The view is from the bottom of the well looking up, expressing the flip sides of hope and hopelessness. At the top of the well, bright white suggesting light and organic brush strokes hinting at grass tease the viewer. "The Well" seems to depict psychological confinement or depression. That may not be light at the end of the tunnel after all.
Admasian's work concerns itself with many issues, including gender and societal constraints. In "Black AND White," the sophisticated abstract veneer invites viewers to investigate the title question: "When will the discrimination end?" The location of the exhibition itself, the lobby of Vermont's Supreme Court, insinuates itself into the viewing experience, as do recent headlines. With the halls of justice nearby, it's possible to read hope or despair into these works.
The back room of the gallery holds "But Why?", the largest piece in the show by far. Although it's fully realized here, in a larger space it might be part of an even bigger installation. The work's subtitle, "Dedicated to those who have been victims of childhood sexual abuse," leaves no misunderstandings about the content. A wire box spring serves as the core; its coils hold items painstakingly sourced from a past era. These include a child's faded yellow dress, a broken alarm clock, a No. 8 black billiard ball and a No. 10 blue one, a seven-inch vinyl record of "If I Had My Way," pink tulle, playing cards, a Pinocchio head, an old Playboy magazine, three poker chips and more.
The gallery is too small and "But Why?" is too large for it to be hidden, yet the piece seems to exist in a private space of its own. Although signs in the exhibit instruct visitors not to touch the works, it's easy to imagine this piece as a healing touchstone for some.
Much of Admasian's work is poetic, some of it is shrouded in mystery, and all of it is finely executed with exquisite attention to detail. Whether we see her handiwork in the precision of the 350 pieces of spray-painted white barbed wire inserted in "The Plank," or in the winding procession of wire in "The Nest," Admasian is attentive and present. Having created all this work within the past 18 months, she seems to have opened a rich vein for further exploration.