Courtesy Of Furchgott Sourdiffe Gallery
"Arcadia I" by Joan Curtis
A quarter century is an age in the world of Vermont's commercial art galleries. The fact that Furchgott Sourdiffe Gallery in Shelburne has persevered that long — the longest of any such gallery in Chittenden County — certainly warrants the three celebratory shows planned for this year by married owners Joan Furchgott and Brad Sourdiffe.
The first, "Looking Back," is on view upstairs at the homey Victorian through July 5. The others, "Being Present" and "Fast Forward," will address, respectively, the approximately 35 artists whom the gallery currently represents and new directions in regional art that the couple has discerned.
Furchgott says "Looking Back" was a pleasure to assemble. Of the 17 artists in the group show, all formerly represented by the gallery, some now reside out of state, where Furchgott tracked them down. Laura Von Rosk and Mark Walp live in New York, Alison Goodwin and Henry Isaacs in Maine. Aron Tager, at whose Shaftsbury art class the owner-couple met decades ago, is now an octogenarian who paints and performs in Toronto. Though the artists' relationships to the gallery go way back, nearly all the work in this show was created in the past couple of years.
The inclusion of certain artists will surprise even longtime gallery patrons. Dan Fisher returned to painting after taking nine years off to build a house, says Furchgott. His two large oil paintings in the show feature, ironically, dynamic renderings of dilapidated rural structures; one is called "Run-In Shed." Petria Mitchell and Jim Giddings, who are married, now mostly show their art at Mitchell Giddings Fine Arts in Brattleboro, which they opened in 2014.
Courtesy Of Furchgott Sourdiffe Gallery
"Run-in Shed" by Dan Fisher
Though it's impossible to give 17 artists their due in one review, we can note that many of Furchgott's picks have idiosyncratic, immediately recognizable styles. Isaacs has gained success with his lush, sunny landscapes done in chunky, impressionist-style brushwork that conveys a riot of color and movement. He is particularly good at wind, as in "Farm, Stowe Vermont," a small, airy view of laundry drying on a hillside line beset by gusts.
Compared with these, Von Rosk's paintings are calm and studied, with a hint of fairy-tale malice. Her landscapes, rendered with Henri Rousseau-like precision and cast in an etiolated light, recede directly back and up from the viewer's space. The most striking pieces are built around a central fissure — a deep-set river, a path through woods. In the case of "Winter Hill," a climbing wintry road bordered by a steep drop-off does the job.
Two more landscape artists have a storybook quality to their work. Joan Curtis' colored-pencil creation on black paper, "Arcadia I," evokes a pop-up-book world unto itself. Its subjects, denizens of a rural community seen at night through their windows in black-acrylic profile, are arranged in three cutout layers that float at different heights above the black background.
Meanwhile, David Utiger's "Time Zones" uses a minuscule black-ink pointillism and color washes to depict a highly detailed landscape and cloudy sky, divided into day and night by a tall tree dominating the foreground. The approach is the opposite of, say, Fisher's large-scale "Old Apple Tree," whose subject presides over a five-way country crossroads. Its angles and perspective, when seen from a distance, lend it the dynamism of a striding figure.
Goodwin's work departs from landscapes, nodding instead to the Byzantine icon tradition. Such is "Saint Bearing Pear," a square-format depiction of an unsmiling woman on a cheery red background, in acrylic and oil pastel overlaid on gold acrylic. The "saint" cups a pear in hands that would otherwise be pressed together in prayer. Her flat gold halo, heavily outlined eyes and simple, frontal presentation echo the icon tradition. Yet there's playfulness in the subject, a sly suggestion of the farm-fresh food movement as 21st-century religion.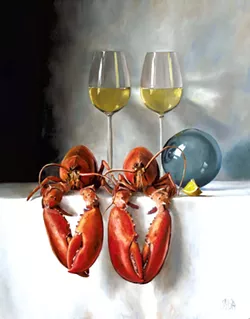 Courtesy Of Furchgott Sourdiffe Gallery
"Lobsters for Two" by Julie Y Baker Albright
Similarly, Julie Y Baker Albright's carefully arranged still lifes seem plucked from another era, recalling the Dutch 17th-century tradition without its typical solemn reminders of mortality. "Lobsters for Two" places the just-boiled creatures side by side at the edge of a table, facing the viewer as if in greeting.
And Walp seems to have channeled Pieter Bruegel the Elder in his rural peasant scenes, particularly "Martin Tusselwasser Returning to His Farm." In the graphite drawing, Martin looks down on a field of unmistakably 16th-century haystacks, conical with tufted tops.
In "Daucus Carota," Walp strikes a more contemporary note. The small oil shows a hand pulling out a carrot at soil level. Its bending greens and some distant trees form ripples of a vertical plane, while horizontal bands of threatening rain and clouds balance out the composition.
Alice Murdoch was not aiming for balance in "Swell 2," a chuckle-inducing portrait in acrylic. Indeed, its disdainful subject, a nattily attired middle-aged man holding a half-empty glass of red wine, slouches against the painting's right edge; fully half of the painting is an undifferentiated blue. Plus, the top edge of the canvas unceremoniously cuts off this swell's thinning comb-over. His supercilious sneer is delicious — doubly so for returning the viewer's gaze.
Some of these artists' works will be familiar, having been shown at the gallery until quite recently. These include prints by Carolyn Shattuck and the cartoonlike oils of Hal Mayforth. In addition to Shattuck's patterned-print collages, the show includes her "Jazz Modern," a "flexagon" made from folded, patterned paper that visitors are encouraged to "handle with care." At first glance, the flexagon appears to be a complex version of the fortune tellers (aka cootie catchers) that children make. But, picked up and manipulated, the paper sculpture transforms itself into different shapes, revealing hidden surfaces with new patterns.
Perhaps the least expected piece in the show is "Untitled" by Tager, the man to thank for Furchgott and Sourdiffe's meeting and, by extension, their gallery. A rapidly rendered ink watercolor with Asian-inspired brushwork and a Hebrew signature, the work is an intriguing creation that, like the gallery itself, will stick with you.