Photo By Dorothy Koval, Courtesy Of Garage Cultural Center
"Saving the Bees" by Peggy Smith
Jodi Kelly had been thinking about the pollinator crisis for several months when she decided to curate an exhibit to promote the protection of bees. It fit the purpose of the Garage Cultural Center, which she and her husband, Dan Kelly, opened in Montpelier in May. "It's a space where the community can come together to create, educate and inspire each other," she said. "What better way than to address a crucial topic through art?"
Kelly contacted the Vermont Crafts Council and the Vermont Center for Photography and told them she wanted to bring awareness to the plight of the bee with an exhibit of encaustic and other wax-based works.
"It's an ancient form of art that few people know anything about," she said. "I wanted people to experience it."
Kelly's research led to Vermonters Dona Mara Friedman, Jan Sandman and Peggy Smith, the featured artists in "Let It Bee."
Encaustic was a common technique in ancient Greek and Roman painting; modern users have included artists Jasper Johns and Robert Rauschenberg. A mixture of beeswax, dammar resin and paint pigment are kept molten on a heated palette. The temperature must be regulated closely, as the mixture gives off toxic fumes if heated too high.
Cold wax was first developed as a protective coating. Made from beeswax, mineral spirits and a hardener, it gave paintings a cleanable surface, Friedman explained.
With either hot or cold wax, an artist can build up the textural surface of an artwork, but the finished surface of each is different. Cold wax produces a matte finish, while encaustic produces a luminous one.
Courtesy Of Garage Cultural Center
"Upside Down" by Mara Friedman
It was the latter that first drew Friedman to the art form. "I saw an exhibit of encaustic works and was intrigued by how the quality of luminosity was different from other surfaces I'd seen," she said. Friedman took multiple workshops to learn both hot and cold wax methods.
The Rupert resident, who has 15 paintings in the exhibit, said surface quality and materiality have always interested her. "Every kind of material you use creates a kind of surface of its own," she said.
For her painting "Upside Down," Friedman used molded papers she found that were originally meant for use in modular building construction. She added encaustic in many layers. "As I worked and turned the piece, it looked like bowling pins right side up, wine bottles upside down and a landscape on its side," she said. "There was this form that was coming through, and I was accentuating the differences with coloration."
As with Friedman, Sandman's work in wax also was inspired by an exhibition. After seeing abstract artist Helen Shulman's cold wax paintings, Sandman took a workshop from the painter three years ago. She hasn't stopped working in the medium since.
"Cold wax has the sense of being sculptural, because it's thick, and it's applied with tools like palette knives, silicon scrapers and your hands," said the Montpelier resident. She also uses materials such as crinkled waxed paper and various fabrics to remove some of the layering and create texture in her paintings.
"It's so rich in the ways I can explore what I'm putting down and what I'm taking off," Sandman said. "I love it."
She has 12 paintings in the exhibit. "All were completed in 2019, when I've been focused on creating a body of prayer for how the world will move forward in a good way, because we're in such a tenuous place," Sandman said. "I felt they were naturally the ones to choose, given the theme of the exhibit."
Her painting "Creation" showed its true nature only after a long process. "If only we could peel it back and see all the layers underneath," she said. "Each underpainting has its own story and informs the painting that comes on top of it."
Smith's photo-encaustic paintings also have stories, which come to her as she works. She begins with a photo, which has its own meaning. Encaustic transforms it into something else.
Smith, who has been working with encaustic for a year, discovered the medium through a photography group to which she belongs. "Encaustics called to me the minute I saw how one could turn a photograph into a three-dimensional piece, with the light coming from the inside reflecting out due to the wax," the Stowe resident said.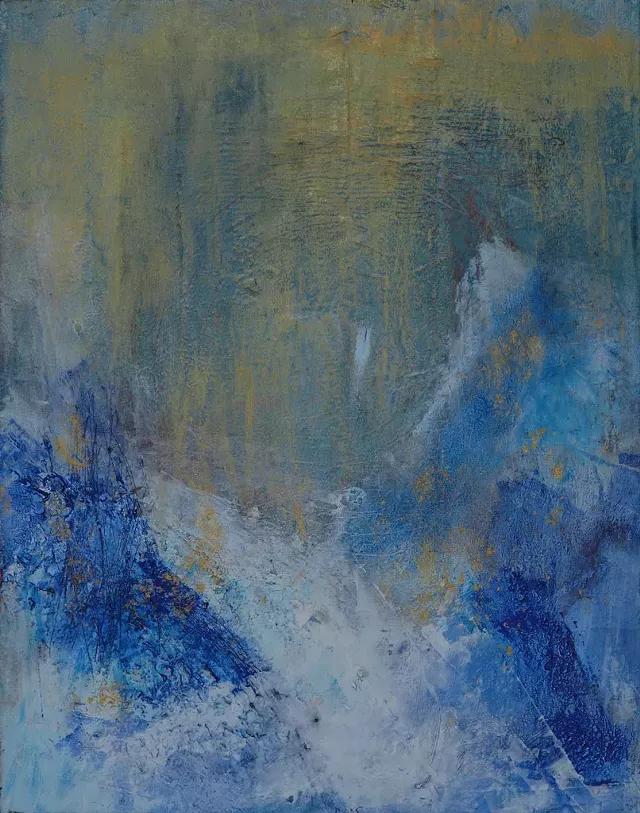 Courtesy Of The Artist
"Creation" by Jan Sandman
"I am a sculptor, and the encaustic is like sculpture to me," Smith continued. "I layer wax and colors, and then print the image on tissue paper, which embeds it into the wax, giving it a photo-transfer look. If I don't like it, I can just heat it and take all or parts of it off. It's exciting to see it come together. I love the mystery of it."
In "Saving the Bees," one of Smith's 10 works in the exhibit, she began with a photograph of a bee taken by her friend Dorothy Koval. "I thought, How do we save things? We put things in jars — food, honey, marbles, etc.," Smith said. "It became a metaphor for saving bees. They are precious. People save their precious things in jars. That's how the story came to me."
All three artists and the curator appreciate the cohesiveness of the exhibit. "I feel all the paintings resonate with each other," Sandman said. "The beeswax, colors and sensibility create a feeling of harmony throughout. It's beautiful."
"The conversation Jodi is offering the public is fabulous," Friedman said. "She wants people to enjoy and love the pollinators and understand there is a problem. That's part of my narrative as I work. I love nature and draw from it, while also being very disturbed by what is happening to our natural environment. The disturbance to nature includes all of us."