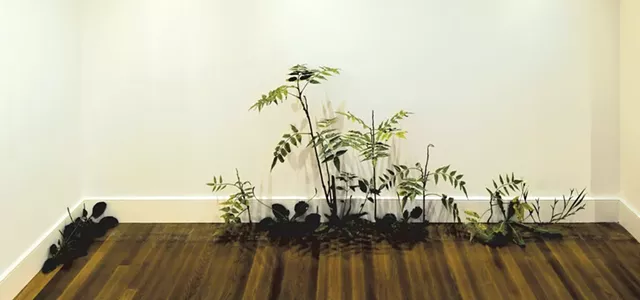 Courtesy Of Hall Art Foundation
"Weed" by Tony Matelli
Vermont had little to do with the rarified world of high-end art until 2012. That's when collectors Andrew and Christine Hall restored a farmhouse and its three barns in Reading to show selections from their 5,000-piece collection. While some of the collection belongs to the entity they created, the Hall Art Foundation, most works remain in the couple's private collection.
Rural Reading is not the only venue for the Hall Art Foundation. Andrew Hall, a London-born commodities trader in oil, also bought and restored a 12th-century castle in Derneburg, Germany, that once belonged to the artist Georg Baselitz (some of whose works are also in the collection). And he underwrote the building of a wing at the Massachusetts Museum of Contemporary Art to display, on long-term loan, the Halls' sizable number of large-scale works by Anselm Kiefer.
Until this year, Hall exhibits were in-depth shows of one or two artists, such as last year's exhibit of four decades of work by the painter Peter Saul. The current show tips the scale in the opposite direction. For "Landscapes After Ruskin: Redefining the Sublime," guest curator Joel Sternfeld, a photographer and videographer who teaches at Sarah Lawrence College, chose 68 works by 52 artists from among the Halls' private and foundation collections, which now collectively number just over 5,000. The final work in "Landscapes" is Sternfeld's own 16-minute video, which encapsulates the curator's guiding principle for the show.
That comes from the 19th-century English art critic and literary master John Ruskin. He wrote that true landscapes articulate an aesthetic of the "sublime" — meaning both nature's beauty and its terror-inducing scale for humans. His exhibit A was the landscape painter J.M.W. Turner, whose towering clouds and violent seas dwarf human endeavors.
Ruskin argued that Turner's work demonstrated a radical break from traditional landscape painting, which had focused on the purely representational. A century and a half later, Sternfeld argues for a new direction in landscape painting in the context of global culture. Today, he suggests in the show's pamphlet, nature is everywhere subject to human intervention, and terror resides in our own capacity to destroy our natural environment. Those ideas make for a different but equally compelling beauty, a new sublime.
Take "Townscape" by Gerhard Richter, whose appearance here is possibly the first in Vermont of a work by the art market's highest-priced artist. It's a 27.5-inch-square painting of abstract, softened geometric shapes in grays and whites. At least, that's how it looks up close. Sternfeld, a canny arranger, has hung the work on the side of the farmhouse's long, narrow final room rather than at one of its ends. This forces viewers to encounter the painting at close range before they can pull back to recognize the aerial view of a city it suggests. The brush marks' calm and balance are then imbued with the uneasiness of our knowledge that Richter, born in Dresden in 1945, often addresses the Allied aerial bombing of his hometown.
Several works capture the incidental beauty of pollution. Neil Jenney's "Atmosphere" frames an oil rendering of smog-choked air. The pink haze fading imperceptibly to brown and then blue recalls an image from a master of a different art form: Don DeLillo, who wrote in White Noise of sunsets at once unsettling and gorgeous that were caused by an "Airborne Toxic Event."
Courtesy Of Hall Art Foundation
"Atmos" by Naoya Hatakeyama
Similarly, Naoya Hatakeyama's photograph in the show, "Atmos," features clouds of pink steam, billowing and sculptural, emerging from a steel factory. Though the title specifies no location, the work was shot in the Camargue of France, a region better known for its wild horses, beaches and locally farmed sea salt.
As in "Atmos," the location of a work's creation often informs its meaning. Ai Weiwei's 10 shiny black floor puddles — the sculpture is called "Oil Spills" — are made from porcelain produced in Jingdezhen, a city in a Chinese region historically associated with imperial porcelain production. Without that detail, the internationally known dissident artist's concern about the pollution caused by global consumerism might not be fully evident.
Sternfeld has marshaled an impressive range of takes on the contemporary landscape, including several sculptures. Anselm Reyle's "Strohballen" is a hay bale whose every strand has been dipped in chrome varnish. The work suggests that nature doesn't register as beautiful until humans have modified it — from farmed fields of waving grass to bundled hay to industrial-strength object.
Tony Matelli's "Weed" takes as its subject an even more mundane aspect of nature. The sculpture is a lifelike dandelion plant made from bronze, brass, stainless steel and paint that emerges abruptly from the intersection of a pristine wall and the polished wood floor. Sternfeld has wryly placed it in a little-used stairway corridor. Nature may impinge on art, Matelli's work seems to signal, but only furtively and in its least admired forms.
Courtesy Of Hall Art Foundation
"Untitled (Globe Head)" by David Wojnarowicz
David Wojnarowicz's two sculptures in the exhibit, "Untitled (Globe Head)" and "Head," take traditional colored paper maps of the world and rework them in collage over a globe on a stand and a plaster head, respectively. Both are set with red oval eyes ringed in black, which are punched through with a row of small holes in place of irises. These eyes seem defensive and aggressive, hooded and blind, as if the state of the world — so rearranged in form and surface — is too much to bear, or even to acknowledge.
Examples of the modern sublime here are too numerous to mention, but Sternfeld's own video, "London Bridge," is a useful window into the curator's take on landscape art today. Devoid of dialogue, the film follows a gondolier in full costume through his day as he plies the manmade waters of Lake Havasu City, Ariz. It begins with the gondolier passing quietly under the 1831 London Bridge, which the city founder purchased from London in 1968 and had dismantled and rebuilt over Lake Havasu.
The camera then follows the gondolier as he passes hordes of young partiers in motorboats blasting music and funneling beer. Finally, at sunset, he picks up a young, amorous couple and serenades them with songs in Italian, completely straight-faced and without irony. Everything is tawdry and cringe-worthy, yet touching. The gondolier seems to believe fully in the value of his services, however imitative. And the light on the bridge is strangely beautiful.
Visitors to the Hall Art Foundation may also find strange beauty in the place, with the surrounding landscape looking nearly as manicured as the barn complex. Absent are the kinds of structures one sees regularly in rural Vermont: trailers, shacks, disused machinery scattered around properties. In 2013, Bloomberg News reported that Hall had so far bought up 2,400 acres in Reading, controversially buying out residents and tearing down their less-attractive homes. The result is both disturbing and, well, beautiful.